By Yasmin Hashmi, KNXtoday
If your interest is in KNX user interfaces or sensors, there was plenty at Light + Building 2018 to tempt you. Switch designs were on show in a wide choice of styles and finishes with varying degrees of customisation possible. There was also a wide choice of dedicated stand alone sensors, mostly for motion/presence detection, as well as numerous user touchpanels that included atmospheric sensors of one kind or another. Indeed touchpanels themselves were available is various styles, some of which do not have to be touched at all.
Touchpanels
Slovenia-based Anigmo for example, had a number of KNX 'touchless' switches on show in glass, stone, wood and custom finishes. These 8-way switches rely on a capacitive effect to produce a switch signal and can be mounted in European and British standard wall boxes.

Another capacitive panel that does not require touch is the ABB-tacteo KNX sensor. This is made from glass and designed for luxury hotels, public buildings and high-end residential buildings. Customers can choose which icon and labels they require via an online configurator at the ABB myBuildings portal. In addition to controlling comfort functions, the ABB-tacteo KNX can perform a wide range of hotel management tasks and can be integrated in the overall KNX installation that can be fully controlled and monitored from a central point, such as the reception desk. ABB is also cooperating with Digivalet to integrate KNX with other services, such as VOD and food ordering, via IP using the hotel room TV.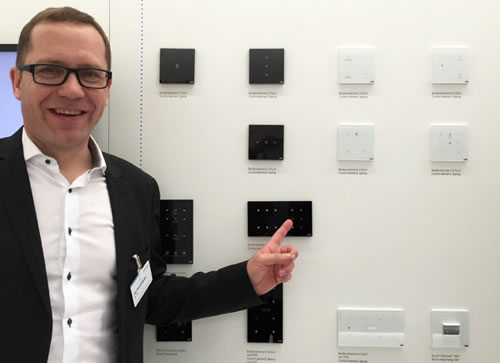 New from Eelectron was the 9025 capacitive KNX switch. Available in hotel and residential versions, the 9025 includes a thermostat, humidistat, embedded analogue or digital input, and the ability of the installer to change functions of displayed icons at any time, by using a set of printed ones.

Iddero was showing the Verso room controller with 4.3″ capacitive touchpanel and a flushmount accessory. The IP version, Verso+IP, has an Ethernet port and supports remote control using Android or iOS mobile devices with no configuration required, the ability to work over a cloud service or local network transparently to the end user, and support for push notifications and alarms.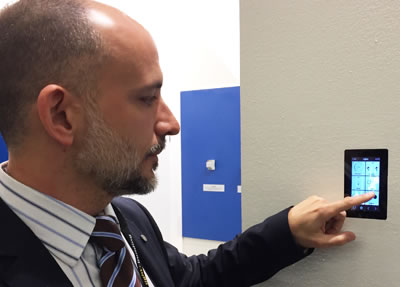 Making use of existing touch technology, Tense was showing the Eyeswitch, a wallmount iPad holder with integrated charger, LAN and 8 buttons. Designed primarily for residential applications, the Eyeswitch can be horizontally or vertically mounted, and allows an iPad to be easily inserted and removed. The 8 buttons can be used for controlling KNX functions.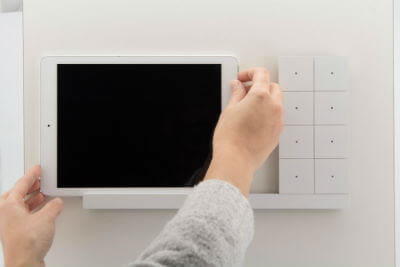 Enertex Bayern presented a range of touchpanels. The MeTaKNX glass touchpanel room controller with rocker switches measures temperature, humidity and colour intensity. The rocker switches can be multiplexed and labelled electronically by the installer or user. It also features a binary input so it can be used as a straightforward KNX light switch for example. The SynOhr multi-sense KNX room controller has built-in voice recognition and is powered directly from the KNX bus.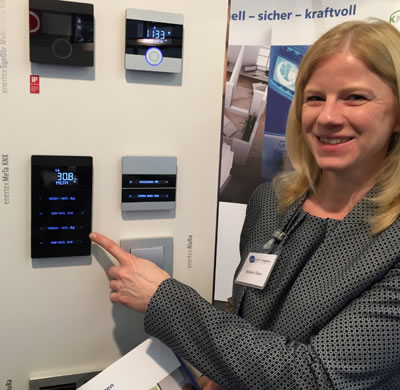 New for the Gira G1 is the ability to be connected directly to the Gira X1 server and be used with the Gira Project Assistant (see Mark Warburton's top ten from L+B) to quickly and easily start up functions from lighting and shading, to heating and cooling, scene and music control, through to the integration of network cameras. It is also possible to integrate other systems into the G1 via client functions, for example the Gira door communication system or the Gira Alarm Connect security system. The G1 can now also be used as client for the Gira HomeServer or a Gira FacilityServer; replicating the interface design of the Gira HomeServer.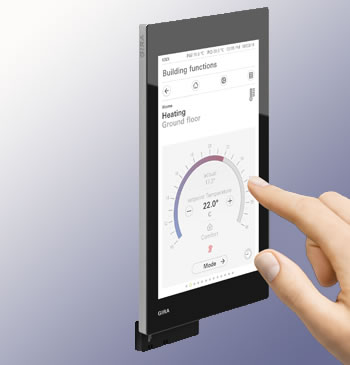 New features of the Jung Smart Visu Server include an astro function that adjusts settings according to the time of year; presence simulation; and secure remote access via the 'myjung' server. Jung also demonstrated the new flushmounting Smart Control5 panel featuring a high resolution display, proximity sensor and several preinstalled apps.

Thinknx has a new KNX-native room controller with a frame made of Fenix in a choice of colours. Fenix is a nanotech material that is non-reflective, anti-fingerprint, durable, water and heat resistant and easily cleaned. The 4″ touchscreen can control all KNX functions, the display can be customised and the unit has an IP connection for networking with the Thinknx multiprotocol supervision system. A temperature sensor is also included and there is an RGB night light or backlight.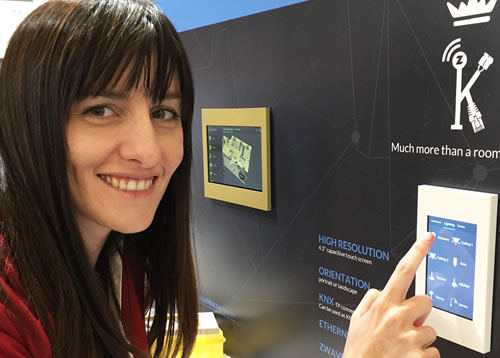 Pushbuttons
Another product made from Fenix is the new pushbutton range from Ekinex. The company also launched a new multisensor made from Fenix that gathers information on humidity, temperature, CO2, etc, to monitor air quality.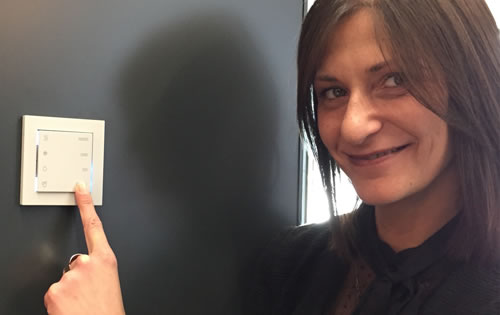 GVS claims to be the first Chinese manufacturer to produce a European 55mm KNX pushbutton range, available in one-, two-, three- and four-gang models. The company is also looking to provide a thermostat with socket and pushbutton, as well as CO2 and humidity detectors and a video door entry panel aimed at apartments and hotels.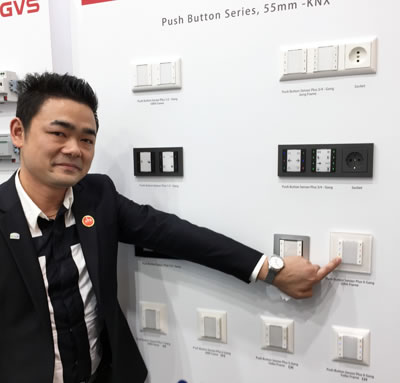 ZF makes an energy-harvesting KNX pushbutton module that uses inductive movement in both directions in order to generate sufficient power to transmit a KNX RF signal to a KNX RF receiver. It can be used in switches, window handles etc. There is also a battery-powered programming adapter for the installer, and a media coupler to the KNX bus if required. The module is available for OEMs and can be adapted to customer-specific design parts.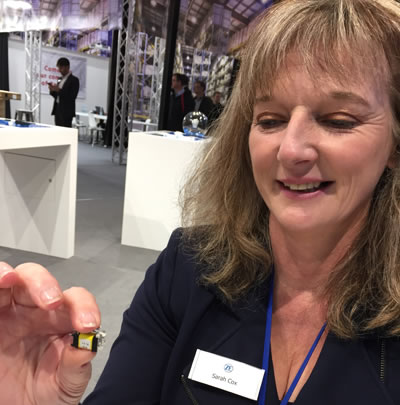 Jung previewed a KNX switch to mark the founding year of the company. Called the LS 1912, the one- and two-gang rocker switch is based on Jung metal switches from the early years but with a new contemporary design which can also perform dimming functions.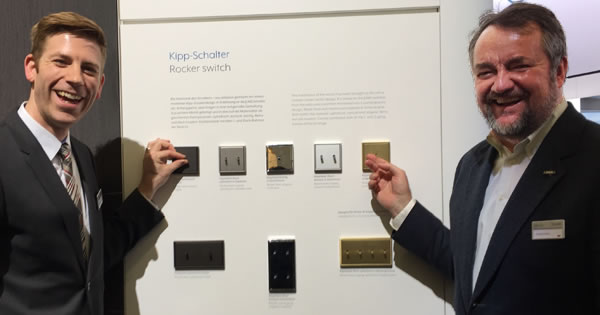 Door access
Zennio was showing a number of access control units for hotels, that are operated via hotel card, key or mobile phone. Also new were a door access unit or internal keypad for seeing and allowing access, and a touchless room controller.

Poland-based iLock was offering a fingerprint scanning door entry system with a KNX and Sonos interface and a smartphone app. According to iLock, the advantages of using fingerprints are that keys do not have to be carried and lost, a true log of who has entered through the door can be kept, and welcoming functions can be personalised. Multiple tasks or scenes can be assigned to a fingerprint for functions related to residential home/rental properties and commercial buildings, such as determining time periods for when the doors can be opened by specific individuals, monitoring attendance, opening the door and triggering playlists when people come home, etc.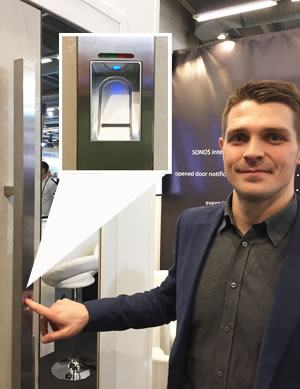 Ekey was promoting the ekey home converter KNX RS-485 which provides an interface between a KNX installation and an ekey fingerprint access solution. The building control can therefore trigger an event and put the building into the state defined for the particular person. For example, the ekey finger scanner could recognise when a child enters the home, thus switching the home into 'childproof' mode, or, if an unknown person continually tries to open the door, the home could be put into 'security' mode.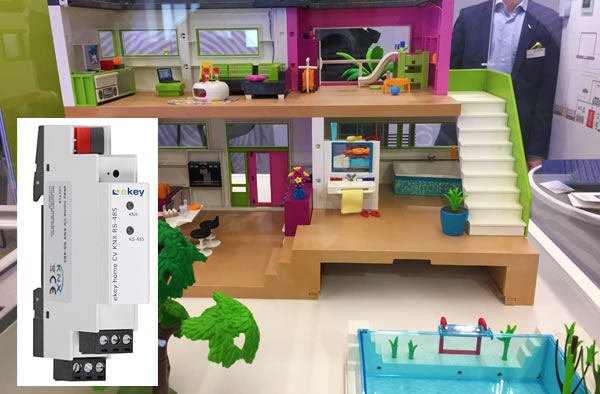 Motion sensors
There were plenty of motion sensors on show for a range of purposes including stairwells, long corridors and larger spaces, using various sensing technologies.
Under the slogan 'Das Allround Talent', Finder was showing a selection of KNX sensors, power supplies and actuators. Among these was the Series 18 PIR presence and motion detector for indoor and outdoor use. The current version covers up to 64m2, and a soon-to-be-launched version will cover long corridors up to 4m x 30m.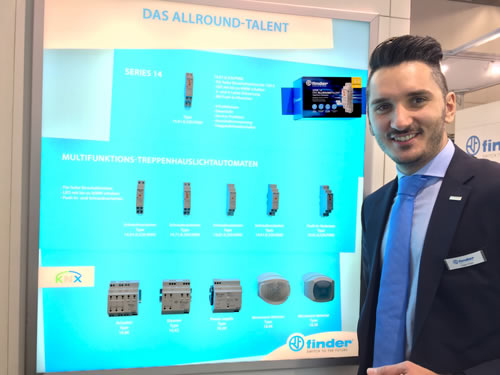 Headquartered in Tapei, Aurex has been making sensors for over 30 years. Its KNX light and motion sensors are available to OEM for any application using PIR, microwave and ultrasonic technology and can be used indoors and outdoors. Aurex is also planning to combine DALI and KNX into one sensor product.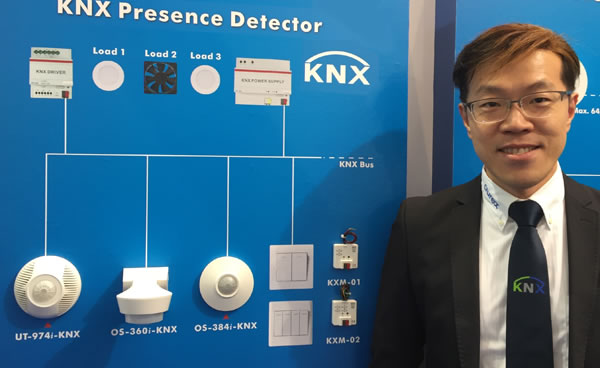 Theben has a new compact presence detector, thePassa P360 KNX, that has been designed for long corridors and hallways of up to 5m x 30m. It has two lighting channels and two presence channels, and offers intelligent chaser light, aura effect and walking direction recognition functions. These can be used to make light follow you down a corridor for example, or to summon a lift if you are standing by one, or open doors as you approach them.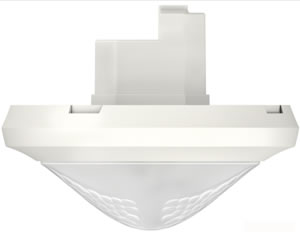 In addition to 'the world's smallest KNX occupancy detector', the Pico-KNX, B.E.G. was showing Generation 6, a range of internal and external presence detectors aimed at providing the integrator with more functionality. These are designed to have a small mounting depth, and variously include noise sensors, temperature sensors, LEDs for orientation, a two-way push-button interface and five-button remote control. Individual control of movement sensors and offset regulation are also supported as well as an optional IR-Bluetooth adapter. Also on show were theSenda mobile app, ViStation visualisation software and prototype B.E.G.-made actuators and power supplies.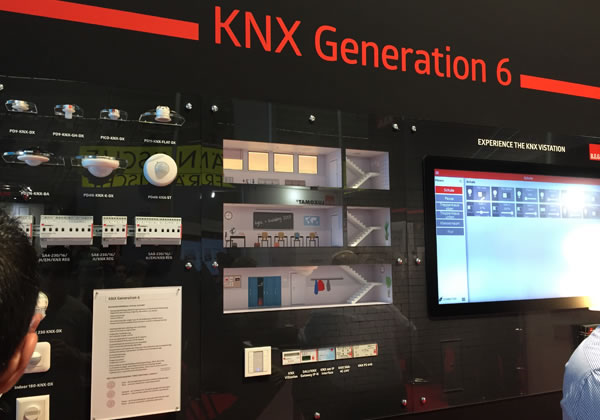 Last, but not least, under a 'Senses for Tomorrow' banner, whereby buildings should see, hear and sense people, Steinel was previewing the 'True Presence' sensor. Scheduled for launch in the summer, this no longer requires movement for occupants to be detected, as it senses your breath – useful for applications such as hotel rooms and bathrooms. It is available in three versions: presence only; presence, brightness, temperature, air humidity, air pressure, VOC (Volatile Organic Compounds) and CO2; and all of these but without presence. Steinel was also giving augmented reality demonstrations that would be useful for designers to see the detection zone in situ.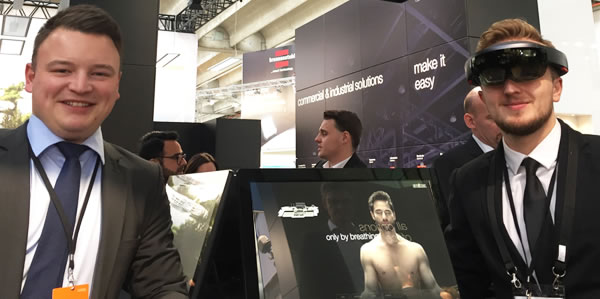 That concludes Part 4 of this series on Light + Building 2018 show highlights. If you have any of your own show picks, that are not covered here, you are welcome to comment below any of the following articles:
Part 1: IoT, Home Automation, HVAC, Water Management, Lighting and Shading.
Part 2: Simpler Design, Installation and Control.
Part 3: KNX Servers, Gateways and AV.
Part 4: KNX User Interfaces and Sensors.
Part 5: KNX Secure.