By Yasmin Hashmi, KNXtoday
If you were looking for tools to make KNX system planning, installation and operation easier, Light + Building 2018 had plenty to show. In Part 2 of our show highlights, we look at a selection of products and technologies that aim to make system planning, programming and operation easier.
Simpler planning and programming
In the KNX IoT City, a prototype of the KNX Smart Home Planner was being demonstrated. Designed to bridge the gap between users and professionals, it allows anyone to plan installations using a graphical user interface. It is assumed that it will be used for basic configurations, and that deep logic functions will be performed by a KNX professional. It offers features such as the creation of rooms and templates, the suggestion of suitable products for specified functions and the generation of buying lists. The project can then be exported to ETS for fine tuning.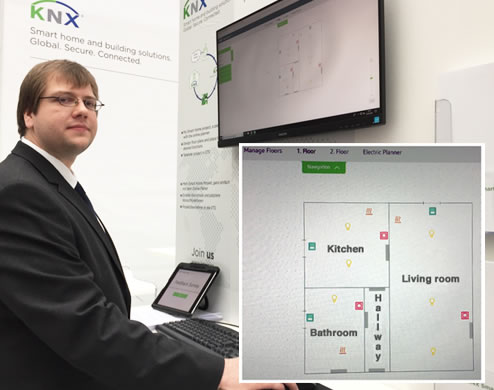 Among the many offerings designed to make programming easier was iBEMI from Finnish manufacturer and KNX design services company, BEMI. This works with ETS Professional and a KNX system with an IP interface. It is aimed at fast visualisation programming for small projects using an iOS or Android smartphone. The iBEMI app allows the user to control lighting scenes, dimming, switching, air-conditioning, temperature, RGB, blinds, shutter control, energy indication with scale and offset, time and date, and a value transmitter. BEMI also offers the 'KNX Tool' drag and drop application for systems integrators to make function reports for selling projects.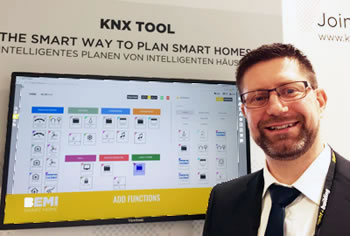 Another planning tool that focuses on functions rather than products was on offer from ambiHome. With this, the installer can get a quote within 5 minutes. Once ordered, the programming of components will be done automatically, significantly reducing the costs of a typical project down to EUR4k, including components, programming and visualisation. The customer is given the ETS file including function and installation descriptions, and each component is individually labelled for installation.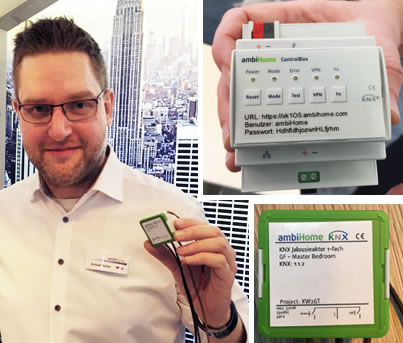 Simpler installation
Siemens' answer to the age-old problem of fiddly connections is to provide a quick and easy installation technique for its KNX products. All you have to do is insert the wire and a connection is made.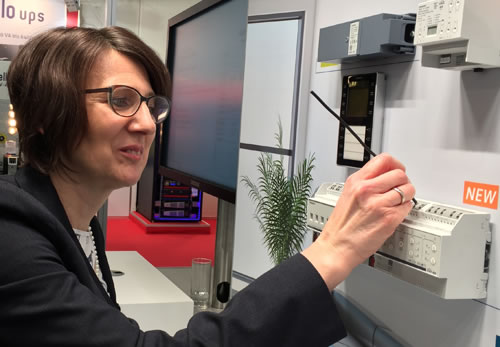 Lingg & Janke was again showing the KNX Quick entry-level system whereby electricians only require a screwdriver to program the system rather than ETS. In a separate move, the company has teamed up with Symcom to produce new visualisation for data produced by smart metering systems.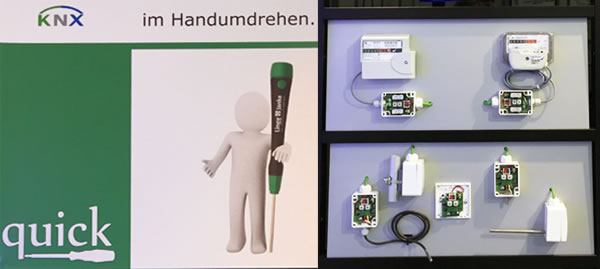 A convenient invention for new builds, where KNX bus cable is expected to be installed alongside mains cable, is the Wieland Gesis NRG 7-pole flat cable. This accommodates three phases plus earth, as well as two poles for the KNX bus. The system is available with a basic KNX module plus a choice of six smart modules, requiring just one physical address for the whole system. Another advantage is that by having a distributed system like this requires less cable, and so reduces the fire risk.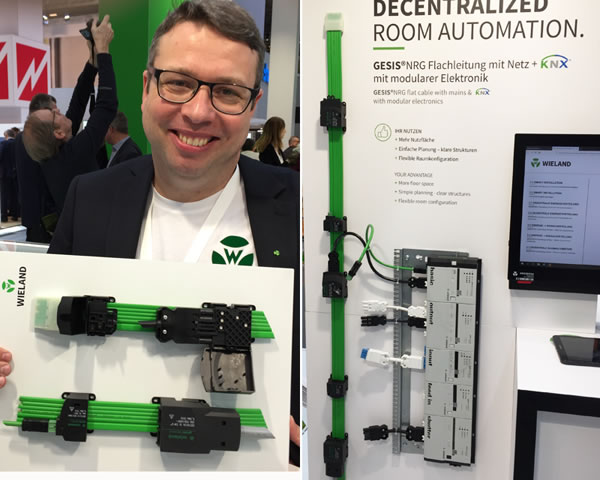 KNX RF
For applications requiring wireless connections, there is a growing number of KNX RF products available. Elsner for example, was showing various KNX RF products including a media coupler that allows bus traffic to be monitored and devices to be reset, and new wireless actuators for one motor, two individual motors and one with a loop-through function. Also on show was the Remo KNX RF remote control that is a real remote control (and not a gateway). It supports 32 channels, can control scenes, shading etc, and can be used with wired products too.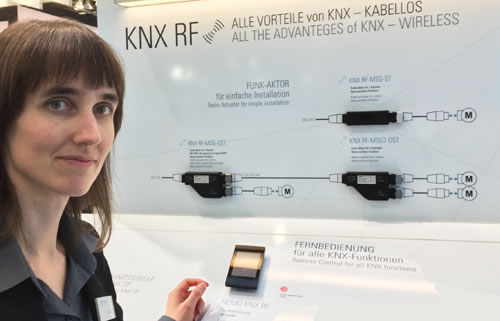 Dinuy, which also makes products for Müller (and vice versa), had a number of 'Easy Mode' KNX RF sensors and actuators for lighting, HVAC and blinds/shutters, along with an RF-to-TP media coupler. Prototype versions for use in System Mode were also on show, including four dimmers, LED, DALI and LED strips, 1-10V dimmers and a single-channel switch.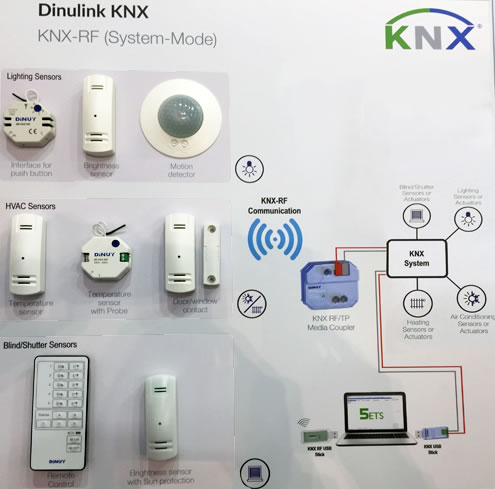 Becker was showing a battery-powered radiator valve that uses KNX RF and a media coupler to bring the heating system into ETS. The company also offers the B-tronic home automation system that speaks KNX-RF natively and allows the integration of other products, such as the Hager smoke detector, or KNX sockets and switches, into the system.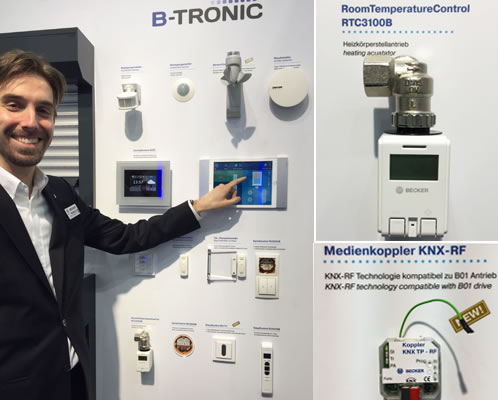 Voice control
An unprecedented number of voice control of KNX systems or devices was demonstrated or previewed at L+B. The ABB Busch-VoiceControl KNX for example, was hailed as the first bridge to all three leading voice assistants, namely Amazon Echo, Google Home and Apple HomeKit, simultaneously. It enables users to control a range of KNX functions, including light switching and dimming, the operation of window blinds and thermostat settings, and to receive information about the current status of the building, including room temperature, light intensity and humidity. It will also detect any motion or occupancy within the property. The Busch-VoiceControl KNX can manage up to 99 functions and is fully configurable via the secure ABB MyBuildings portal.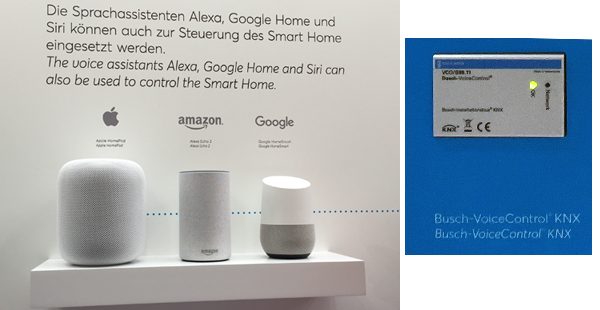 Thinka was promoting its voice control system that currently supports Apple HomeKit and Amazon Alexa. The Thinka is typically installed on the DIN-rail, and connected to KNX via twisted pair, Ethernet and power. Thinka only needs to be connected to the Internet for updates, and communication between iOS devices and HomeKit-enabled accessories is encrypted. Control of accessories away from home is also supported using iCloud.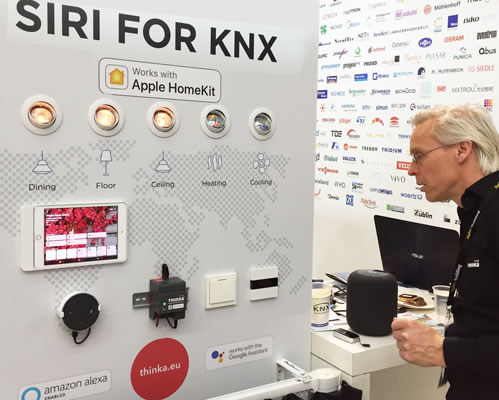 That concludes Part 2 of this series on Light + Building 2018 show highlights. If you have any of your own show picks, that are not covered here, you are welcome to comment below any of the following articles:
Part 1: IoT, Home Automation, HVAC, Water Management, Lighting and Shading.
Part 2: Simpler Design, Installation and Control.
Part 3: KNX Servers, Gateways and AV.
Part 4: KNX User Interfaces and Sensors.
Part 5: KNX Secure.