By Yasmin Hashmi, KNXtoday
Light + Building 2018 was a real treat for the KNX professional. There was something for everyone and so much on show from KNX manufacturers, service providers and the KNX Association, that our show report has been split into several parts, some of which have been published this month. In this part, we will cover a selection of IoT, home automation, HVAC, water management, lighting and shading products and technologies.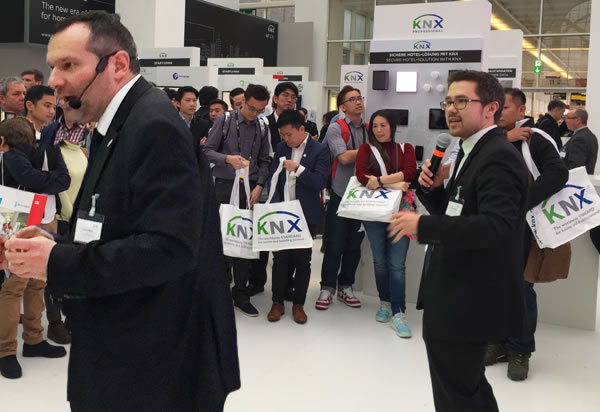 KNX IoT
The trade fair theme was 'Connected-Secure-Convenient', and KNX certainly lived up to this. A notable difference from L+B 2016 is how KNX IoT has developed. As one would expect, KNX Association provided a super overview of KNX IoT in the KNX IoT City. This showed how a KNX system can be extended using wired and wireless local connections and integration with the cloud.
One of the key issues with IoT is semantics whereby devices can understand each other, and humans can understand what a device or service offers. KNX IoT will use the standardised JSON-LD linked data format to share semantic knowledge. Also in the KNX IoT City were Thread and Fairhair, the two industrial consortia with which KNX Association is partnering to define secure KNX IoT specifications (more on that in articles to follow).
Hager was showing combined solutions for the smart home using products from Hager and its Berker and Elcom brands. On show was the Domovea Easy server using the Hager 'KNX easy' commissioning software, designed for programming simpler systems such as single-family homes. It can be used with Hager actuators, Berker push button switches and Elcom door communication. Hager also offers IoT software to interface the system with Philips Hue lighting etc and to allow remote control via mobile devices, including messaging from door communications.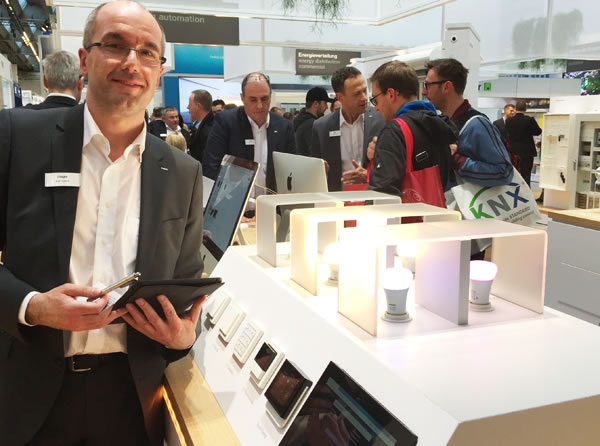 BAB Technologie was showing the BAB Appmodule which is designed to allow you to connect the IoT with KNX and EnOcean using touch or voice control. It works with Amazon Alexa, Sonos, Philips hue, Netatmo, IFTTT, Apple HomeKit, Google Assistant, DoorBird and other smart home apps. The Appmodule also features integrated KNX router functionality and KNX project import. In addition, a brand new 'Smart Screens' app allows control of any IoT, KNX and EnOcean devices in one interface via smartphone.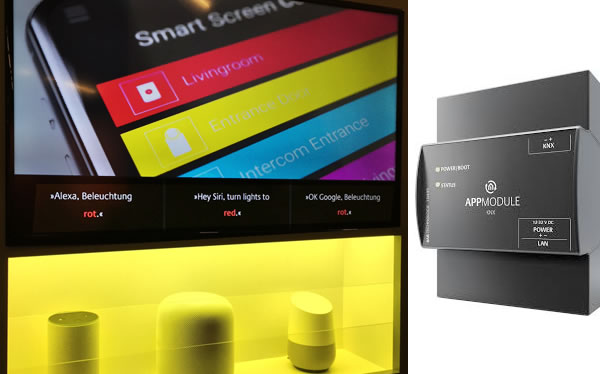 Schneider Electric announced the imminent launch of the Wiser family of products to allow wireless control of major residential applications via a smart device or voice control. Wiser includes an app and intelligent switches, dimmers, radio sensors, radiator thermostats and energy monitoring systems. A Wiser for KNX logic controller (formerly known as HomeLynk) is also available, providing a gateway between KNX, ModBus, BACnet and IP, and offering remote access and control of lights, blinds, heating, cooling, energy metering, a scheduler, an IP camera and new IoT applications.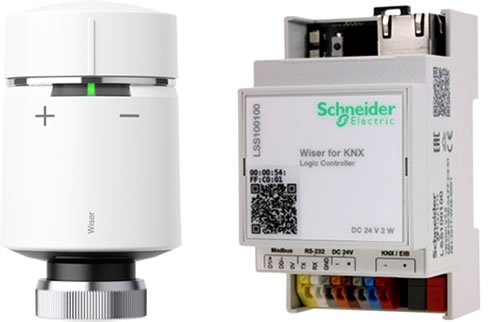 In a separate announcement, Schneider said that it is collaborating with Somfy and Danfoss on a connectivity ecosystem aimed at homes, mid-range buildings and hotels, that will work with KNX and other systems.
Home Automation
Gewiss was showing a complete home automation system based on its 'Smart Gateway'. This provides a multi-protocol gateway between KNX, ZigBee, Wi-Fi and LAN for full operability with Gewiss domotic solutions using the Microsoft Azure Cloud platform. Configuration of the system is done via the cloud using a drag and drop interface. A mobile and desktop app is provided for controlling functions such as lighting, roller shutters and venetian blinds, configuring and running scenes, adjusting the temperature and humidity in each room, monitoring energy consumption, managing the burglar alarm and technical alarms, viewing images from video cameras, and more.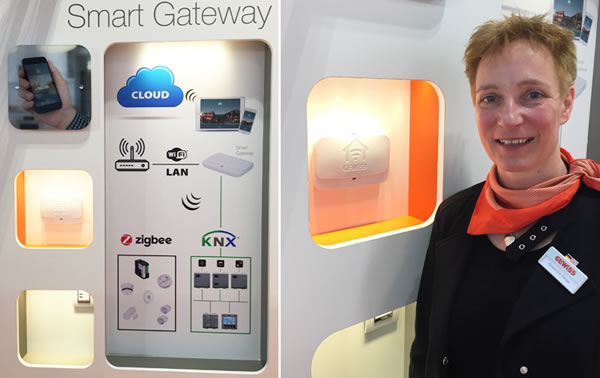 ComfortClick demonstrated its universal home automation platform with Amazon Alexa. The platform offers smart building visualisation, control and automation with the possibility of fully customising the user interface. It is designed to integrate and automate all systems and devices in any building via a range of different servers which currently support KNX, Z-Wave, Amazon Alexa, ModBus, DSC alarm, IP cameras, Global Caché, IRTrans, Kodi (XBMC), Sonos, Philips Hue and IP intercom. Support for Google Home is next, with Apple HomeKit planned for the end of the year.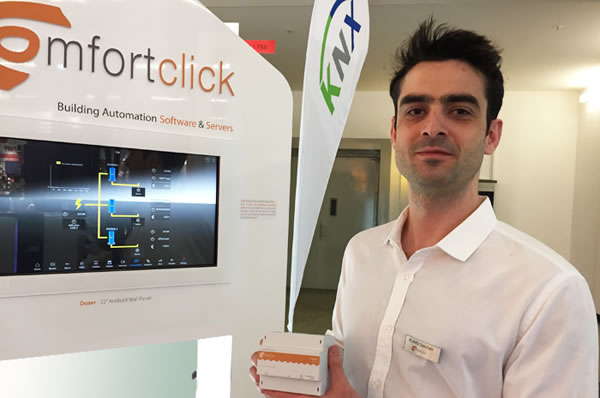 The E-Haus by the ZVEH (Central Association of German Electrical and Information Engineering Trades) is always a fascinating and inspiring exhibit at L+B. It comprises a mock-up of a residence that features the latest technologies for energy efficiency and management, comfort, security, and assisted living. This year it showcased a KNX IP and ModBus TCP network, lighting control using KNX, smart bathroom mirrors, connected domestic appliances and adjustable-height surfaces, car charging, smart TV, multiroom door communication and audio, control using touch and voice, smart metering, remote-controllable webcams, remote control of all systems, floors with sensors built-in, and much more.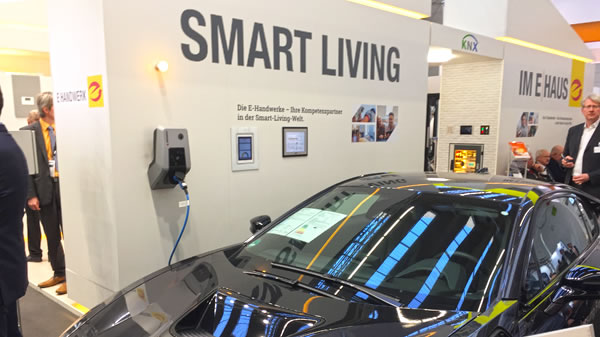 HVAC
Whilst Theben was showing improved versions of its HMT-6 and HMT-12 heating actuators (see Mark Warburton's show report), ABB showed solutions for all areas of HVAC. The ABB ClimaECO includes three different KNX controllers and is designed to ensure that all functions in a room, such as lighting, sun-shading, heating and cooling systems are operated as efficiently as possible – resulting in HVAC efficiencies of up to 30%.
Based on the ABB i-bus KNX system – where all devices communicate with one another via a single bus cable installed alongside the normal power lines, ClimaECO has an integrated BACnet interface that is automatically configured to integrate ClimaECO with established building management systems. Also on show were improved fancoil controllers, a room temperature controller (RTC), and the ABB ClimECO sensor with CO2 and humidity sensing.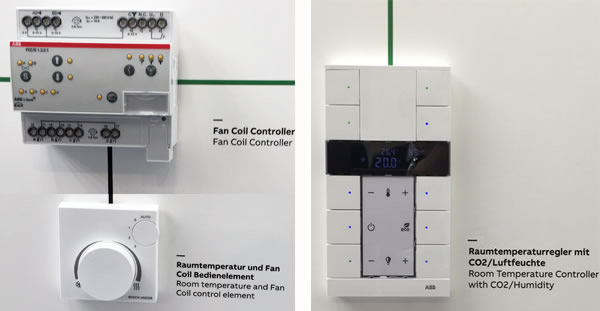 For window control, Geze was showing the Geze IQ box KNX. This KNX gateway enables communication between Geze IQ window drives and KNX pushbuttons and sensors for wind, rain, air-quality and humidity, that can be used to control the Geze window drives accordingly. At the same time, the IQ box KNX uses the intelligence of the window drives to report the mode of a window, or even its precise opening width, back to the KNX building system or BMS.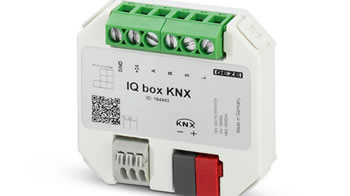 Water control
For water control, Franke demonstrated the Aqua 3000 Open water management system. This uses KNX to monitor water systems and automatically flush them if required, in order to prevent problems such as Legionnaire's disease. The system can be individually programmed and can be expanded as required. Water quantities, water hygiene flushes, thermal disinfections and their temperature limit values can be individually set and monitored for each room and even for each individual fitting such as shower fittings, wash taps and flush valves. Malfunctions are detected immediately and reported.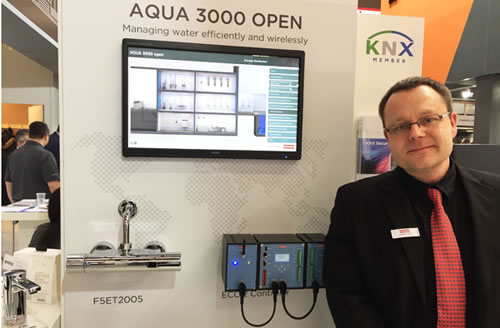 Lighting
There were many DALI-KNX gateways on show at L+B. Among these were new KNX multiprotocol gateways from Intesis. The IntesisBox DALI 2 gateway has more capacity and is available in five versions supporting up to 3000 points. This capability also holds true for the IntesisBox BACnet and ModBus gateways. The IntesisBox M-Bus gateway for metering supports up to 120m of M-Bus, so additional hardware to power the bus is not required.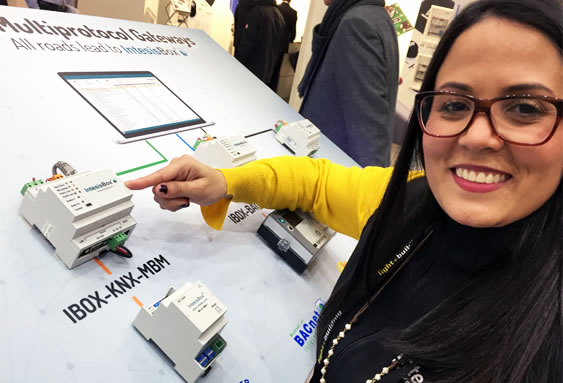 OEM to Schneider Electric, IPAS, is offering a firmware update for its DaliControl e64 KNX-DALI gateway. This now supports every type of DT-8 (DALI device type 8) for control of colour LEDs for tunable white, RGBW and x/y control. In addition to switch and dim functions, the DaliControl e64 can be used to control emergency lighting and to display the operating hours and lifespan of different lamps, as well as other applications. Also on show were two basic DALI gateways, namely the gc16-2 that as two DALI outputs to control 128 lamps, and the gc-16 that has one DALI output for control of 64 lamps. These too, support DT-8.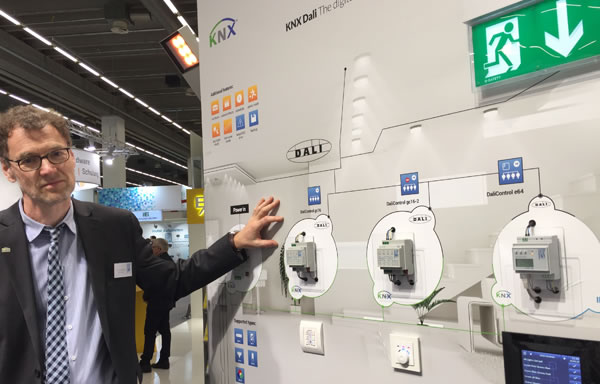 Osram was showing the DALI Pro KNX, a KNX DALI gateway featuring a real time clock for daylight simulation. An app is available to control luminaires, scenes and effects, tunable white, daylight harvesting, presence detection etc. The unit can control up to 4 DALI channels with up to 64 addresses and 50 channels each.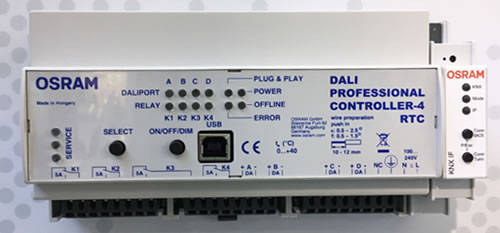 Shading
For shading, Rademacher has just launched the Rollotube X-line of KNX tubular blind motors with built-in actuators, making them unique in terms of roller blinds. The motors are self-learning and available for roller shutters, awnings and venetian blinds. They include a number of useful positioning/length functions as well as blockage detection.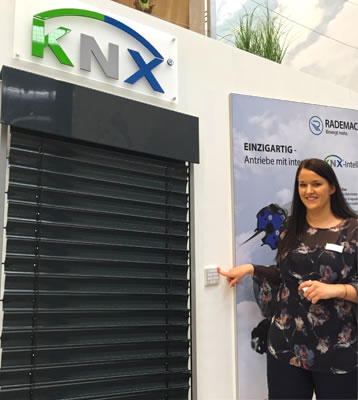 New on the Somfy stand was the KNX RTS Receiver WM. This provides a two-way communication bridge between a wireless Somfy remote and up to 18 Somfy RS484 motors via the wall-mounted wired RS485 Motor Controller WM.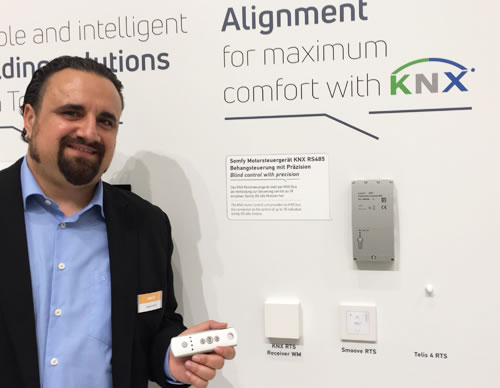 Warema was showing surface-mounted sun shading actuators for 230V, 100V and 24V DC motors. These include manual override and remote programming via Bluetooth, which is useful if they are installed in false ceiling or suspended floors. The actuators have binary inputs for standard venetian blind pushbuttons and can also be remotely programmed for example, by using their serial number and the Siemens ETS app.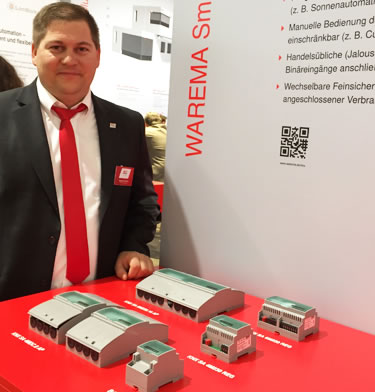 And finally, newcomer to L+B, Lime International from Jordan, was showing the Netra series of switching actuators. Manufactured in Germany, Netra actuators are suitable for high loads and capacitive loads up to 16A at 250V AC for each channel. Their compact construction could reduce total installation costs, and the series supports a wide range of parameters with logical functions for additional flexibility.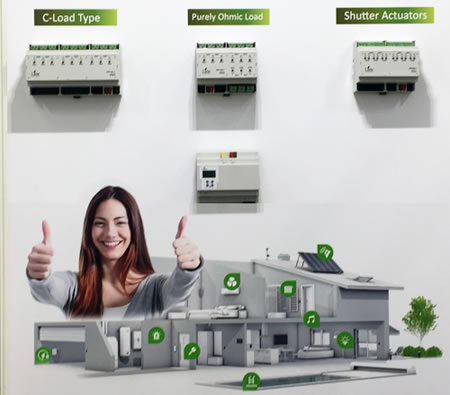 That concludes Part 1 of this series on Light + Building 2018 show highlights. If you have any of your own show picks, that are not covered here, you are welcome to comment below any of the following articles:
Part 1: IoT, Home Automation, HVAC, Water Management, Lighting and Shading.
Part 2: Simpler Design, Installation and Control.
Part 3: KNX Servers, Gateways and AV.
Part 4: KNX User Interfaces and Sensors.
Part 5: KNX Secure.