By Mark Warburton, Ivory Egg.
Having spent the full six days at Light + Building 2018, plus a preview day on the Saturday, I was able to see the majority of the show – well, the building part anyway! Other than a decent coffee, the key thing I was looking for was innovation. Those products and solutions that give us an idea of where we are going as an industry and indicate what the future will look like.
Generally, there was a lot of voice integration with some manufacturers boasting support of all three major players, namely Amazon Alexa, Google Home and Apple HomeKit. The other major trend was black glass capacitive-touch keypads with at least five manufacturers showcasing similar solutions. A lot of manufacturers are starting to diversify, introducing different control solutions for alarm or BMS, and an exciting trend was the increase in devices that combine multiple functions such as keypads with CO2 or PIRs with humidity.
Here is my top ten countdown of standout innovations from the building controls side of the show:
10. Data Secure
KNX Secure was first launched at L+B 2016 and the Data Secure part means individual telegrams on the KNX bus can have their data encrypted, so it was exciting to see the first Data Secure products. Weinzierl launched the KNX IO 511 secure (1O2I) which is a slim DIN rail device with an 8A relay and two binary inputs. Tapko has also begun updating its range of products (available via OEM only) with the Line Coupler being the first to become KNX Data Secure-certified, ensuring the commissioning of the device can be done securely. As all new KNX devices need to have the ability to support Data Secure, expect to hear lots more about this over the next few years.
Available: now/future.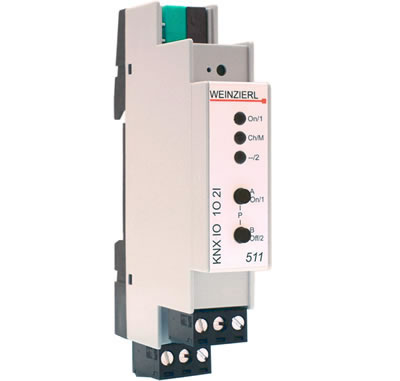 9. Ingenium Cubix
Whilst similar in design to a lot of capacitive-touch keypads, the outstanding feature of this new device is it depth. At only 6mm thick (excluding the bus connector) this is an impressive product and shows what can be achieved when standard design concepts are thrown out of the window! The Capriccio option also has a unique magnetic mounting, which means that the front plate can be quickly changed and replaced with a different design plate. This is perfect for hotels or long-term rentals where specific imagery is required to suit the customer.
Available: now.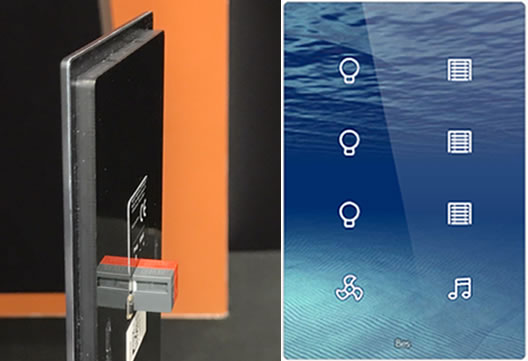 8. Theben HMT 6 and HMT12 S
Replacing the industry stalwart HMT-6 and HMT-12 manifold controller, the new version not only has a more modern design it also has some unique features. The outputs can be configured as 24V (from the on-board transformer) or 0-10V outputs, each channel can have a regulation function and there are two integrated relays which can be used to run a local pump or trigger a boiler. It is also possible to link multiple manifold controllers together or combine with the Theben Cheops drive to provide a single highest actuating value from the entire heating system, all without any additional logic. Ideal when using an OpenTherm gateway, or other external control system that accepts a percentage-based demand value.
Available: now.

7. Becker SMI Interface
SMI (Standard Motor Interface) provides a highly-intelligent method for controlling blinds, and with the improved KNX/SMI interface from Becker, it is even simpler to commission. The naming and addressing of the SMI blinds can be completed using an app via a Bluetooth connection. It supports 16 individually-addressable blinds (up from 8 on the previous model) and has some unique address resolution functions.
Available: from October 2018.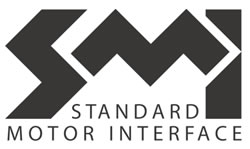 6. Gira Project Assistant
Not exactly a product but Gira has taken a major step forward in making the job of the integrator simpler. Over the next year, the Gira Project Assistant software tool is going to evolve from being used solely for the X1 visualisation server to also being able to program the Gira door entry system and Gira's new alarm solutions. This introduces the possibility of seamlessly integrating the different systems, as everything will share the same project file and logic. Hopefully, more solutions will be added to the same platform, making the creation of a truly thoughtful building even easier.
Available: from July 2018.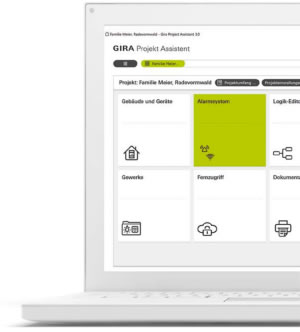 5. IP Secure
Yes, this is the second appearance of KNX Secure in this Top 10, this time because of the IP Secure part. This allows all KNX traffic transmitted over IP to be wrapped in a security blanket. Numerous manufacturers were showing IP routers supporting IP Secure and it's great to see this update being so quickly adopted by the market. All IP Secure products have a similar release date which is based on the KNX Testing Labs' time frames. Some manufacturers such as Gira are already selling KNX IP Secure-compatible products, so when eventually released, you will be able to update existing devices to get the benefits of IP Secure.
This is a huge step forward for KNX and I urge all manufacturers offering IP connections to KNX, including third-party systems, to update their software to support KNX IP Secure.
Available: from September 2018

4. Steinel HPD 2
First shown six years ago as a concept, the HPD2 optical sensor has finally made it to market. Using state-of-the-art imaging, it compares 150,000 positive images and 7 million negative ones to calculate not only the number of people in a room but also their location in up to 4 defined areas. This makes it ideal for targeted or adaptive ventilation but also has applications for queue management or general occupancy. A very innovative solution especially as it is happening at a single device level without any central processor, unlike other solutions of the same type.
Available: now.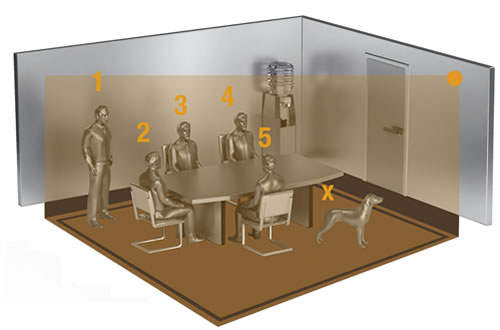 3. Basalte Home
Long considered one of the highest-quality manufacturers of KNX keypads, Basalte has firmly established itself as a user interface specialist with the introduction of Basalte Home. Drawing on its experience with the Asano distributed music solution, the Home app elegantly combines control of your music with control of your KNX home. Basalte also released the Ellie wall controller which has an HD screen, integrated thermostat and Alexa integration with its 3 x microphones. The software used to configure the solution is also innovative, introducing a straightforward graphical-based interface for programming.
Available: in approximately 12 months.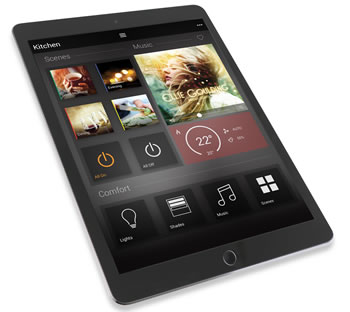 2. Hugo Müller Carbon Monoxide Sensor
A carbon monoxide sensor has always been the missing piece in the KNX control world – but not any more. With the launch of the stylish 'feel safe' CO sensor, Hugo Müller has boldly gone where no other manufacturer dare. The sensor also has air pressure, humidity and temperature sensing along with an integrated battery and sounder to make it a true safety device.
Available: in approximately 3 months.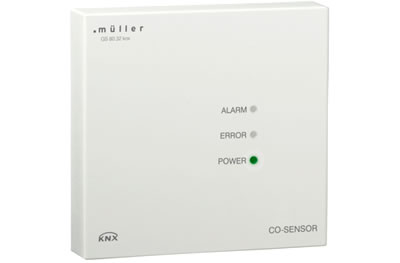 1. And the winner is… the Steinel True Presence Detector
A huge step forward in detector technology, the Steinel True Presence detector uses high-frequency (microwave) technology to measure micro movements such as as the rising and falling of a person's chest as they breath. With the ability to electronically tune the range to the centimetre, this detector is a true evolution in performance and functionality.
The multi sensor also integrates brightness, temperature, humidity, air pressure, VOC and CO2, offering countless uses and applications. Steinel is already working on the next version of this product which will be also be able to determine when someone has stopped breathing which opens up a huge range of health care and safety applications. When considering this is all happening in a single device powered only by the KNX bus, the engineering achievement becomes even more impressive.
Available: November.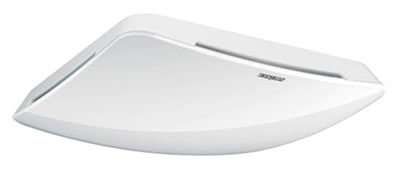 Conclusion
So, there you have it! All in all it was a fantastic show, with the above merely a snapshot of the new products and solutions available. If there is something you think I've missed, or just really impressed you, then please post a comment below.
Mark Warburton is the Technical Director of Ivory Egg (UK) Ltd, a supplier of leading KNX products and provider of KNX training courses.