By Flavio Sanches, ComfortClick.
The Ankaran complex comprises ten apartments, a concierge's office, a wine cellar and a swimming pool. It is located in the coastal region of Slovenia, and as such, has high solar incidence and good wind power density. ComfortClick was contacted by the Ankaran project team at the end of 2015 to implement a complete building automation system.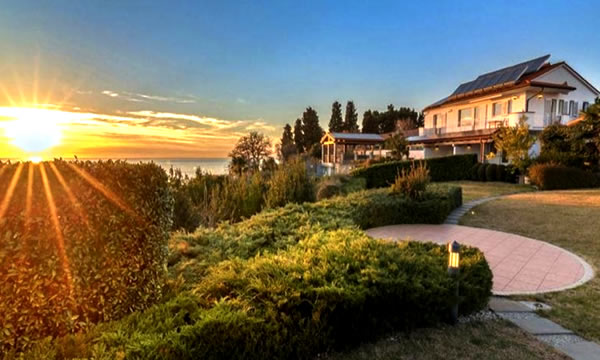 The brief
The focus was on energy management, with a goal to having a fully automated, self-sustainable building compound which would only use the energy generated through photovoltaic solar panels and wind turbine.
The project required the integration of a large number of different systems and devices. KNX was to be used for lights, shades, air-conditioning (AC), heating, water leakage sensors, movement sensors, a weather station, wind direction, energy consumption monitoring, and the swimming pool engine room.
Other functions to be included were an alarm system from DSC, an electric car charging station, IP cameras, a photovoltaic system with devices from SMA, an IP intercom, an audio system from Olive, Sony TVs and an elevator. Control was to be via a tailor-made graphical user interface, with apartment complex pictures as backgrounds.
The solution
We decided to use the ComfortClick Sledgehammer rack controller as this is powerful enough to handle a project of this size and can integrate all the above-mentioned systems.
One of the main focal points of the project was energy management. The building complex aimed to be independent of the power grid and furthermore to sell some of the produced electricity back to distributors. The energy self-sustainability was achieved by implementing a combination of solar panels, wind turbines and an efficient energy storage system together with an advanced monitoring and automation solution.
The power generated during the day is stored in batteries and used during the night when energy consumption is lower. Efficient switching between the use of energy from the solar panels/wind turbine and the batteries is one of the tasks handled by the ComfortClick building automation software platform bOS. The platform also enables monitoring of generated and consumed energy, and reviewing of past data for any selected period, with an export feature for further analysis. The user can check the levels of stored energy at any time. In addition, the system sends automatic notifications (push notifications, SMS, email), if the pre-set thresholds of stored and/or generated electricity are exceeded.
Part of the energy efficiency goal was to optimise energy consumption as much as possible. Each apartment's consumption is monitored separately, and in case of increased consumption, automatic notifications are sent out. Since apartments are offered as vacation rentals, automation is used to minimise energy consumption when the apartments are empty. Even if guests just leave for the day and come back in the evening, all non-essential electrical appliances and lights are turned off and the heating/AC is reduced.
Efficiency and remote control
The project investors wanted to optimise not only energy costs, but also personnel costs. By having a central overview of the whole system, automated daily tasks and automatic notifications and alerts, the investors were able to save on the labour cost of one additional employee who would otherwise be needed for technical maintenance of the apartment complex. The concierge has access to individual apartments' user profiles, which enables them to change all of the settings in the apartment units (e.g. increase air-conditioning) – especially useful for guests that are not tech savvy or have special needs.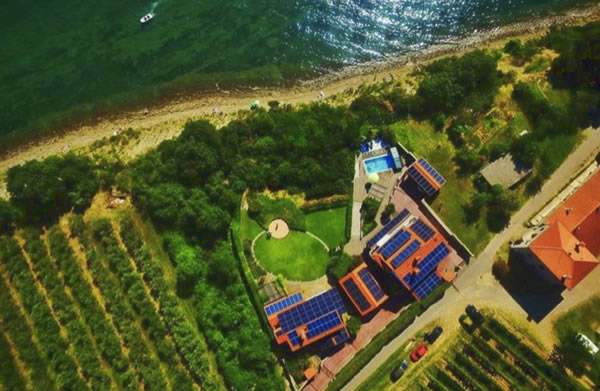 Even if the concierge is not at the premises, they can still communicate with the guest via the IP intercom system. When a guest rings the bell on the outdoor IP video intercom unit, a call is received on the wall-mounted touchpanels. If nobody answers the call for 30 seconds, the call is transferred to concierge's mobile phone. The concierge can talk to the guest via mobile phone and also open both the main entrance and the doors to the individual apartment.
Conclusion
This project shows the advantage of using a worldwide standard such as KNX. We started the first KNX installation at the Ankaran project back in 2009, which was just for lighting. Since then, the investors have been able to expand and upgrade the complex until it has become a shining example of a building that is totally self-sufficient in terms of energy. This clearly demonstrates the enduring nature of KNX and shows that a lot can be accomplished if a clear vision is aligned with an efficient building automation platform.
Equipment list
• KNX for lights, shades, Mitsubishi ACs, Dimplex heating pump, water leakage sensors, movement sensors, weather station, wind direction, energy consumption monitoring.
• Swimming pool engine room (swimming pool water measurements: pH, Redox, temperature; water pumps automation, swimming pool cover automation, water pipes pressure monitoring) integration done with KNX.
• DSC alarm system.
• Axis IP cameras.
• KWL outdoor lighting.
• Photovoltaic system with SMA devices – Sunny Boy and Sunny Island with electricity generation monitoring.
• Electric car charging station integrated with KNX and Modbus.
• 2N Helios IP Intercom system.
• Olive audio system integration with Global Caché network adapters.
• Sony TVS.
• Elevator integration through Modbus.
Flavio Sanches is the Head of Sales of ComfortClick, a building automation software, server and project provider.