By Rachel Wilkinson, My KNX Store.
The project involved an extensive refurbishment and extension of a rural residential property in Northumberland, UK. The whole project took 18 months, with the home control installation being carried out between January and December 2012.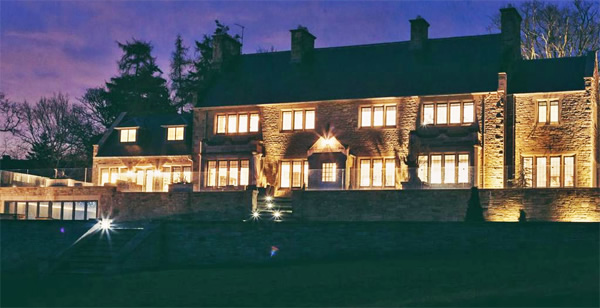 The architect for the project was Nicholson Nairn, who worked closely with My KNX Store and the appointed on-site integrator, E-LIFE Home Automation, to provide the system design and home technology solution.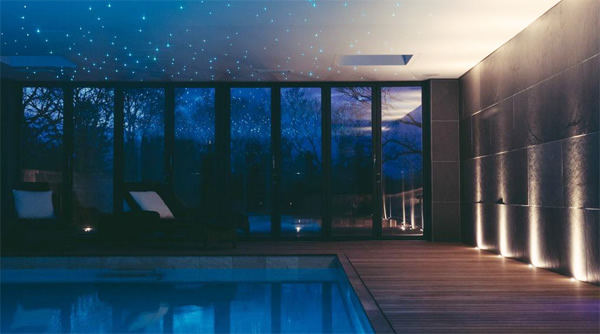 The property fuses an old existing exterior with a contemporary interior design. Its period features, such as the original radiators and heating systems, produced new and interesting challenges for the team, so it was important to have good communications between us all in order to ensure that all requirements were met.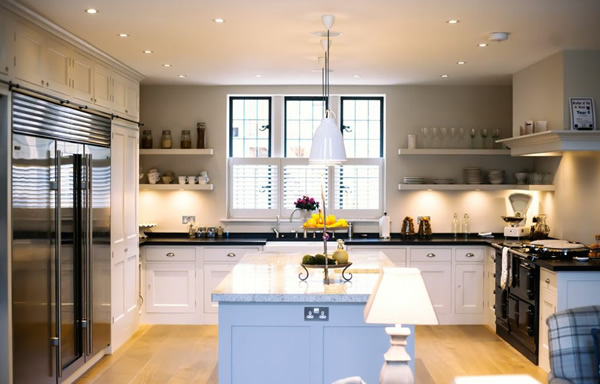 The Brief
The owners sought a whole-house solution to control and automate lighting, heating and water, all integrated into one simple, stylish and reliable system. There were to be no AV systems or Sky boxes on display anywhere in the property, and any control panels on show had to be stylish and fit in with the surrounding decor.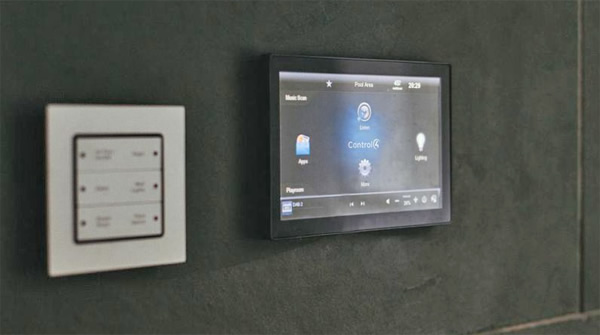 As the property is a family and working home, a multi-channel phone system was also required, so that both parents could make business calls at the same time without disruption or waiting for one call to end before another could begin.
The Solution
Having carefully analysed the specification and project plans, My KNX Store recommended a KNX-based system as this is not only the worldwide standard for home and building control, but is also excellent for energy management. In addition, our technical team has first-hand experience with both KNX components and KNX installations and is able to recommend the most suitable products for unique system designs such as this. The KNX system controls both external and internal lighting, heating and hot water.
In order to house all of the AV equipment out of sight, it was decided that an AV rack would be installed in the basement to house the Control4 system and associated equipment. The owners were also concerned with the look and feel of the technology that would be on show, so for this, we recommended the Gira product line for its ability to complement the home's contemporary interior design while offering all of the functionality required.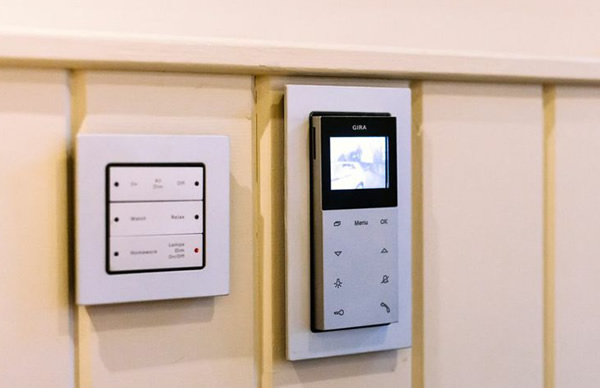 With the considerable size of the home, there are a number of rooms which are occupied most of the time and some which are rarely used, so in order to make the property more energy-efficient, PIR sensors were specified for certain areas so that the lighting only comes on when motion is detected in that space. The owners also requested timed external lighting so that there was no electricity wastage when still light outside.
The system design also took into consideration the placement of door entry, phone units and touchscreens to ensure they matched the owner's needs. For additional security, we enabled occupancy simulation that intelligently monitors the owner's activity over a set period, and replays it when they are away.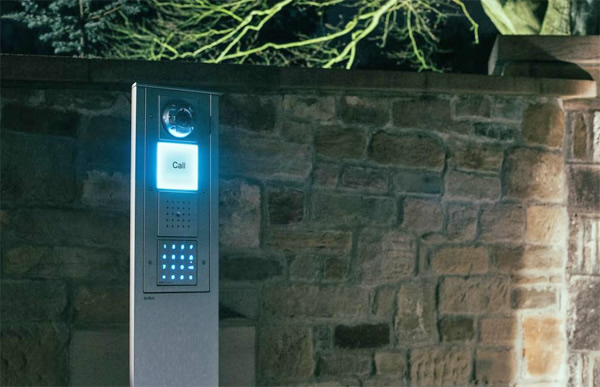 Installation
The E-LIFE engineering team negotiated with our specialist team at My KNX Store as to which solutions were required, resulting in the following:
1. A cable schedule and floor layout were designed, after the first fix which was completed by the on-site electricians.
2. The project manager undertook his site check before the KNX panels and AV rack were built at headquarters.
3. The second fix included work on bus couplers, speakers, TV plates and radiators before the board and racks were fitted.
4. Each room underwent a check before it was signed off for completion to ensure that the standard of work was at its very best.
Conclusion
This installation met the owner's brief for a discreet, smart system for controlling all elements of the home in the most efficient and elegant way, while also providing the opportunity for saving on energy and maintenance bills. The owners use the system day in and day out, and have been very happy with it so far.
Equipment List
Comfort
1 x Theben Daylight Sensor.
2 x Theben 640mA power supply.
41 x Gira Bus Coupler 3.
24 x Gira Push Button Sensor 3 3-gang with aluminium engraved.
14 x Gira Push Button Sensor 3 1-gang with aluminium engraved.
3 x Gira Temp Sensor Plus.
17 x Theben Rameses 712 room thermostat.
17 x Theben temperature sensor.
42 x Theben CHEOPS drive KNX radiator valve.
1 x Gira Info Touch terminal.
2 x Theben TA2 push button interface.
1 x Theben line coupler.
1 x ABB IP interface, MDRC.
4 x Theben 8-way load switch master unit (mix 1).
3 x Theben 8-way load switch slave unit (mix 1).
1 x Theben 4-way load switch slave unit (mix 2).
7 x Theben 2-channel dimmer 2 x 300w or 1 x 500w master unit.
12 x Theben 2-channel dimmer 2 x 300W or 1 x 500W.
6 x Theben internal PIR.
1 x Gira video control device.
2 x Gira surface-mounted Home Station.
1 x Gira telephone interface.
1 x Gira TV gateway.
1 x Gira door entry keypad.
1 x Gira door entry PSU 1 x Gira 1400mm door entry column aluminium.
1 x Gira door station 1 gang aluminium.
1 x Gira colour camera for door station.
AV
1 x RGB SLIM5 43U RACK.
1 x Wyrestorm 8×8 Full HD Cat5e matrix switch.
8 x Wyrestorm Twin Cat5e display adapter.
1 x Control4 HC-800 processor.
5 x Control4 HC 200 processor.
8 x Control4 SR250 remotes.
1 x Control4 7″ InfinityEdge in-wall touchscreen, black.
1 x Control4 Dock for iPod.
2 x Control4 V3 multichannel amplifier (8 zones).
1 x Control4 4-zone amplifier.
1 x Control4 audio matrix switch-16-V2.
1 x Denon twin tuner.
1 x Yamaha Blu-ray player.
40 x 6.5″ Monitor Audio ceiling speaker (pair).
1 x Apple TV.
1 x Netgear PRO Safe 24-port switch POE.
1 x Iomega 1TB NAS drive.
6 x CISCO WAP.
PABX
1 x Panasonic PABX main unit.
4 x Panasonic 2 channel cell station.
8 x Panasonic 2 channel cell station.
Rachel Wilkinson is the PR and Communications Manager for My KNX Store, a one-stop shop for all things KNX-related.