Mikkel André Markmann describes the KNX automation system that completed the conversion of this historic building into a luxury and energy-efficient hotel.
The old headquarters of Den Norske Amerikalinje (Norwegian America Line) in Oslo, Norway, was renovated into a luxury hotel by Nordic Property Management between 2018-2019. Tratec Teknikken AS, the Norwegian electrical, plumbing and climate control company, commissioned function Solutions to design the hotel room automation.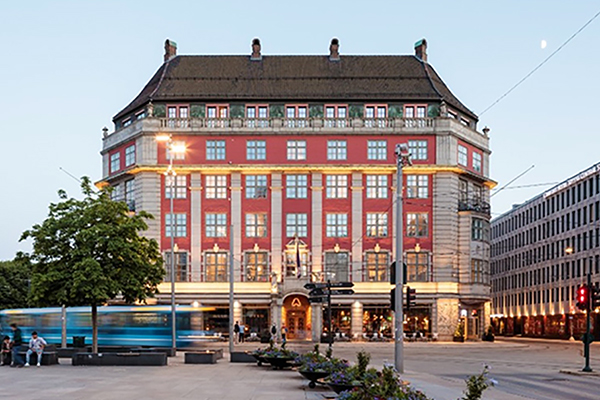 The brief
The brief was to provide energy-efficient high-functionality hotel room automation, that would be easy for people of all ages to use. The scope of the automation included HVAC control to ensure continuous energy saving, and audio-in-room and scene-based lighting control to give the guest an increased sense of luxury.
Solution
We proposed a presence-detection-based 'cardless' solution, booking integration, BMS (Building Management System) and HVAC control to Nordic Property Management, and they concluded that this was the right fit for their profile. Furthermore, the solutions were upgraded with KNX capacitive switches with customised icons, audio-in-room and full DALI broadcast control of all lights to make Amerikalinjen one of the most comprehensive builds in terms of in-room KNX use.
The BMS in combination with our own support server made the perfect tool to integrate live booking data from the PMS (Property Management System) into the hotel's operation of the guest rooms. In addition, the Cenium hospitality fulfillment software integration, that was made from scratch by our technicians here at function Solutions, was the first ever through the Choice API.
We programmed all components before they were installed by Tratec. After installation was complete, we did our own functional check and verified that all systems were working properly.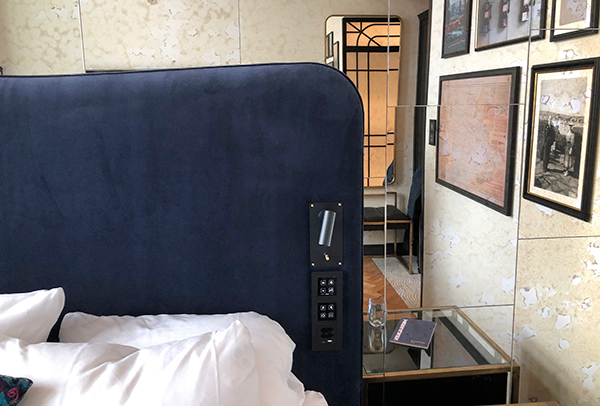 The advantages of KNX
Using KNX over an IP backbone was an ideal communication method due to the technical networking already in place for the building's central operating system, and the client's requests that demanded advanced programming capabilities. The KNX open standard gives the client ultimate security, because if we, as a company, did not meet their needs, they are not tied to us in any way after the build is complete – they could always choose from the many other KNX professionals. Needless to say, our ethos is to provide such good service that our clients willingly maintain a relationship with us, rather than be contractually bound to do so.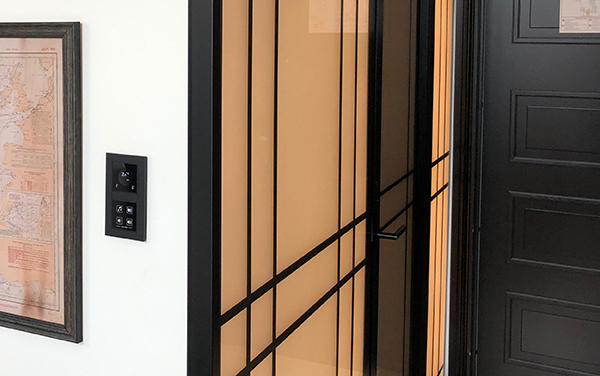 The installation took approximately one year. Since first commissioning, minor programming adjustments have been made – some due to Covid-19 and the need for periodic shutdown protocols. Apart from that, there has been no need for any changes in hardware.
Conclusion
Cardless presence detection eliminates the need for card holders, which in turn saves energy, as the guest can no longer run the HVAC in 'Comfort' mode whilst away from the hotel room. Also, the BMS gives the hotel staff top-tier capabilities in serving guests' needs in the hotel room as well as real time status reports of the entire hotel.
This project was nominated for a prestigious KNX Award, and its success was only possible thanks to KNX. As a world standard, KNX offers so many programming options and components, IP communication, and easy installation and adjustments during daily operation.
Key products/technologies used
• Hospitality DALI, climate and relay components.
• Capacitive glass switches.
• DALI controllers.
• BMS.
• Motion detection.
• Booking integration.
Mikkel André Markmann is the CSO of function Solutions, provider of complete turnkey automation solutions for hotels and commercial buildings, consultancy and programming services.