Weinzierl – all over the world. That was a message from 2019 with trade fair dates in Singapore, Moscow and Dubai. Unfortunately, after the ISE 2020 in February in Amsterdam, none of the fairs we had planned could take place.
This pushes the importance of digital ways to reach our customers and partners immensely. Therefore we are very pleased to invite you to KNXperience, the first KNX online exhibition of the KNX Association. We have set up a virtual exhibition booth for you and will of course be there for you personally from September 28th to October 2nd, 2020. We will be happy to answer your questions via live or video chat.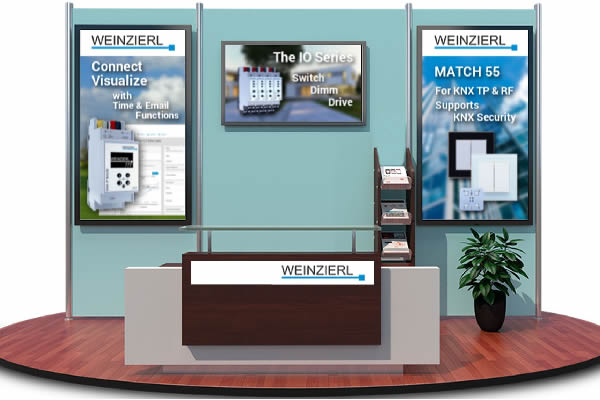 We are keen to present our new solutions for KNX
• MATCH 55: Push Button Inserts for KNX TP and KNX RF/EnOcean with Security
• KNX Blue IO: LED dimmers for KNX TP, RF und IP to be installed outside the switch board
• KNX IP BAOS 777 Update: Web Visualization with E-Mail Function
• Special Gateways: Easily connecting Modbus RTU and DMX 512 with KNX
MATCH 55: it simply fits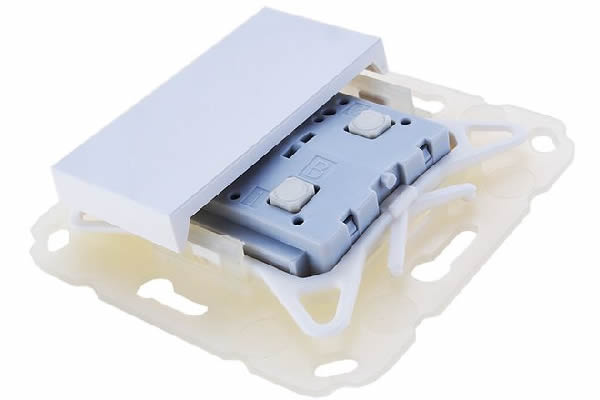 MATCH 55 is a new push button series from Weinzierl for KNX bus as well as for KNX RF or EnOcean protocol, each supporting data security. The devices fit in standard 55 mm switch frames which are very common in Germany and many other countries and thus are highly compatible with a wide range of well-known design series from different vendors. The push buttons are available as single or double rocker.
Remarkable is the soft and quiet keystroke which makes MATCH 55 devices perfect for the installation in premium areas such as bedrooms and living rooms.
Bus or wireless: The KNX TP Push Button Insert 420 secure offers a solution with an integrated bus coupling unit for the KNX bus. The insert is alternatively available as a 4-fold push-button interface.
The wireless KNX RF / ENO Push Button 440 secure offers support for the EnOcean protocol as well as for KNX RF in one device. The device operates in EnOcean mode without configuration (EnOcean Security is activated via a simple push button combination). Through configuration with the ETS®, the push button switches to KNX RF mode and offers an optional support of KNX Security. In KNX RF mode the integrated USB interface can be used for connecting to the ETS®.
KNX Blue IO: KNX LED driver with or without wires

The successful dimmer family from Weinzierl will be expanded by KNX Blue IO, which is a new series of LED dimmers for KNX TP, RF and even KNX IP for installation outside the switch board. The flat design is optimized to be mounted in furniture or ceilings. All new KNX BLUE IO devices offer four low voltage outputs for dimming LEDs with functions for RGB/RGBW and TW (Tunable White). Each model is available in variants for constant voltage (CV) as well as constant current (CC).
The unified application offers powerful functions, including scenes, staircase automation, snooze function and sequencer. With KNX IP the dimming actuator can be directly connected to the IP network of a building, with full compatibility with the KNX system and with ETS®. With variants supporting Power-over-Ethernet (PoE) the LED lamps can be supplied directly via the network cable. They require only an ethernet connection, removing the need of an additional power supply. An optimal approach towards the so-called "Digital Ceiling".
KNX IP BAOS 777 Update: Web Visualization with E-Mail Function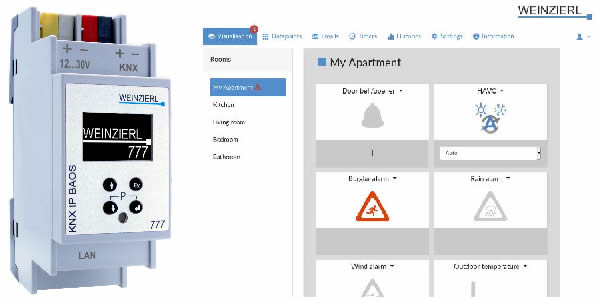 The proven platform of our '777' still is one of the most powerful web servers for KNX for DIN rail mounting and a width of only 2 units (36 mm) with very low power consumption. With the latest update we have not only re-designed the web frontend, but also added many new functions and improvements. The device now supports the sending of notification emails triggered by data points. An NTP server can be used for time synchronization inside your KNX installation. Powerful timer functions allow the realization of complex KNX time switches.
All this is possible without any additional tool or editor. The KNX related functions are commissioned via ETS® parameters, user specific functions like e-mails and timers are configured over the web based visualization.
KNX DMX Gateway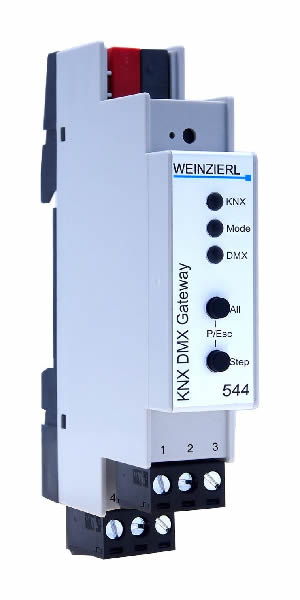 The KNX DMX Gateway 544 is a compact gateway between KNX and DMX 512 (protocol for lighting control) with up to 64 freely configurable channels. In master mode, the device allows convenient control of DMX lights. Up to 64 dimming channels or up to 8 RGB/RGBW channels are available. In slave mode KNX actuators can be controlled by DMX. Up to 64 DMX 512 addresses can be individually evaluated and sent to KNX. Dimming value, switching with threshold and RGB value are available for interpretation. The assignment between KNX objects and DMX 512 devices is solely made via parameters in the ETS.
KNX Modbus RTU Gateway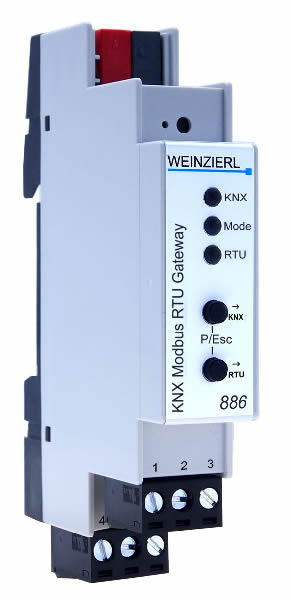 The possibility to connect and easily integrate other standards into a KNX installation is one of the powerful features of KNX. The KNX Modbus RTU Gateway 886 is a compact KNX/Modbus gateway with 250 freely configurable channels (KNX data points). The device allows easy integration of Modbus devices supporting the RTU protocol via RS-485 into KNX installations. The device enables the interpretation and scaling of the Modbus data according to the standardized KNX data point types. The device provides the ability to function as either Modbus master or slave. The most special feature of this gateway: the assignment between KNX objects and Modbus registers is made via parameters in the ETS – no further tool is required.
We are looking forward to a completely new and exciting trade fair experience. Perhaps the new format will also enable interested parties to participate for whom it would not have been possible to travel. In any case, we would be delighted to welcome you to our virtual booth at KNXperience.