• MATCH 55: Push Button Inserts for KNX TP and KNX RF/EnOcean with Security
• GlassTouch: Elegant glass touch sensor series with clever features and KNX Security
• KNX Blue IO: LED dimmers for KNX TP, RF und IP to be installed outside the switch board
• Special Gateways: Easily connecting Modbus and DMX 512 with KNX
Expanding its product portfolio supporting open standards for home and building automation, KNX specialist Weinzierl Engineering GmbH is introducing its newest product family members: smart and secure push button inserts from the all new MATCH 55 series. GlassTouch series sensors with an elegant and unique design and clever features. KNX Blue IO series comprising LED dimmers for installation outside the switch board via KNX TP, RF or IP. Special gateways allowing Modbus and DMX 512 devices to be easily connected with KNX installations.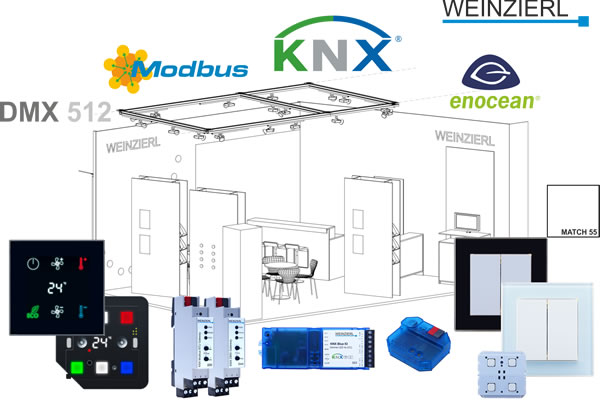 MATCH 55: it simply fits
The new MATCH 55 series push button inserts fit in standard 55 mm systems which are popular in Germany and many other countries and thus are highly compatible with a broad variety of well-known design frames from different vendors.
Remarkable is the soft and quiet keystroke which makes MATCH 55 devices perfect for the installation in premium areas such as sleeping and living rooms.
Match 55: Two models, unlimited variations
Comprising two models – one each for wireless (440 is hybrid KNX RF and EnOcean) and wired (420 is KNX TP) – the push button inserts are available in versions with single rocker and double rocker and can be combined with different frames from the market or directly available through Weinzierl.
The wireless KNX RF/ENO Push Button Insert 440 secure offers support for EnOcean and KNX RF in one device. The device operates in EnOcean mode without configuration (EnOcean Security is activated via a simple push button combination). By configuration with the ETS®, the push button switches to KNX RF mode and offers an optional support of KNX Security. In KNX RF mode the integrated USB interface can be used for ETS.
The sister model KNX TP Push Button Insert 420 secure offers a solution with an integrated bus coupling unit for the KNX bus. This can alternatively be used as a 4-fold push-button interface.
GlassTouch: Innovation and design
The KNX TP GlassTouch series brings the comfort and nearly unlimited possibilities of a KNX installation even closer to the user. The unique design made of high quality glass gives every room a luxurious and modern character. Its touch interface is supported by a spatial proximity sensor for best user experience. Depending on the model and configuration, up to seven dimmable and color-coded symbols allow intuitive operation and maximum flexibility.
Glass Touch: 7-fold or 6-fold with RTC
The devices are available in two design variants and two casings: 7-fold type to control lighting, shutter and much more. A 6-fold version with integrated display implements a powerful Room Temperature Controller (RTC) for heating, cooling or both in one look-and-feel. All variants have integrated sensors for temperature, humidity and brightness. Besides the standard flush mounted versions also variants as table consoles are available to be used on the desk or to be placed on the night side box.
Glass covers are available in black and white, both glossy or matt. The glass covers use an inlay film for exchangeable symbols and invisible magnetic fixing.
GlassTouch: Powerful application
Thanks to a user-friendly structured product database (ETS standard), even extensive configurations can be carried out easily and without an extra plug-in. The entire supply of the sensor is provided via the KNX connection. The ETS applications of the GlassTouch series are in-line with the MATCH 55 series, but have been significantly expanded to make optimal use of the possibilities of the devices such as RGB backlighting or HVAC control. With the support of KNX Data Security, the GlassTouch series is also suitable for public buildings and hotels.
KNX Blue IO: Think (and install) outside the box
In 2020, the successful dimmer family from Weinzierl will be expanded eightfold. KNX Blue IO is a new series of LED dimmers for KNX TP, RF und IP to be mounted outside the switch board. The devices offer four low voltage outputs for dimming LEDs with functions for RGB/RGBW and TW (Tunable White). Each model is available in variants for constant voltage (CV) as well as for constant current (CC). The flat design is optimized to be mounted in furniture or ceilings.
KNX Blue IO: with or without wires
The KNX Blue IO are available for KNX TP, KNX RF and KNX IP. All types offer powerful functions, including scenes, staircase automation, snooze function and sequencer. With KNX IP the dimming actuator can be directly connected to the IP network of a building with full compatibility with the KNX system and with ETS. With variants supporting Power-over-Ethernet (PoE) the LED lamps can be supplied directly via the network cable. They require only an Ethernet connection but no additional power supply. An optimal approach towards the so-called "Digital Ceiling".
KNX and Modbus
The possibility to connect and easily integrate other standards into a KNX installation is one of the powerful features of KNX. The KNX Modbus RTU Gateway 886 is a compact KNX/Modbus gateway with 250 freely configurable channels (KNX data points). The device allows easy integration of Modbus devices supporting the RTU protocol via RS-485 into KNX installations. The device enables the interpretation and scaling of the Modbus data according to the data point types of the KNX standard. It can be used as Modbus master or slave. The most special feature of this gateway: the assignment between KNX objects and Modbus registers is made via parameters in the ETS – no further tool is required.
KNX and DMX 512
The KNX DMX Gateway 544 is a compact gateway between KNX and DMX512 (protocol for lighting control) with up to 64 freely configurable channels. In master mode, the device allows convenient control of DMX lights. Up to 64 dimming channels or up to 8 RGB/RGBW channels are available. In slave mode KNX actuators can be controlled by DMX. Up to 64 DMX512 addresses can be individually evaluated and sent to KNX. Dimming value, switching with switching threshold and RGB value are available for interpretation. The assignment between KNX objects and DMX 512 devices is solely made via parameters in the ETS.