By Remco Hoveling, BAM Techniek – Regio West.
The Monarch is an office development in the centre of The Hague, Netherlands. Ultimately, it will comprise four office buildings, one of which, the Monarch I, is a refurbishment of an existing building. The Monarch I is the largest KNX project in Benelux.
The aim of the project is to provide buildings that meet the highest standards for sustainable buildings. BAM Techniek – Regio West was responsible for the entire installation of the Monarch I, with Gira as a key partner. I was the Chief Engineer on the project, and Arjan van Meeuwen was the Project Manager. This phase of the project took place between October 2011 and December 2012.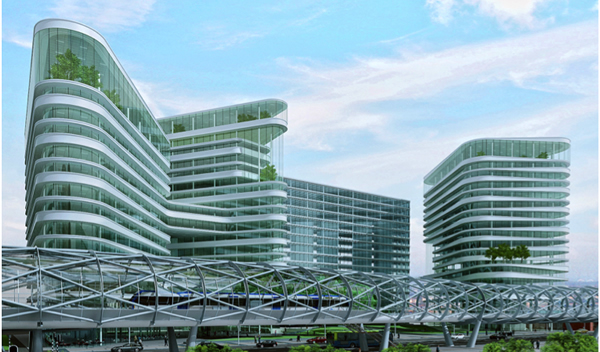 The Brief
The brief was to provide a sustainable installation that included energy saving and energy generation. As it turns out, Monarch I was awarded the international BREEAM Excellent sustainability certificate for both the design and the execution – the first time that this award has gone to an extensive redevelopment project.
The Solution
The solution was to have automated blinds, lights on motion detectors, CO2 detection, fire and water systems, energy meters and thermostats working together in the most energy-efficient way through a link with Webeasy. We are logging the kWh energy consumption of all of the meters every 20 minutes for two years.
The heat and cold that are ultimately required are generated by an optimised combination of energy, heat pumps and high-efficiency boilers. In the summer, heat is extracted from the building to cool it. This heat is stored in the groundwater. In winter, this heat can be used as a source for the heat pump which extracts it from the groundwater, thus cooling the groundwater which is returned to the ground, and can be used again for cooling the following summer.
For lighting, there are motion sensors that control energy-efficient luminaires.
We chose KNX for integrating the electrical and mechanical elements into a combined control system for each floor. We used more than 4500 actuators, and have 7 main lines with 74 sub lines. The KNX bus system connects the following:
• Lighting.
• Blinds.
• Heating.
• Energy meters.
• CO2 detection that automatically provides extra ventilation flow in a conference room for example, where a number of people are present.
• Alerts from disabled toilets that send a signal when receiving an alarm from a disabled toilet.
• Refrigeration valves – open and close for hot or cold water, depending on the need for heating or cooling.
• Fire systems that close the supply of oxygen automatically in case of fire.
• Water valves in toilets that are connected to motion detectors so that the water valve is opened when someone is present, and shut off when no one is there.
• Window and door locks.
• Turnstiles.
• Security.
• 0-10V climate control and lighting dimming.
• Weather Station.
• Cleaning programme.
• Corridor heating and fault detection.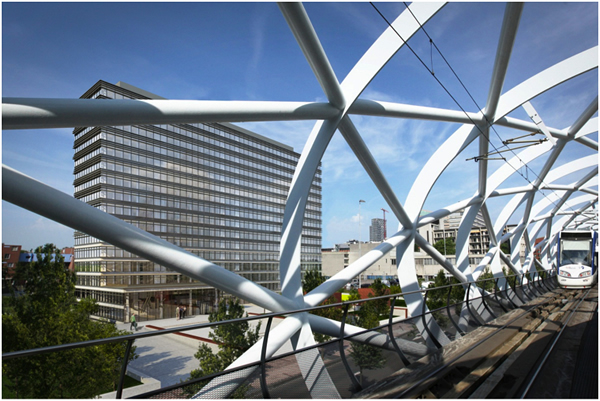 Cooperation
With this kind of project, if you base your choice of partner on cost alone, you are unlikely to achieve the best results, hence it is important to have partners with a good reputation for quality and the ability to be innovative. Working with Gira was great.
As the system became larger and more complex, we had to change a lot of things, but these changes didn't cause any problems as we were able to consult with our partners on everything. Gira and ABB were the main suppliers of electrical components, while Webeasy and Siemens were the partners for the mechanical installations. Any challenges that the team faced were always solved through consultation with our partners.
Challenges
When dealing with renovations, you are not starting with a clean sheet of paper – you have to deal with existing structures and limitations, and find a way around them.
One of these challenges, that was solved during the early stages, was the fact that the space above the ceiling was too small for central air ducts. We solved this problem by constructing a new wall a few feet outside of the existing building, and used this to hide the ductwork between the shafts.
Another challenge is in ascertaining whether products meet the strict BREEAM criteria, as you are sometimes reliant on suppliers' specifications. For example, when researching energy-efficient luminaires we found a fluorescent tube that appeared to meet our requirements, but it was harder to prove that it actually did.
Experience from the Project
The installation in Monarch I has proven so successful that it will undoubtedly act as a template for the successive phases of the project.
We have learnt a lot from this project, and one of the things we will change for Monarch II is the use of flat cables. So instead of two separate cables – one for the bus and one for the power supply – we will work with one thin three-phase cable in which the bus cable and power are integrated. This will then allow us to connect modules without the need for thousands of group addresses, making it much easier and more efficient for third parties to carry out the installation.
Conclusion
KNX provides flexibility, comfort and durability, and this installation has been very well received by the building's owners and users. Their experience with KNX has been very positive, especially since the installation is very easy to adapt to the customers' needs.
The more you do with KNX, the more you save on your energy bills. If you can control multiple functions with one motion, then you are bound to save costs. This is true not only for new buildings, but we have proven that KNX-based building automation can be very effective for refurbishment projects too. It gives the property owners a competitive advantage and a selling point in a market where competition is stiff.
Remco Hoveling is the Chief Engineer for BAM Techniek – Regio West, a subsidiary of Royal BAM Group that designs, installs, operates and manages technical equipment for construction, industrial, housing and infrastructure.