Jan Martens describes the technology used in an award-winning project that integrates A/V with lighting, HVAC and security in Belgian smart home, House BE.
House BE in the Belgian countryside combines brick, wood and concrete along with natural tones to create a stunning, contemporary property that offers indoor-outdoor living at its best. Internal courtyards, a kitchen terrace and extensive landscaped grounds sit alongside a home cinema, a basement wellness area and bar, and open-plan living spaces to create a family home that exceeds 1000sqm.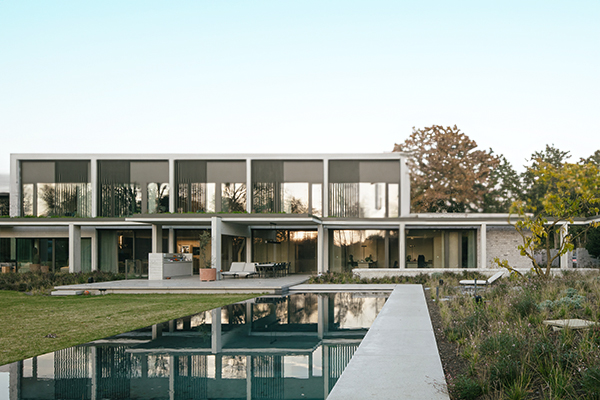 Winner of the Integrated Home Level IV award at the 2022 CEDIA Awards EMEA, this impressive new-build property was designed by A20 Architects who brought in Woelf to design and integrate the technical aspects of the home. As the client was technology-minded and wanted smart home solutions that would enhance the living spaces and well-being for all occupants, the project was a substantial one, with more than 15 different systems integrated by us.
The brief
A core requirement of the client was for an easy-to-use, simple and intuitive home automation system that would automate as much technology in the house as possible while creating a safe, enjoyable and comfortable environment. The family also wanted an interface that worked on multiple platforms – touchscreens, remotes and personal devices – with the same look and feel across them all.
The solution
To achieve this experience, we opted for a KNX backbone for comfort-based applications overlaid by the Control4 platform for AV integration and unified control, visualisation and operation of the whole home using T4 Series touchscreens and NEEO remotes. Our thinking behind these choices was that KNX is an open, multi-platform protocol, so you can use different technologies from your preferred KNX brands as the back-end system for your lighting or your HVAC control, and that makes it really easy. Everything that's comfort-based is almost all KNX-based; the lighting control, the HVAC control and so on. It's really reliable and it's futureproof.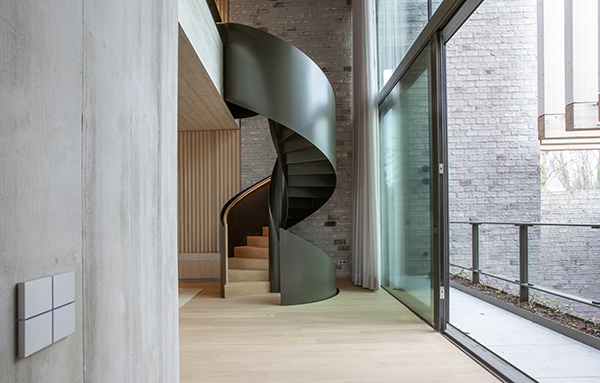 On top of that we used the Snap One Control4 system for integration and visualisation. The Control4 system provides an easy-to-use interface that is identical across platforms. In addition, it has a clean and modern design, which suits the appearance our clients look for.
Programming and integration
We used our KNX programming template for simplicity and speed. The Control 4 system is connected seamlessly to the KNX system using the KNX Routing Gateway driver with a multicast connection. The Control4 solution is the interface for audio, video, lighting, security, shading and more at House BE.
Audio
The substantial property features 21 audio zones, including one high-end stereo zone and a home cinema, supported by a separate amplifier per two zones. This gives the system the capability to deliver a quality audio experience with enough power in every room. In-ceiling speakers have been installed throughout the property along with free-standing units in the main living space. Control4 enables access to AirPlay and TuneIn so the client can stream music at the touch of a button, while Triad amplifiers ensure high-resolution playback.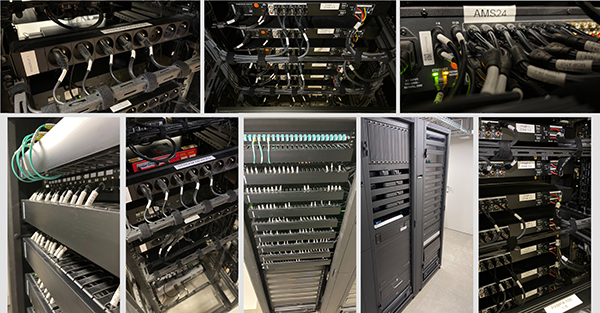 Video
When designing the video system, some of the sources and displays were located well over 100 meters away, so we chose to work with a video-over-IP system, opting for products from another Snap One brand, Binary, with its MOIP 4K Ultra HD Media-over-IP transmitters, receivers and controllers. This created the flexibility to add sources anywhere in the house, and, thanks to the superb wireless indoor and outdoor data network, builds in flexibility should the owners want to add video in different places at a later date. There are 10 managed switches in the home, including the Pakedge MS-2424, MS-12-12 and MS-4424s – located in six different racks, providing 328 managed UTP outlets over the entire domain.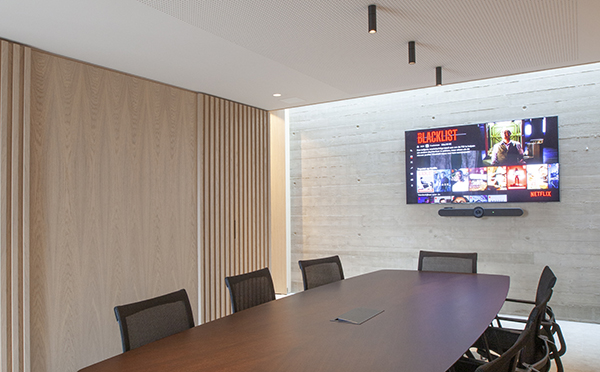 Security
In terms of security, we installed an IP-based system, meaning that the programming, configuration and the integration of the Control4 system was achieved at an IP level, allowing the team to access all the detectors and sensors in the house. The alarm was also integrated into the home automation system to give the client an easy-to-use setup.
Shading
Two types of controls were implemented for the 26 curtains throughout the property – one automatic using KNX and one manual. The automated setup is designed to save energy: when the alarm is turned on, all the curtains are automatically closed so that the HVAC system uses less energy to maintain the right temperature in the house. The manual control, meanwhile, allows the client to manage and adapt all 26 curtains to meet their immediate needs.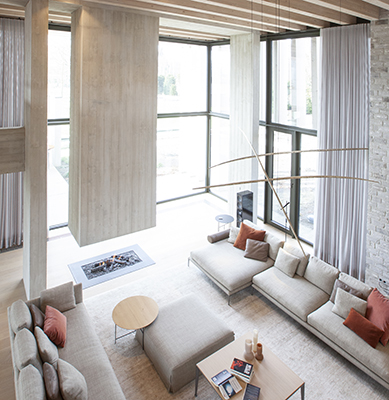 HVAC
The Control4 system also handles the HVAC as the client didn't want a separate thermostat to manage the temperature. The BACnet protocol was utilised to integrate the HVAC and Control4 systems and ensure everything could be controlled using one interface.
Conclusion
The result of this extensive project is a stunning family home that is both minimalist and characterful and that, most importantly, truly meets the needs of everyone living in it.
Both our team and the client were super happy with the final result. The KNX and Control4 integration has worked so well. And, for us, it has been the greatest honour to work on this project with the rest of the teams on site. We are also proud to say the client has already signed a quote for a new penthouse that they are building as a second home which we are looking forward to working on too.
Equipment list
Control4 C4-T4IW8-BL
Control4 NE-RMT-BL
Control4 NE-RMT-AS
Control4 C4-T4IW10-BL
Control4 C4-T4T10-BL
Control4 TS-AMP1RM-BL
Control4 TS-AMS24
Control4 TS-PAMP8-100
Control4 TS-SAMP1-100 BL
Control4 EA-1 controller
Control4 C4-IOXV2
Control4 C4-CA10
Control4 C4-EA5
Binary MOIP 4K RX and TX
Binary MOIP 4K CTRL
Pakedge PE-08I
Pakedge FM-10G-LR
Pakedge MS-2424
Pakedge FM-10G-LR
Pakedge MS-4424
Pakedge MS-2416
Triad One, Wireless/Wired Streaming Amplifier
KEF CI200RS-THX, CI130QS, CI160QS, R11 BL
Wisdom Audio SW-1 and SUB-1
CYP PU-304-KIT
Future Automation WB 21, PS55-WB and WB 26-2S Wall Boxes
Samsung QE55Q9F, QE75Q9F, Q65Q95
TOP TV 55Q9F 55″ 4K UHDTV, 65Q95 65″ 4K UHDTV
Sony VPL-VW760ES
Basalte Sentido 4-fold keypad
Basalte Auro White sensor
Theben DM 4 T, BM 12 T and RM 16 T KNX dimmer
Theben TA 4 S ad 2 SKNX sensory interface
Apple ATV 4K
2N Stand Alone Access Unit Badge Reader + touch keypad Inox
Jung 2224 WH Weather station and WSSV 10 Power supply
Jan Martens is the Owner and Systems Integrator at Woelf, specialist in residential audio/video systems and home automation.