JUNG KNX operates the heating and air conditioning effectively and efficiently. Smart technology monitors the building: this type of regulation of the room temperature is environmentally sustainable.
A KNX system always heats on demand as it controls the heating and air conditioning dependent on the prevailing temperature. If sun rays heat up individual rooms, KNX sensors set the system to economy mode. The key element in the distribution cabinet is the KNX heating actuator 6-gang from JUNG. It switches electrothermal valve drives for heating systems or cooling ceilings. It supports the system through demand-based pump operation and the option of forced control of all the outputs. With six integrated temperature controllers, it is also flexible to use. Each room thus only requires one sensor which reports the measured room temperature to the actuator. All current KNX push-buttons in the F 10, F 40 and F 50 families as well as the JUNG KNX automatic switch are suitable for this.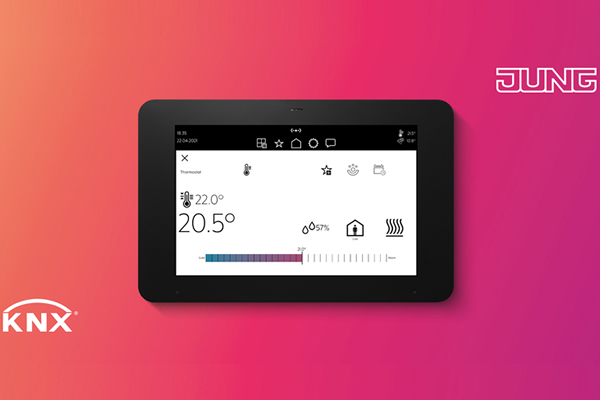 Cost-effective and comfortable
The KNX push-button F 40 with room controller module is persuasive with its intuitive operating concept and equipment with two integrated temperature controllers. It enables demand-based room temperature control through an integrated temperature sensor and autonomous control of a second room through an external temperature sensor. The innovative push-button from JUNG records the room temperatures and enables a manual setpoint adjustment. With its high-quality JUNG switch design, it also makes intuitive manual operation possible. Window contacts offer protection against inefficient heating. These sensors inform the actuators in the KNX system if the windows in the lounge for example have been left open. In this room, the heating is switched to standby mode, so that no resources are wasted while the occupants are airing their home.
Measure, visualise, optimise
Compare energy data, highlight trends and adapt the building technology: the charting function of the JUNG Smart Visu Server brings transparency to the smart home and creates informative diagrams. Through targeted adaptations to the building technology, the professional smart home becomes more energy-efficient. Warm in the winter, cool in the summer: enjoy comfortable temperatures all the time in the smart building. JUNG KNX makes it possible. In addition, the JUNG Smart Visu Server provides you with even more transparency, convenience and control – and a demand-based heating control system also protects the environment.
Learn more at: