By Flavio Sanches, ComfortClick.
Connacht GAA (Connacht Provincial Council of the Gaelic Athletic Association) is the governing body for Gaelic games that are played in the province of Connacht, Ireland. It had been planning an indoor playing facility for some time, and in 2017, decided that this would be in the form of an air dome. Managers from Connacht GAA then flew to Finland, the home of air-supported structures, where they familiarised themselves with local smart sports domes that had been built by Slovenia-based DBS Engineering, and centrally-operated using the ComfortClick bOS system. Their minds were made up. They were going to build the Connacht GAA Centre of Excellence – the world's largest sports air dome, in Bekan, Ireland.
DBS Engineering was tasked with constructing the dome. In July 2020, it sent five employees to Bekan. Assisted by a few local hands, their work was completed within a month of arriving – all in the midst of a global pandemic.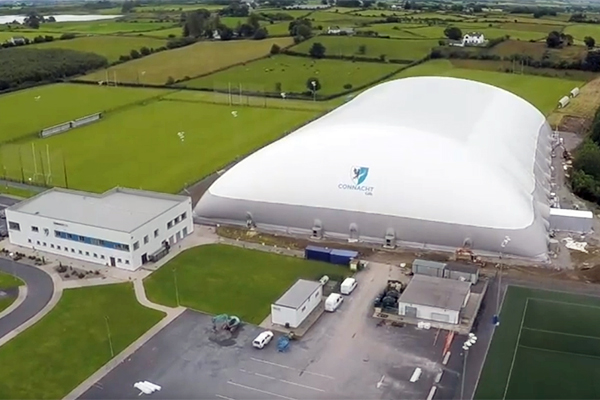 The brief
The 15,000m2 sports air dome had to be fully automated, have all critical equipment and systems fully integrated with automated lighting, heating regulation, air pressure, fan speed, smoke detection, energy consumption monitoring, and video surveillance using IP cameras. Most important was that automation was to be used to maintain constant air pressure inside the air dome, since air pressure is what keeps the walls up. Additionally, the dome had to be easily-controllable using computers and local wall panels, as well as from different mobile devices.
The solution
According to the project specification, the team decided to integrate the systems in the air dome using KNX and Modbus. For controlling and automation, the ComfortClick Grinder Black server was chosen and the whole visualisation was done using ComfortClick bOS software.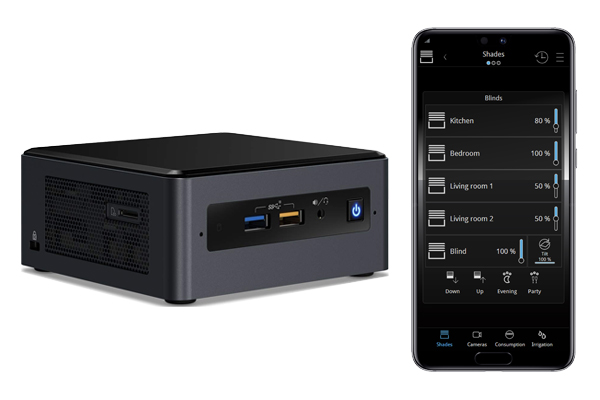 The ComfortClick Grinder Black was chosen because it is one of the most powerful ComfortClick servers, intended for use in large projects such as villas, boutique hotels, offices, and sports arenas. Its processing power made it a safe choice for this project and its included ComfortClick bOS PRO license was used to bring the KNX and all other systems and devices together under the same visualisation and integration tool, for easy and customisable control.
The completed project is impressive: a structure that is 26 meters tall at its highest point, 150m in length and 100m wide, boasting a 30m running track on one side of the pitch with capacity to insert seating for 600 people on the opposite side. Lights, cameras and speakers are suspended against the structure all the way around, giving it the flexibility to be a venue for concerts, conferences, trade exhibitions, and more. In fact the entire space has the ability to host 10,000 people in a concert setting, making the dome one of the largest indoor venues in Ireland.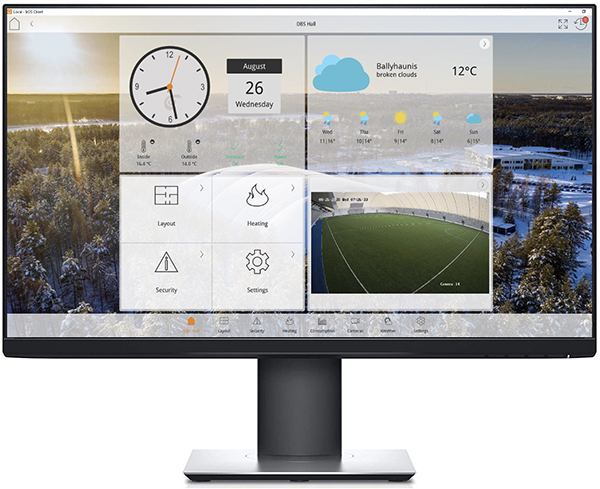 KNX and Modbus have been used for automatic lighting control; heating regulation according to internal and external temperature; automatic fan speed control; toxic gas and smoke detection alerts; pre-set lighting and heating scenarios for scheduled bookings of the air dome; energy consumption monitoring of electricity, oil and hot water; and video surveillance using IP cameras.
In the event of an air pressure drop, automatic notifications via email, SMS, and push notification will be sent to the maintenance personnel and the siren inside the dome will sound. A KNX analogue module together with a photoelectric meter is also used to constantly measure the dome's height and, in case of notable changes, the same alarm routine is triggered.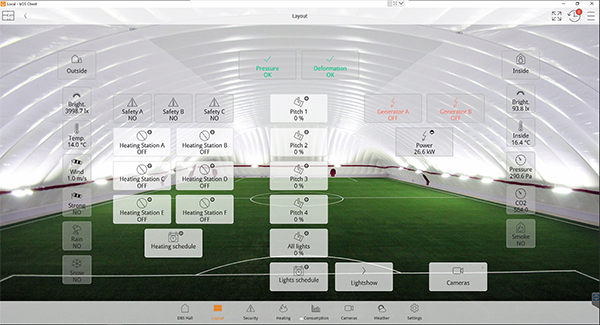 Customer reaction
According to Connacht GAA Secretary, John Prenty, "There were about two hundred events that we couldn't run here because of the weather. The Connacht GAA Centre of Excellence is now open to all counties and gives an experience that isn't available anywhere else. To us, this is a game-changer because it gives us an opportunity to play 24/7, 365 days a year." And in response to the flexibility of the space, he responds, "Standing in the middle of the field in what is now the world's largest sports air dome, the opportunities are limitless."
Conclusion
This project shows that a sports venue with the flexibility to host other events, can be erected and fully-functioning in the space of one month. The venue costs around EUR100 a day to maintain, and has an expected life span of 40 years. Thanks to KNX infrastructure, which only requires a twisted pair cable and is simple to install, the Connacht GAA Centre of Excellence is a highly energy-efficient facility, with multiple systems controlling heat, pressure, humidity, lighting, and video/audio systems.
Equipment list
MDT KNX power supply.
MDT switch actuator.
MDT KNX/DALI module.
Smoke sensor.
MDT binary KNX module.
MDT KNX smart switch.
Jung KNX weather station.
Jung KNX brightness sensor.
ABB KNX analogue module + photoelectric meter.
ABB KNX analogue module + pressure sensor.
Lingg & Janke KNX energy meter.
ComfortClick Grinder Black server.
MDT KNX IP gateway.
Flavio Sanches is the Head of Sales of ComfortClick, a building automation software, server and project provider.