Thinka is a KNX bridge, a smart home hub, connecting and controlling smart home devices, enabling homeowners to easily control their homes. Thinka's first product is Thinka KNX.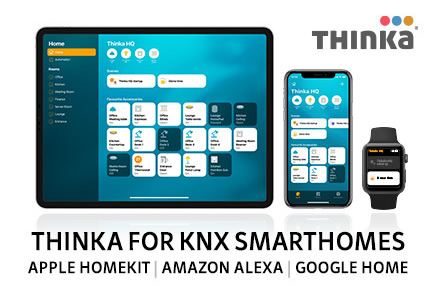 Design principles:
• Make use of existing, state-of-the-art smart controls
• Be able to work stand-alone
• No access to user data
• No work-arounds: officially Apple HomeKit certified
With KNXperience about to begin, Michael Franken, Founder and CEO of Thinka, explains in this interview how and why Thinka was designed the way it is.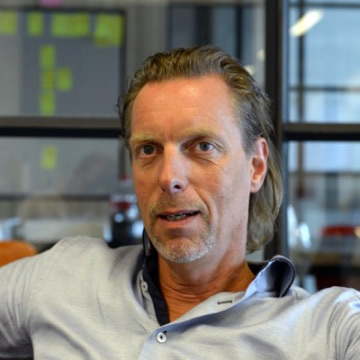 Why KNX and why develop a smart home hub?
Somewhere in 2015 we decided to develop our first smart home product for KNX.
KNX was (and still is) the most advanced and reliable domotica standard. A high-end niche, certainly, but a very well-established and professional one. With thousands of professional installers, hundreds of manufacturers and thousands of products based on the international KNX standard overseen by the KNX Association, we could start with a solid base.
Although many homes have all kinds of interesting smart accessories such as lighting, heating, curtains, blinds and sensors, they are not used in a very smart manner and they are certainly not family-friendly. You need to be an expert or to hire one in order to get it working. After that most installations remain unchanged and restricted to the obvious functions. Although your KNX smart home has endless possibilities, there was no easy way to explore those and benefit fully from what your smart home has to offer.
So now we had a mission; we would offer the tools to benefit from all a KNX home has to offer, without the need to contact your system integrator after installation.
A smart home requires smart controls
Where did you start?
We figured a smart home needs smart controls first and foremost, controls that are convenient and super-easy to use. So we chose to start with an iPhone for the obvious reason that almost all KNX customers have one, and (at that time, for sure) the most advanced standard for smart home control: Apple HomeKit.
There are certainly more advanced control systems, but they don't fit in your pocket, you can't take them with you and your family simply won't use them. That's why we strongly focus on the iPhone.
So, the controls for the homeowner are taken care of by Apple, what does Thinka do?
With the controls readily available for all of us to use, the next step was to develop a brain. We felt that in the smart home arena, a brain was missing. A brain that sits in your house and can work with you, for you and your family. A brain that you can trust and that is intuitive and makes life easy, or at least makes it look easy.
Thinka – the brain for your smart home
Thinka is this brain. It understands all the complexity of protocols and accessories, it monitors the state of your home and accessories and presents all the various options as a select and tasteful menu. On a device that you already have and that you take with you all the time: your iPhone. Thinka allows you to take control of your home with an app made by Apple. Powerful but simple.
However a brain needs power, and since it should not leave the house, it needs to be powerful itself. This was the second design decision that we made. Thinka has a very powerful processor so it can do the work itself. It can easily read all KNX configurations (in ETS) and assist in the configuration of your smartphone or tablet.
Thinka is strong enough to keep itself up-to-date. It does so through a secure connection to our repositories. Thinka will reach out to the Internet for that, never the other way around. No one can access your Thinka and you can even block Thinka entirely from accessing the Internet. In this case, you would not receive any updates, but the Thinka will still function fully.
With Thinka as the brain of your home, Thinka will know all about the users of the home. Data privacy becomes more and more important these days. How do you deal with that?
For you to trust the brain, to trust Thinka, as a homeowner, you need to have full ownership. We believe that no one should have access to the brain but you. Not us, and it should certainly not live in the cloud. Even if you were willing to trust your cloud provider's intentions, we believe you should have a choice not to.
Your home – your data
We believe that your home is your castle – a safe haven; no one needs to know who you are, where or how you live, how many rooms you have and what kind of equipment you have installed. Thinka does not need to know, we do not require an account, and we do not ask for your data. That was the third design decision; all data stays on your Thinka, and we have no access to it.
Thinka has no need to leave your house, if you choose to. Thinka also works with Google Home and Amazon Alexa. It is important to realise they have a different philosophy: they require an account and your data is processed in the cloud. That's why our first focus is on Apple HomeKit, as it can totally run within your home.
Thinka connects directly to the KNX system via wires, so there is no need to open up your KNX system to the Internet or Internet Protocols (IP). Many KNX IP gateways are used to extend the abilities, but they introduce security issues, mostly unintended, but which are nonetheless a threat to your privacy.
Thinka – officially certified by Apple
Why is it important to be Apple-certified?
Being the brain of your smart home comes with responsibilities. That's why we decided to have Thinka officially certified by Apple; the fourth design decision. We do not allow for work-arounds. Apple certification demands that the Thinka is equipped with an authentication chip (MFI). This chip is also used in all Apple products and makes communication between Thinka and your iPhone totally safe. Even when you leave the house, control your home remotely or install geofencing, you can communicate safely with Thinka, without any changes to your network.
Systems integrators love to remotely troubleshoot if that proves necessary – is that catered for?
Not at the moment, and we've learned from our systems integrators that the amount of troubleshooting on a Thinka is very limited. However, we understand that they do want to monitor and troubleshoot the entire KNX installation. Currently, they make holes in the firewall which is not in line with our 'design for privacy' philosophy, as this can lead to security issues we all know about. We are investigating a solution for a system integrator to do monitoring and troubleshooting remotely now as well with Thinka. That sounds like a contradiction, however technically we do believe we can make this work within our philosophy.
Should we wait for this version to come to market?
Absolutely not! That is the beauty of software; we will always upgrade our Thinka installed base. In fact you should definitely buy now, as we currently have a 40% discount promotion for KNX Partners to try Thinka out for themselves!
For more details see: