By Flavio Sanches, ComfortClick.
Euphoria Resort is an all-inclusive 287-room holiday complex that is perched on the seashore of Kolymbari on the Greek island Crete. Owned by the Mathioulakis Group, Euphoria Resort was opened in April 2018 and was designed for comfort and happiness, with modern and sophisticated rooms and suites, pools and lush gardens. In 2017, the resort's developers contracted Vlassakis Advanced Solution to implement a KNX-based hotel building automation system.
The brief
The aim for the automation system was to provide the highest level of comfort for guests, reduce operating and maintenance costs, be easy to use, and be future proof. A customisable user interface for the guests, and an efficient hotel management system for the reception, concierge's office, kitchen, swimming pool and other areas of the resort, were also required.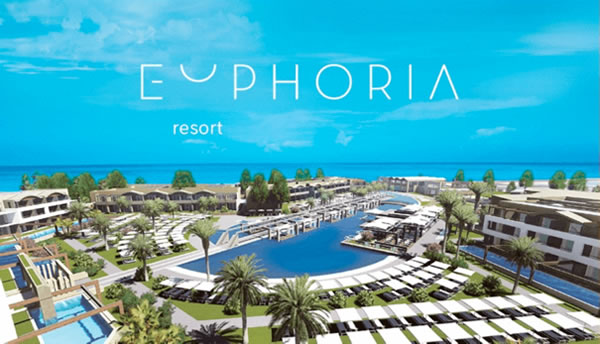 The main goal was to use KNX and Modbus devices for real-time building administration, optimise resort services and offer an enjoyable and modern experience for the guests.
Energy efficiency was also an important goal. Each apartment's energy consumption is monitored separately and in case of increased consumption, automatic notifications are sent to the managerial team. Since apartments are offered as holiday rentals, it is important that automation minimises the energy consumption when the apartments are empty. Even if the guests just leave for the day and come back in the evening, all non-essential electrical appliances and lights are automatically turned off and the cooling is reduced.
The solution
The project specifications included:
• KNX for lighting, sockets and shades control. An average of 28 KNX devices per room, resulting in more than 8000 KNX devices in total.
• Modbus for AC temperature control.
• Integration of third-party BMS.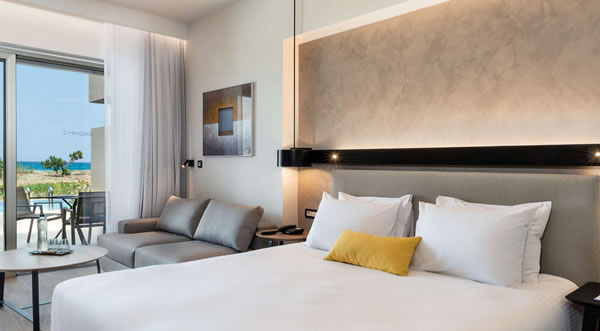 Vlassakis Advanced Solution chose ComfortClick for the hotel visualisation and automation. The ComfortClick Sledgehammer server was selected as a central controlling unit, as it is powerful enough to handle a project of this size and has the software capability to integrate all of the required systems.
The ComfortClick software configuration is divided into two sections: namely 'Administration View' where an overview and control of the rooms are available for hotel management supervision; and 'Room View' where an individual room status is available for a guest to see.
Administration View
From the administration user profile, the management team has access to information regarding:
• Room status (occupied/empty)
• Room temperature
• Lights status
• Sockets currently in use
• 'Clean my room' requests
In addition, the system can send different notifications via push notifications, SMS and email, in cases when, for example, the 'Clean my room' request has not been fulfilled in a certain amount of time, or there is a water leakage, or power consumption peak, or system malfunction, etc.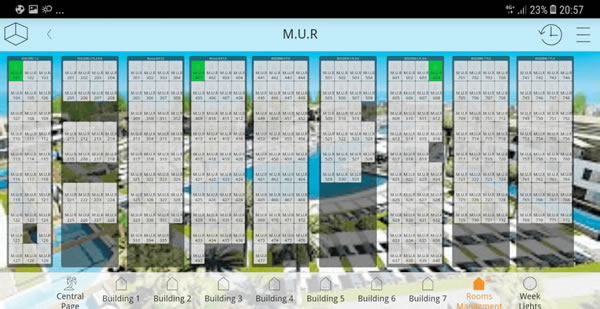 Room View
Most of the room's visualisation was designed to be used as a quick room status overview. What makes this project unique is the fully customised GUI and the ability of the ComfortClick bOS (Building Operating System) to handle complex scenes and tasks. The customisation includes:
* Customised GUI navigation
* Specific background pictures for each room
* Automatic temperature setting at check-in and check-out times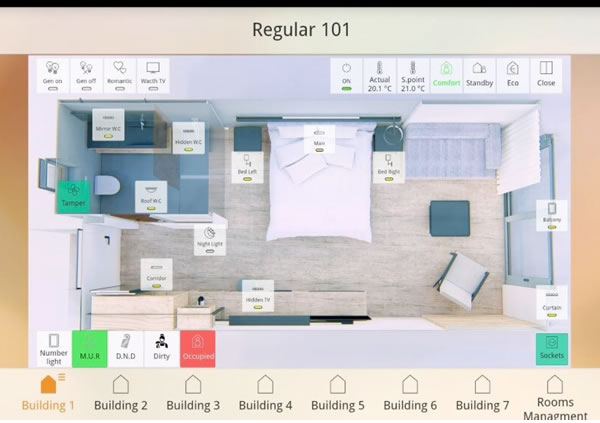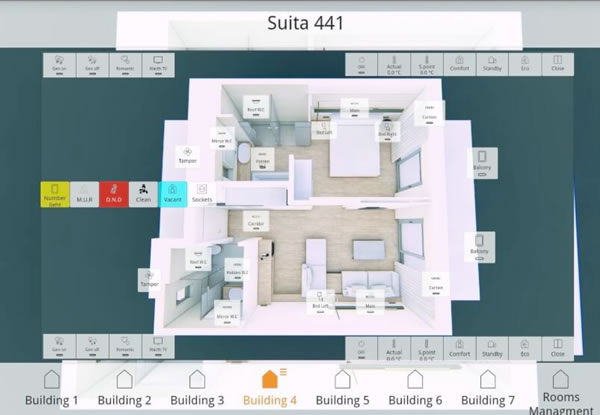 Support for new technologies and future upgrades
Part of the brief was to make the system future-proof, and this was also achieved with Sledgehammer server running ComfortClick bOS software. In addition to KNX and Modbus, it supports Z-Wave, Amazon Alexa, Google Assistant, BACnet, Sonos, Global Caché, Philips Hue Lights, IP Cameras, IP Intercoms, IKEA TRÅDFRI, Samsung and LG TVs, IRTrans, SMA, Kodi, TCP/IP, DSC, Satel and Paradox alarms.
Conclusion
This project has shown that a lot can be accomplished if a clear vision is aligned with an efficient building automation platform. Even though it was categorised as a large KNX project, including a total of 287 rooms plus managerial room and resort amenities spaces, it took less than two weeks for the system integrator to finalise its configuration.
Equipment list
KNX for lighting, sockets status, shades control.
ABB RM/S4.1.
ABB IO/S 8.6.1.1.
ABB FSA/S1.2.1.2.
ABB 6108/18-500.
3 x Area KNX, 35 Lines.
35 x KNX routers.
35 x KNX power supplies.
Modbus for AC temperature control.
BMS, modular measuring instruments.
Flavio Sanches is the Head of Sales of ComfortClick, a building automation software, server and project provider.