User-centric Product Development
We couldn't agree more with this year's Light + Building motto "Connected – Secure – Convenient", as this slogan is perfectly in-line with the upgrades in our product portfolio.
Our team was very busy for the past few months and after hundreds of conversations with our users & thousands of hours spent on development, we are now proud to present the extended Voxior product family. Next to that, we also have some important partnerships to announce. All that, just in time for Light + Building.
New Products and Features
● Voice control without port forwarding
With the help of Voxior Link you can now connect Google Assistant or Amazon Alexa to your gateway without any changes to your Network configuration. Port-Forwarding, IPv6 & Local IP problems are now a things of the past.
● Remote Access
Access your Smart Home from anywhere without making any changes to your network router. Connect to your Gateway using HTTPS connection even if your Smart Home server does not support encrypted connection out of the box. Grant or close access for your professional installer whenever required with a press of a button.
● Bringing IoT devices to the KNX bus
Orchestrate bus connected and IoT devices together for a truly integrated Smart Home experience. Creating routines and triggers that connect best of both worlds – Bus connected and IoT – into one seamless experience has never been this simple. Control several thousands Smart Home and entertainment devices as if they would be connected to the bus.
● HomeKit
To follow our vision of enabling our users to freely decide and use multiple Voice Assistants at the same time we will soon be adding support for Siri next to Alexa and Google Assistant. After the new Apple iOS upgrade announced for April, we expect a certified version in Q2 2018.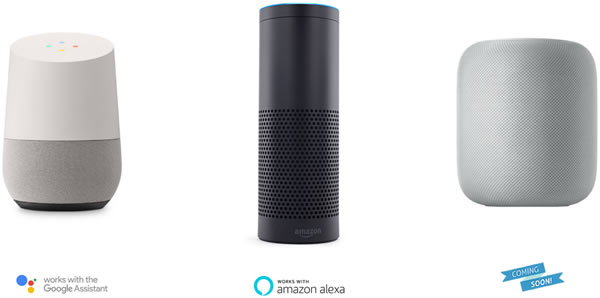 Voxior Link – Link to innovative Smart Home services
We are releasing a hardware device which is powering the new product features and solving problems with home network configuration. Voxior Link is available pre-configured and assembled through our network of partners or as a DIY kit, in form of a Software installed on an SD card.
Streamlined integration process for manufacturers
To integrate with Voxior, manufacturers needs to implement our simple and well documented API. Connection to the API can be established either directly through port forwarding or using our Voxior Link device. Another option is to add a Voxior Link SDK directly on the manufacturer's server which does not require port forwarding.
New Partnerships with manufacturers
Multiple manufacturers already completed our integration process. Some of them have implemented our API, enabling Voice Control for their gateways while some of them are in the process of integrating our SDK, adding support for our full product portfolio. To learn more about the partnerships, see their comments below and visit their stands on L+B, as they will be presenting Voxior products on their booths.

● Divus (Hall 11.1, Booth C21): "Working with Voxior has been a great pleasure they have very professional processes and we are thrilled to be adding their functionalities to our Gateway." © Mirco Zublasing, CEO
● Weinzierl (Hall 9.1 Booth A90): "With the Voxior's streamlined integration process we have added compatibility for Google Assistant & Alexa to our BAOS 777 device in a matter of days. Users can now simply Voice Control their homes, after a 5-minute set-up" © Thomas Weinzierl, CEO
● EisBär (Hall 8 – Booth K82): "EisBaer Scada is the innovative multi-protocol engine to provide a state of the art visualisation tool for control, supervision and monitoring of smart devices and IoT's in commercial, industrial and residential applications. In its new version, the EisBär Scada software offers Voice integration with the ready-to-use Voxior gateway. The Voxior SDK, gave us the ability to integrate the voice interface without changes to our system" © Rene Rieck, Global Product Marketing Manager
● IPAS (Hall 9.0, Booth B75): "The new ComBridge HCC version makes it possible to specifically enable certain functions for voice control. All enabled functions, in particular those for colour control, can be accessed and potentially edited in the Voxior customer portal. The link to Alexa or Google Home is activated at the touch of a button." © Olaf Russak, Managing Director
See you @ L+B!
This is it from our side! We are extremely excited to take this forward and are inviting you to join our journey. Get in touch via email info@voxior.com, book a call with one of our partner managers or schedule a meeting with our team on L+B.
1Home Solutions GmbH has now acquired Voxior Inc.