ABB will showcase its first ever uniquely configurable building control sensor at this year's Light + Building trade fair in Frankfurt from 18 to 23 March.
The new ABB-tacteo KNX sensor is an individually-configurable control element for intelligent building control of luxury hotels, public buildings and high-class residential buildings.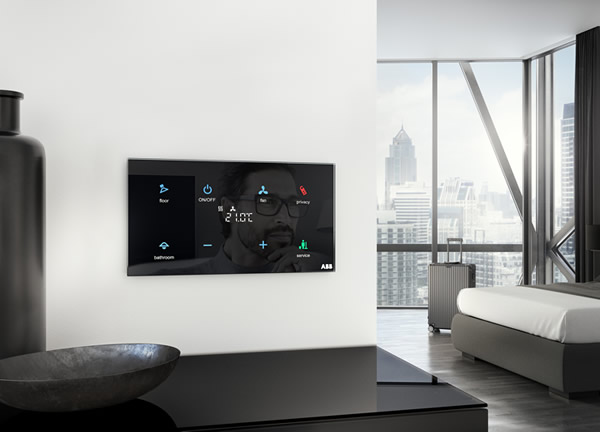 Constructed from glass and made to order to meet customers' individual requirements, each ABB-tacteo KNX sensor is unique.
Mike Mustapha, Group Senior Vice President Marketing, Sales and Commercial Operations, Electrification Products division, said the launch of the new sensor marks a further step in to Industry 4.0 – the combination of automation and data exchange – for ABB.
"Digitalization is coming to our factories," he explained. "For many years we have produced intelligent products that were made to stock. Now we are producing intelligent products that are made to order and each and every one of them is absolutely unique."
ABB-tacteo KNX sensor allows customers to choose which icon and labels they require via an online configurator at the myBuildings portal – a secure and simple to use online platform, powered by ABB Abillity™, where customers can remotely control and manage a range of digital tools and services around the clock.
Its capacitive glass KNX sensors react without touch and contact, and offer virtually unlimited possibilities for intelligent building networking. Functions such as heating, blinds, lighting or comfort scenes can be controlled to create flexible every day environments.
The glass and housing is available in white or black and, at 9.5 mm, the frameless and extra-flat KNX sensor barely touches the surface of the wall, blending seamlessly into any design. A special removal protection feature protects the sensor from theft.
The ABB-tacteo KNX range also offers secure access control for the hospitality industry. The sensor can perform a wide range of hotel management tasks (such as load activation, make up room/do not disturb settings and room number signaling) and can be integrated in the overall KNX installation that can be fully controlled and monitored from a central point, such as the reception desk.
Mike Mustapha added: "KNX is a system that is extremely flexible and able to control many different functions. By using simple symbols and texts to indicate corresponding sensors and functions, this product is one of the most user-friendly on the market. Its flat design will also make it popular with architects and interior designers."