By Nikita Thompson, Hughes Electra Limited.
To see a building be transformed from nothing into a fully-controllable apartment and thinking 'I was involved in making that happen' is really rewarding. This industry provides fantastic opportunities for women, but as a female professional in the world of construction and engineering, we are in the minority.
According to data collated by the Women's Engineering Society, the UK has the lowest percentage of female engineering professionals in Europe – less than 10%. According to UCATT (Union of Construction, Allied Trades and Technicians), women also make up only 11% of the construction workforce.

UCATT carried out a survey of women construction workers to find out more about the challenges they face and to raise awareness of the issues among its male membership. It found that:
• More than half said they were treated worse at work simply because of their gender.
• The top three problems were: a lack of promotion prospects, lower pay than their male colleagues, and feeling isolated.
• Four in ten identified bullying and harassment by managers as a problem.
• Almost three in ten were afraid to complain about poor treatment to their managers.
• A quarter of women in the survey said they had to share toilet facilities with men.
• Fifteen percent of women construction workers said that it was difficult to find personal protective equipment that fit properly.
Encouragement
There are positive steps being made every day towards enabling a more diverse environment; there are groups, such as 'Women in AV' which aim to support and inspire women in the construction and professional audio/visual spheres, whilst encouraging those on the periphery through networking activities.

Hughes Electra Ltd is one business that is strong advocate of an inclusive environment and this is evident because over 50% of the workforce is female. Hughes Electra is dedicated to enabling smart homes through the design and deployment of KNX based set-ups, and women are involved in every aspect of the delivery. Their roles include Project Engineer, Project Lead, ETS Programmers, CAD Engineers, Shop Floor Manager, Assembly Technician, and Co-Director of the business; and everyone was awarded their role for no other reason than they were the best person for the job.
Great Newport Street KNX Installation
A recently-completed high-end residential project in the heart of London demonstrates the advantages of a diverse team. The Colyer is a heritage building in Great Newport Street, in between the centre of Covent Garden and Leicester Square. When converting the former office building into 14 premium apartments, attention to detail was required to deliver a high-quality project in terms of engineering and aesthetic design – the latter in close cooperation with the interior architects. A Hughes Electra KNX system was installed in each of the 14 apartments bringing the lighting, heating, cooling, ventilation and metering into one simple and easy-to-use system.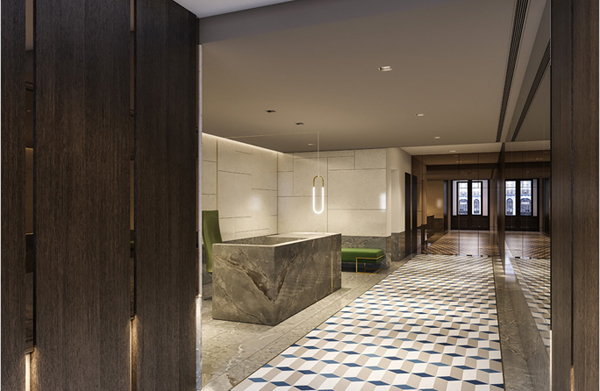 Within the apartments there were 7 unique layouts, including three bedroom layouts and one penthouse located on the top floor. Each distribution board was manufactured, programmed and commissioned off-site, with its associated switches and PIRs, before being delivered to site for installation, where the boards were fitted and commissioned.
My role was to work on the design and commissioning of the project and to write the ETS files. Valentina Monaco, a technical designer, produced the CAD drawings for the property, and Alda Song, Director, managed operations. Glyn Hughes was the overall project manager.
The apartments were kitted out with DALI lighting, so the system included the relevant DALI-KNX gateways. The lighting scheme featured downlights for main lighting and LED strips as feature lighting. The lighting was configured to a mixture of scenes, and allows individual control, with the end user also having the possibility to override the existing scenes and program their own preference.
The KNX system also provides control of the heating and cooling systems. Wet underfloor heating was installed throughout. The bathrooms include warm walls, mirror demisters and MVHRs (Mechanical Ventilation and Heat Recovery) which are all controlled via a mixture of timers and PIRs. A Mitsubishi VRF air conditioning system provides cooling to all apartments and the Hughes Electra system allows independent control of the rooms from this centralised system. We also included a feature that allows the customer to disable the cooling in the apartment, because many clients like to sleep without the A/C running.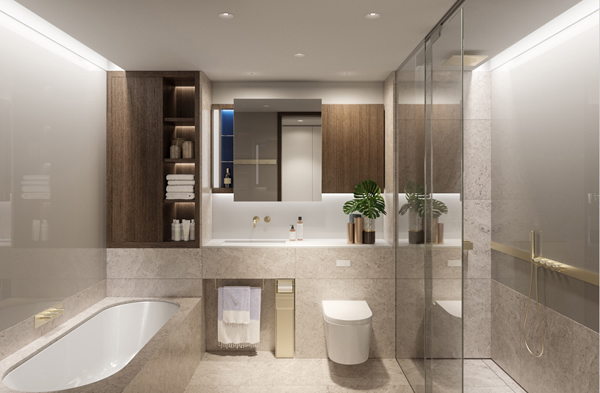 The installation included switches with room temperature controller in each room. Temperature sensors built into the wall switches provide accurate air temperature sensing whilst additional sensors in the MEP (Mechanical Electrical and Plumbing) cupboard monitor underfloor heating temperatures in order to prevent overheating of the floor surfaces and potential damage to the flooring.
A KNX touchscreen in a central location allows functions such as setting of timers for HVAC and lighting; control of lighting – including user programming of lighting scenes; and energy monitoring. There were four scenes built into the framework of the system: welcome, depart, holiday and sleep, and these can be amended.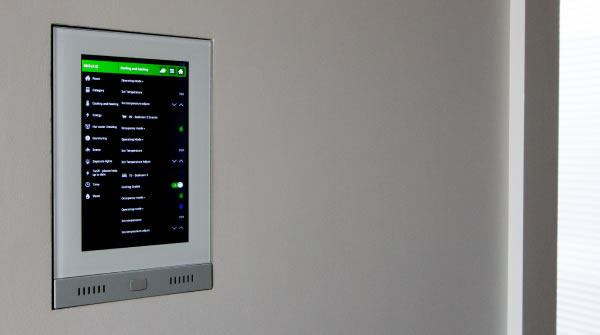 Conclusion
If we want the building control industry to reach its full potential, then we need a more representative workforce, and we need to encourage more females, as well as males, to study a trade at a far earlier age. The KNX industry can also help by taking care to promote positive images of women in various roles, within literature, websites and trade fairs, let alone ensuring some female representation at all levels.
Men and women have different life experiences and see things from different perspectives, as do the young and the old, the able and those needing assistance. So, given that buildings are inhabited by all kinds of people, it makes sense to have a workforce that can empathise with them in terms of design, control and implementation. The aforementioned project is just one example of the capabilities of both a KNX system and a team with a range of experiences. The result has been a great success.
Nikita Thompson is the Technical Project Manager at specialist design consultancy and integrator Hughes Electra Limited.

www.knxuk.org
Editor's note (June 2019): Nikita Thompson is now Project Manager for Mosaic AV.