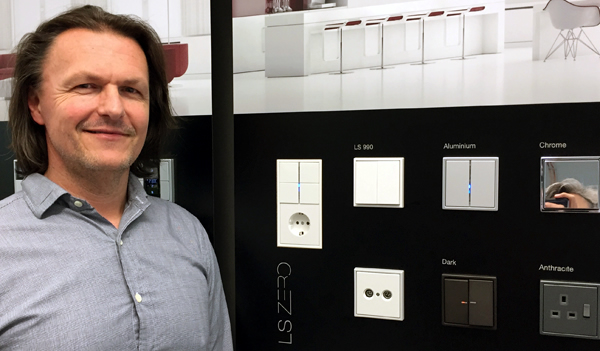 Having opened a new office for Jung in Wandsworth, South London, Michael Seeland, General Manager of Jung UK, is ready to address the project market in a big way. Seeland trained as a technician electrician in Austria, and has held various posts ranging from service engineering to project design of passive houses. He also is a co-founder of Seeland System Integration, a full-service planning, design and installation company. Seeland was previously based in distributor Bemco's premises a short walk away, but with so many new builds happening in the capital, as well as across the UK, the time was right for Jung to expand.
In this exclusive interview with KNXtoday, Seeland gives us his take on the UK's building control market and Jung's approach to it.
KNXtoday: What was the thinking behind the move?
MS: This is a flexible space within a modern building, and since moving here in April, we have divided it into areas for product display and demonstration, service and support, and administration. Within the building there are also architects and lighting designers, so there is a good synergy between the various businesses here. Bemco still remains our national distributor, but in this office, we are looking after project business for the whole of the UK. Some current ones include London-based projects in King's Cross Station and residential developments in The City.
Having this dedicated space means that we can invite clients to see the latest products. This includes a working display of KNX controllers, the new cost-effective and easy-to-set-up Smart Visu Server visualisation system, the Facility Pilot rail-mounted PC, the SC7 in-wall capacitive touchscreen, and the Jung Gateway for Sonos. We also have a demo board showing integration with Siedle door entry hardware.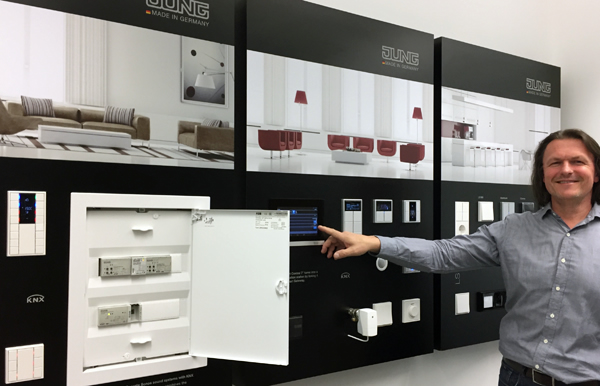 KNXtoday: How is the market for Jung in the UK?
MS: Jung is known for its 'Made in Germany' quality and has a certain standard on which it will not compromise. It is a third-generation family-run business and its managing director, Harald Jung, is very hands on. He helped on the show floor at Light+Building this year and is very supportive of his staff. This results in a 'can–do' approach to service and support, which in turn generates confidence in the brand.
KNX is growing in the UK, particularly over the past two years, and especially in London. Architects are aware of it and appreciate it as an open standard, but it has to be said that they are more interested in aesthetics than how the technology works. For example, the antique finish on Jung's full-metal switches is very popular, as well as the LS990 that supports different inserts, and the 'A creation' range that uses glass and high-quality duroplastic. Designers also like the Le Corbusier switch range because it allows them to play with colour. In fact when I was doing my apprenticeship in Austria all those years ago, I was working with Jung – the design is timeless.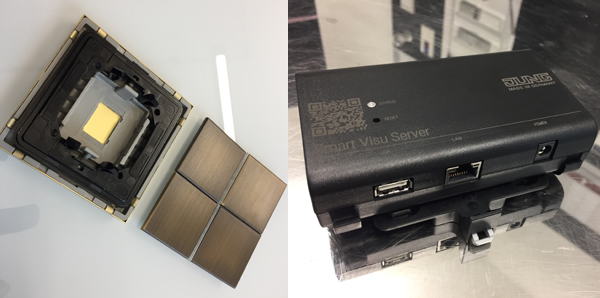 KNXtoday: How do you see building control developing in the UK?
MS: If KNX wants to appeal to architects and designers, which it ultimately needs to, then it should be as simple as possible to specify and use. KNX UK is working hard to get the word out, and its members, although competitors, recognise that they have a common interest in promoting the standard. The focus however, shouldn't just be on high-end residential – KNX should be seen as the standard in any building, be it public, private or commercial. In addition, we have to overcome some old-fashioned M&E practices in the UK, such as sticking to traditional BMS systems, so we need to demonstrate that KNX is a practical long-term solution and not just a fad.
The expansion of KNX into AV, and AV into BMS is also interesting. Since many AV systems still use proprietary control protocols, the main challenge here is in establishing whose responsibility it is should a problem arise. Does the fault lie with the AV system or with the KNX installation? Ideally, one professional should be competent in both disciplines, so it's good that organisations exist such as CEDIA (Custom Electronic Design and Installation Association) of which we are now a member, because it brings together structured wiring for control and AV.
Another challenge is in educating the electrical installer sector, which is a little different. At the moment, we have companies such as Control4 stepping in and saying 'We can do all the control you need', so we often find integrators using proprietary systems for AV control, a BMS, KNX just for lighting and a separate system altogether for HVAC. We need to get the message out there that KNX can do it all.
Jung is also involved with BIM (Building Information Modelling). This records data for the entire life- cycle of a building, and presents it in a 3D model that planners, architects and engineers can all access. The benefits are faster, more economical and sustainable construction projects, and although BIM is currently mandatory in only a few European countries, all 28 members of the EU can prescribe it for publicly-financed building and infrastructure projects. Jung provides free libraries for its LS product range for BIM planning software, and allows accurate quantity and order lists to be generated.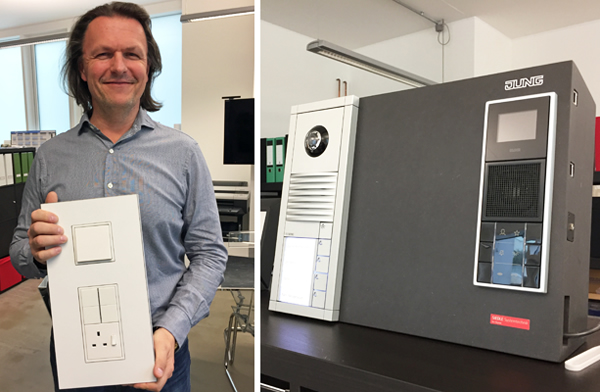 KNXtoday: How is Brexit affecting business?
MS: From an international viewpoint, the whole point of the UK was its access to the EU, and if that goes, so too will a lot of companies. We're already seeing a mass migration of startups from the UK to Berlin and Frankfurt, which is a worry, as these generate the work and wealth of the future.
The immediate effect of Brexit is that costs have gone up because of the low exchange rate of Sterling, and this makes pricing difficult. However, London is different to the rest of the UK. There is a lot of investment here already, so we can't just say 'It's over.' And because of the weak pound, Europeans are taking advantage and investing in London. In fact across the UK there are a lot of installations of kit homes – we're seeing between 15-20 homes by WeberHaus and Baufritz (both of which have Jung installed as standard in the UK) being commissioned each year.
KNXtoday: What is your strategy for the next year?
MS: The plan is to grow the project business. In the meantime, we will continue with our workshops, and people are welcome to visit us between 08:00 and 17:00 on weekdays – just give us a day's notice!
Michael Seeland is the General Manager of Jung UK. Jung is a German manufacturer with over 100 years of experience, and produces high-quality KNX products for building control.