By Alistair Grice, mySmartCTI.
Founded in 1831, The King's School is Australia's oldest and one of its most prestigious independent schools. Located on 148 hectares in the Sydney suburb of North Parramatta, The King's School is home to around 1500 students, from kindergarten to Year 12.

Construction started on the AUS$20M Science Learning Centre in mid-2012 and was completed in 2014. Not only is the centre used by students on a daily basis, but it is also home to a learning and research facility 'The Future Project'. With up to 16 full-time academic and industrial research scientists, The Future Project aims to give students the opportunity to experience science and engineering in a new and exciting way.
The centre also presents students with a unique opportunity to learn about the design and operation of sustainable buildings. Information points throughout the project highlight the different technologies used in the building, including the automation systems.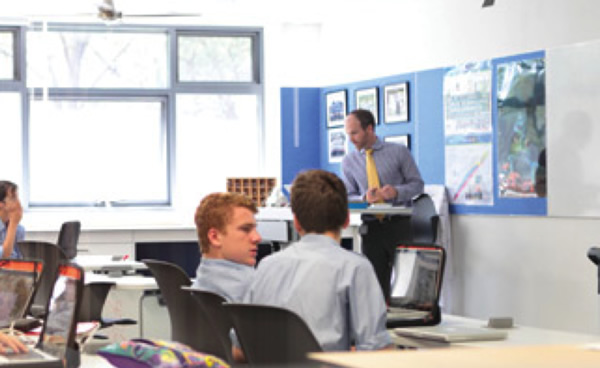 The Brief
The brief was to provide a solution covering internal and external lighting, external venetian blinds on the facades, energy, water and gas metering and interfaces to HVAC and natural ventilation systems.
Planning and Design
mySmartCTI supplies building technology solutions to commercial electrical contracting partners throughout Australia and is regularly called upon to provide design expertise in complex building automation solutions.
As a mid-size building, it was clear that the Science Learning Centre did not require a traditional BMS, but could be a highly-converged building using a common operating platform. mySmartCTI has used KNX solutions across many other projects and we felt that it would be the best solution to tie the operation of this high-performance building together.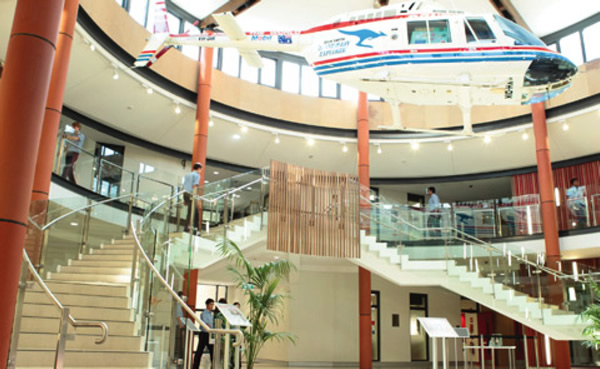 Installation
The mySmartCTI Sales and Operations teams worked closely with the team at electrical contractor Direct Electrical over the two-year construction period to design and deliver a world-class solution. The mySmartCTI team included Rick Cubito (NSW Sales Manager), Mark Bentley (Business Development Manager), Claude Rizk (NSW Operations Manager) and Daniel Piccone (Integration Specialist).
The project components were as follows:
Head End
The project uses NETx Automation Voyager Server software to monitor and control all of the field devices. This includes;
* Monitoring and control of all lighting channels/zones with real-time status and time scheduling.
* Control of external blinds based on sun position with manual override.
* The MaRS module for analysing KNX energy and hydraulic meters.
* Visual display of KNX metering on the mySmart enGauge atrium display panel.
* High-level interfacing to mechanical services and window automation via BACnet server.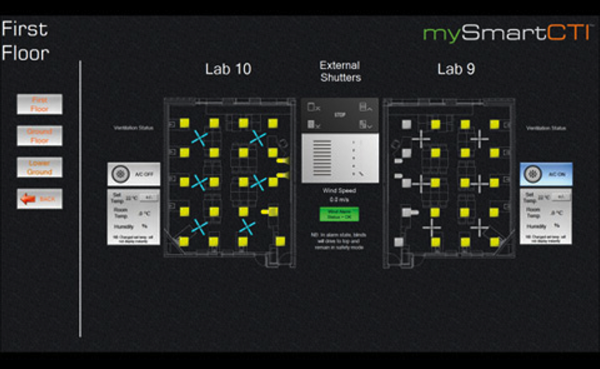 Lighting Control
The lighting control throughout the Science Learning Centre uses local switch points in laboratories and seminar rooms to allow users to configure the lights and ceiling fans to suit their immediate needs. Motions sensors in absence detection mode are used to switch lights off after 30 minutes should no movement be detected. In smaller rooms, lighting is completely controlled via motion sensors operating in presence detection mode. External lighting uses inputs from the KNX weather station to turn lights on once the ambient light drops below a pre-set level.
Façade Control
External venetian blinds are controlled using the KNX weather station and a sun-tracking algorithm in the NETx head end software. When the ambient light exceeds a defined threshold, the blinds will tilt through a range of positions based on their location on the building's façade.
Metering
Energy meters across each floor measure both power and instrument values, whilst hydraulic meters measure gas and water as well as alarms on the water retention tanks. All values are communicated to the head end PC via KNX meter interfaces.
High-Level Interfacing
Mechanical services are linked to the KNX head end using a BACnet/IP interface located on the KNX IP Ethernet backbone. This allows the KNX head end PC to read the current room temperatures and air-conditioning run status, as well read and write the room temperature set points.
The window automation system is also linked to the KNX control system, enabling the reading of room humidity, system status and the starting and stopping of the air-conditioning. This is important as the control of the HVAC system is linked to both the status of the window automation system and to whether people are present in that room.
Conclusion
The installation at The King's School Science and Learning Centre shows the true power of a KNX-based system, that different devices can easily share common infrastructure including switch points, sensors and weather stations with absolute certainty as to their operation and compatibility. Further, systems that are not located on the KNX bus can be easily interrogated and controlled via the KNX system with a simple KNX/IP gateway.
The installation at The King's School has been extremely well received by both the school and mySmartCTI's clients. We hope that this building continues to quietly teach the students about the benefits of sustainable building design and operation for many years to come.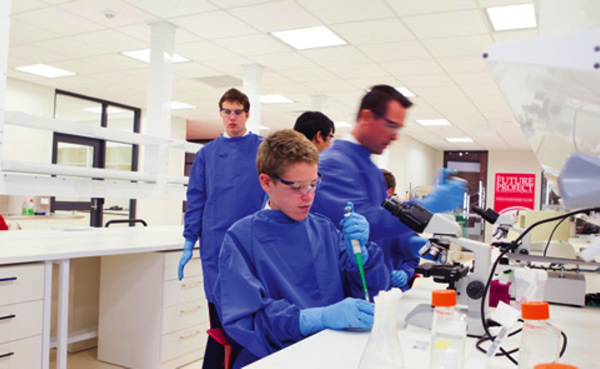 Equipment List
ABB KNX IP routers.
ABB KNX DALI gateways.
ABB 8 Channel KNX relays.
ABB 12 Channel KNX relays.
ABB 360o KNX occupancy sensors.
ABB KNX 4″ colour touchscreens.
ABB KNX weather station.
ABB KNX wind speed/direction sensor.
Hager 1-gang KNX switches.
Hager 2-gang KNX switches.
Hager 4-gang KNX switches.
NETx Voyager BMS server.
mySmart enGauge 42″ display screen.
KNX interfaces for water, gas and electricity meters.
Alistair Grice is the Marketing Manager for mySmartCTI. As Australia's largest systems integrator, mySmartCTI is a KNX Award-winning company that prides itself on making a positive difference for its customers, their employees and the environment.