Simon Buddle looks at various KNX RF products and how they make it simple to retrofit KNX where no cables can go.
Since my very first job, the electromagnetic spectrum has always been part of my working life. That first job, a paper round, like so many children of the seventies, represented that first step towards independence. The money earned fed my vinyl habit. I'd be outside the record shop every Saturday morning, with my hard-earned cash, waiting for the shop to open. Today, music – and nearly all music ever made – is available at the touch of a button. A few quick taps on Spotify or YouTube and you can hear hours of music of all genres; new, old, obscure, and occasionally just plain weird.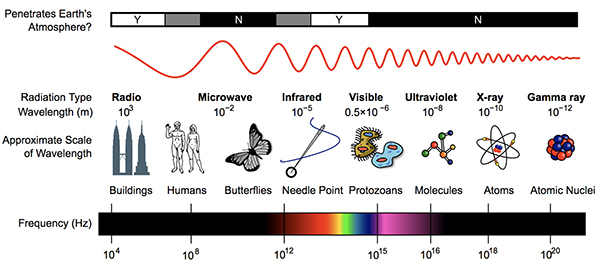 Aged 13, I had one source of music; a small AM radio that I had taped to the handlebars of my bike. The choice of stations was basically three; Radio Caroline, Radio 1, or Radio Luxemburg, and two of those weren't on during the day. Six years on from that and I'm setting up auto rebroadcast stations on mountain tops as a relay post for military communications. HF, VHF, and UHF radios – part of everyday life. And for the past 25+ years, it's been TV, satellite, Wi-Fi, Bluetooth, and visible light.
Now, it is true to say that whenever I'm asked about wireless communications, I always say 'Install a wire if you can'. But sometimes you can't, or sometimes the technology simply doesn't have an option to be wired.
KNX RF developments
There have been some significant steps in KNX RF over the last two years. For me, I think, the addition of the new segment coupler function is possibly the greatest. Using ETS6, you can simply drop an RF media coupler onto the bus cable and start adding RF devices to it, whereas before, a dedicated line was required. It frees us from topology constraints that would have previously prevented this. In practical terms, it means that we have a 'get out of jail free' card if we need to add more devices where we don't have a bus cable. Gira, Jung, Theben, ise and Weinzierl are among the companies make these new media couplers, so there's lots of choice out there.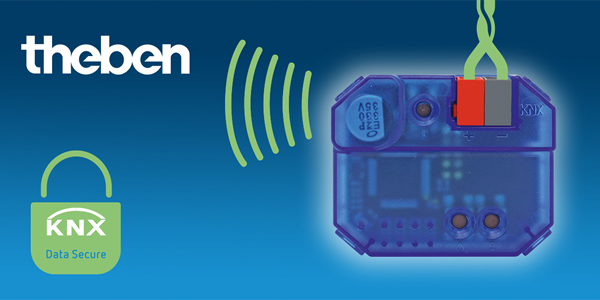 Last year a client asked for some new external floodlights to be added to their garden. The electrician picked up power from a 230V socket and drilled out through the first-floor wall. The problem was that we didn't have a bus cable nearby. Thankfully we were able to solve it by adding a Theben TP-RF KNX media coupler to the backbox of the closest keypad. Adding some Dinuy RF single-channel switching actuators completed the solution.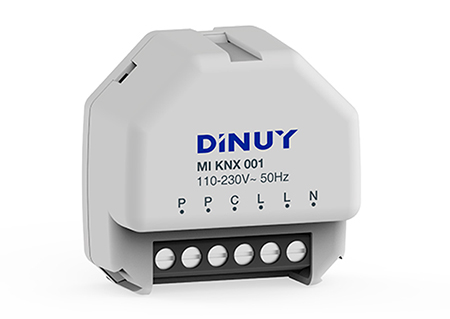 Retrofit
It is true to say that the biggest marketplace we have access to is the existing housing stock. Equally, it is also true to say that this market is possibly the most difficult to service. Unlike in Germany, where the walls of houses are often filled with conduits to enable new wires to be installed, the typical UK home, once built, becomes highly resistant to new cables being added. Help is at hand though with a few manufacturers now producing suites of products that can work in harmony with KNX and RF.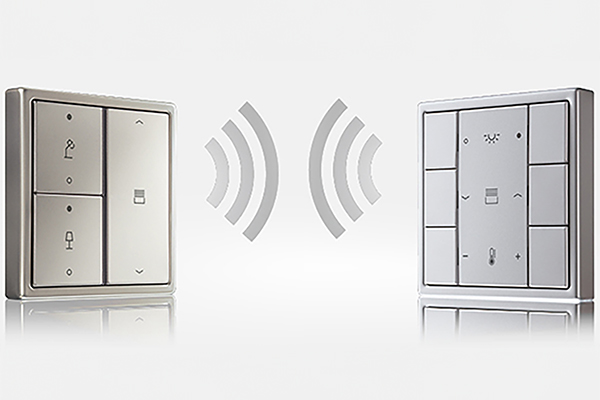 Complete Solutions
For example, the Theben LuxorLiving system comprises many of the traditional KNX actuators, but importantly, has an array of RF options too, including RF dimming, switching, blinds control, heating and even one-way DALI. Add to this either Jung or Gira RF keypads and we begin to see a complete solution, that, if not fully RF, is very nearly. This now provides KNX installers with the greatest set of tools to equip us for the retrofit market.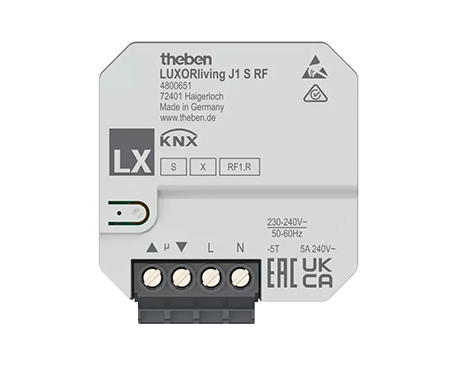 The Gira KNX RF product set likewise can operate lights, blinds, heating, and a range of other devices all via RF.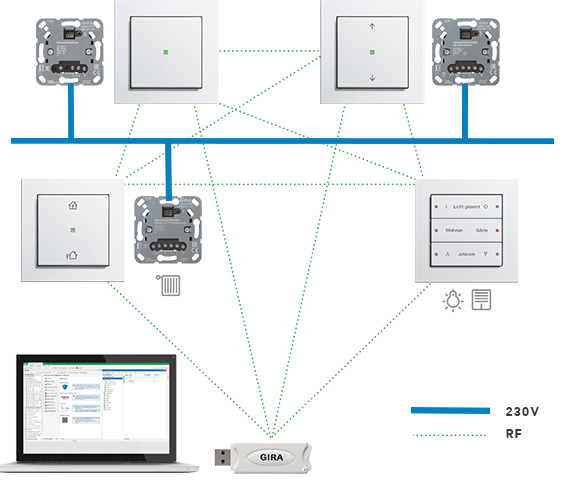 There are many new RF products that have come to market over the past two years which create even more versatility for the KNX installer. Importantly, KNX RF is working at a frequency of 868MHz, making it considerably more robust for communications in and around the home.
And here we are discussing the electromagnetic spectrum again. Wi-Fi works at a frequency of 2400MHz, and a simplistic (but true) view of frequency is that the lower it is, the easier it will penetrate solid objects. That simple truth means that our KNX RF products will perform better (i.e. have more range) in the home than a typical Wi-Fi router.
Conclusion
Whilst it may not be the first choice for new-build, the addition of the segment coupler with KNX Secure as part of the RF offering, does make it a compelling argument for a simple add-on to existing systems. And of course, there is a largely untapped market in retrofit that KNX can provide solutions for, both wired and wireless. With a little design and planning, any home can become a KNX home.
Simon Buddle CEng MIET, is a consultant for Future Ready Homes, a specialist in BMS and ELV services system design.