Paul Furtak discusses why KNX is ideal for translating complex large-scale building automation into a user-friendly platform.
The smart building market, globally, is seeing a paradigm shift. This is in terms of how technology is being put to work to improve not only energy efficiency but aspects of property management, the amalgamation of device and connectivity, asset management, visual representation of building control, data security, and reporting of building performance indicators, to name a few.
The demand for comfort and versatility in the management of heating/cooling, lighting and access control systems for residential and office complex infrastructure projects is growing. With a backdrop of the energy crisis and climate change, the worldwide demand to move towards net zero buildings is increasing fast.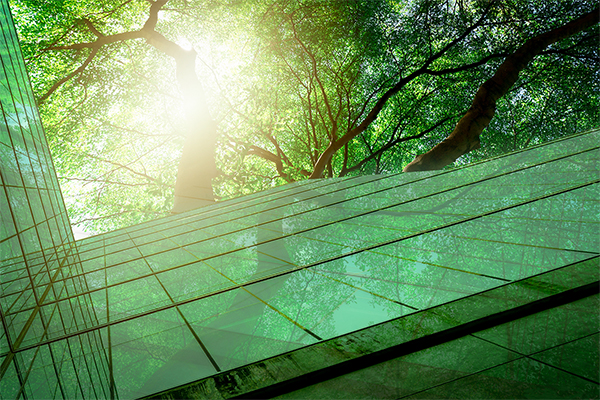 The human-building interaction is going to play a pivotal role towards achieving energy efficiency, comfort of building occupants, ease of use of technology, ease of maintenance and other key factors of a large-scale building. Our customers are not only thinking about hardware reliability/warranty and performance, but how they will interact with the building. Managing the complexity of building automation by translating it into a user-friendly platform for end-users to interact with on a daily basis will be the key challenge to meet. Together, all of us need to create a perfect blend of service, security, design, and partnership in order to deliver such smart services in new buildings.
Making the right decisions early on
In large-scale building projects, different stakeholders play a dominant role at different stages. Whilst the architects, planners and consultants are laying down the specification of the construction of the building, the contractors play a key role in constructing the building as per the given specification. This is why it is of utmost importance that topics related to energy efficiency, human-building interaction, building management software, and elements of sustainability are already deep-rooted at the specification stage.
The KNX advantage
KNX has tremendous potential to cater to the latest and upcoming trends in large-scale buildings because it is an open standard, multi-manufacturer platform with ETS as a brand-independent engineering software, and most importantly, it is able to connect to other building systems. With the power of 8000+ KNX-compatible products, and over 100,000 KNX-proficient systems integrators (KNX partners) globally, nothing is impossible.
The versatility of hardware and software solutions from KNX manufacturing members creates the winning formula to address all of the challenges of a modern building project. For example, the software solution from KNX member NETxAutomation Software GmbH helps to combine products from numerous KNX brands under one single platform and then connect them to other building automation systems.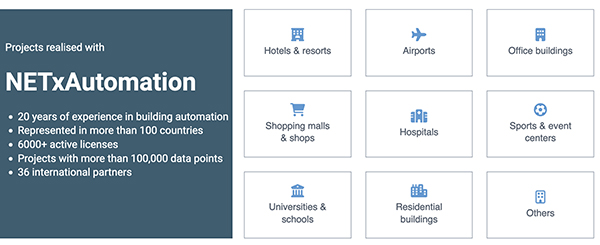 It's all about exploring the symbiosis – through higher-level networking and cooperation of local intelligence. That is how we reach new levels of possibilities using KNX, and at the same time, resource consumption optimisation is raised to a new level. Key building services such as lighting, HVAC (Heating, Ventilation and Air Conditioning), shading, AV (Audio/Visual), access control, BMS (Building Management System), etc using various protocols including IoT, can be managed under one KNX solution.
Large-scale KNX in action
The project of the Emaar Square North Tower Hotels and Residential building in Turkey is a perfect example of how a large-scale building benefited from the integration of 70,000 KNX group addresses offering various integrations and being managed by deploying software solutions from NETxAutomation for GRMS (Guest Room Management System), DALI lighting management, HVAC integration and more.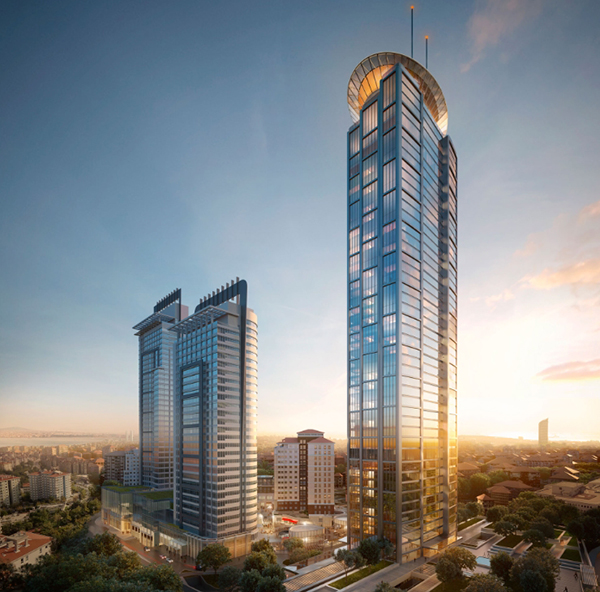 Conclusion
KNX is the only standard available today which offers the perfect blend of hardware options to achieve field-level objectives in a building, whilst offering management/integration and supervision platforms to combine all building functions together for holistic control and management.
Paul Furtak is the CEO of NETxAutomation Software GmbH, one of the leading providers of innovative software for building automation. NETxAutomation develops and distributes software for building management and central building control, consisting of reliable server systems, shading controls, visualisations, and energy reporting systems.