In Part 3 of her four-part series on Light + Building – the world's leading trade fair for home and building automation, Yasmin Hashmi gives an overview of the larger players in the KNX market and what trends are being set.
Overarching everything at Light + Building 2022 was a green theme, and this was clearly evident at the Schneider Electric stand. The company put its money where its mouth is on 'Energy Efficiency and Sustainability' with an impressive carbon-neutral stand that used second-hand carpet, re-purposed pallets, biodegradable materials and even grass paper badges for staff. Furthermore, the company is recycling plastic netting reclaimed from the ocean for some of its switches and sockets. On the KNX front, Schneider Electric has launched a KNX Hybrid Spacelogic module, which provides a gateway between KNX systems and the Schneider Wiser portfolio of Zigbee devices.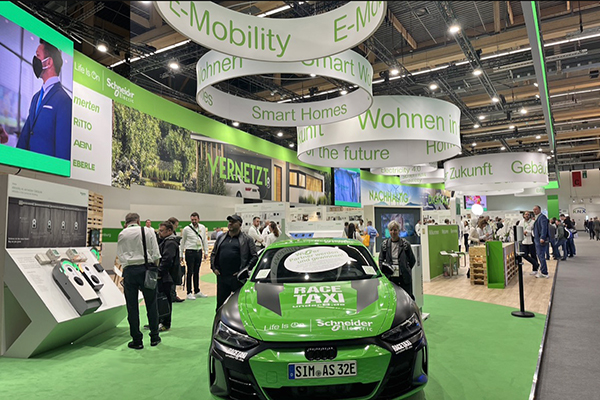 Schneider Electric was also promoting the new System D KNX pushbutton which is very modular, supports 16 different combinations of button, and a choice of icons and finishes.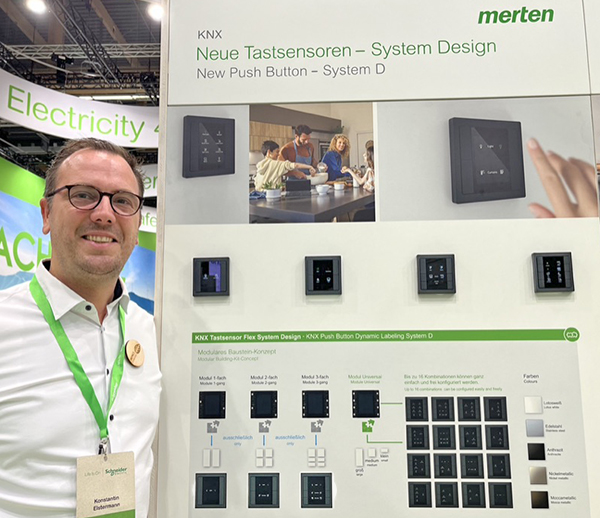 ABB also had an impressive stand with a 'Mission to Zero' theme. There was a scale model of a carbon-neutral factory of the future, with energy generation, storage and charging based on the ABB Ability Optimax scalable energy management system, plus an impressive auditorium with presentations on the Smarter City.

New KNX products from the company included the ABB SmartTouch touchpanel in a 10" version. Available in black and white with a choice of frames, it offers over 450 functions, is completely customisable and can be integrated with IP cameras. A prototype of a 4" version of the ABB RoomTouch touchpanel with up to 12 functions was also on show. Also new for ABB is the ability to offer a complete KNX product range of control for not just lighting and shading, but HVAC too, thanks to ClimaECO, that has all the interfaces required for a building, including a direct-to-boiler interface.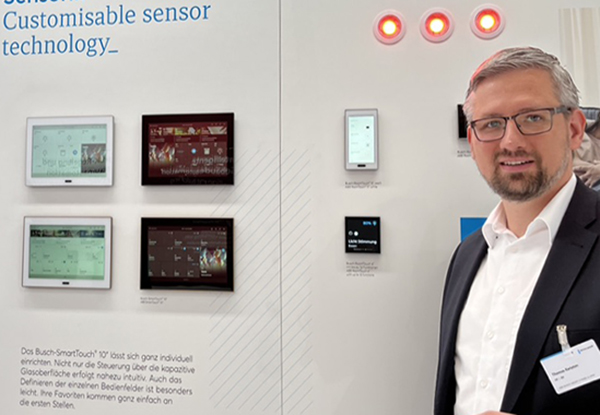 KNX at the E-Haus
A fine example of how KNX can be used to make energy savings was to be seen at the E-Haus, a large stand organised by the Messe Frankfurt in cooperation with the ZVEH (Central association of German electricians).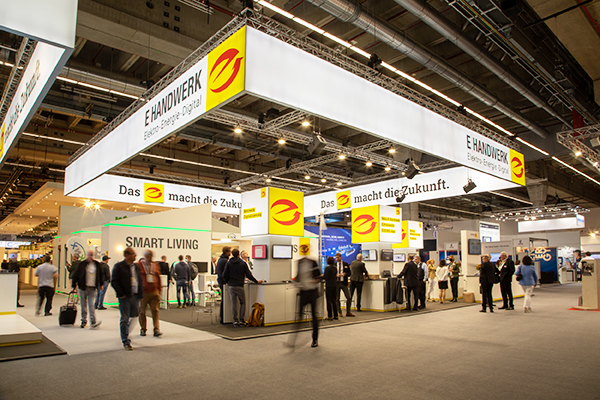 A KNX demonstration panel showed how, using artificial intelligence, a cross-building energy management system linked to a smart meter can decide whether it is cheaper to use grid electricity or battery storage charged by self-produced photovoltaic electricity for applications such as lighting, heating or EV charging.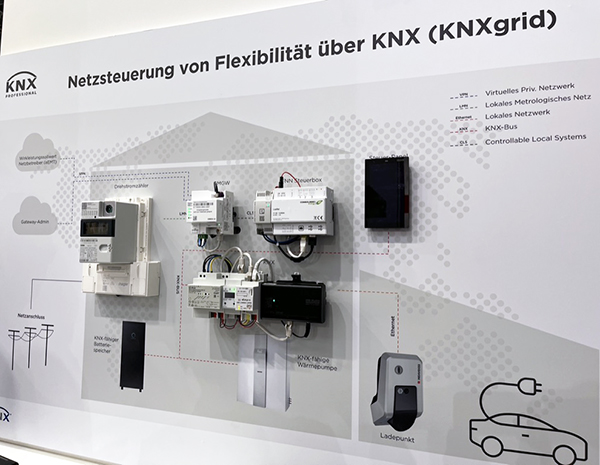 In another part of the E-haus was a HEMS (Home Energy Management Systems) demonstration area showing real-life appliances being managed by the Alexander Maier Eisbaer multiprotocol gateway visualisation, allowing KNX to be mixed with other protocols. Examples of different functional models were shown, such as EV charging and home energy planning. For EV charging, the system supports a mix of charging stations, and multiple cars. It can respond dynamically depending on the amount of power coming in, for example from a PV system, and prioritise power distribution according to the user's preference or which car requires it most. For energy planning, the visualisation can use energy prices and PV forecasting to determine the direction of the PV system, when to run appliances and from which source.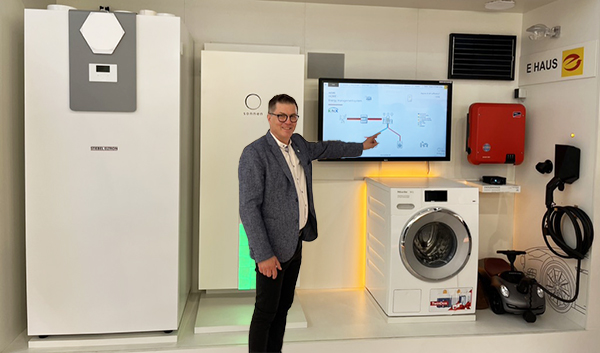 Also at the E-Haus was an area showing the future of assisted living, involving a KNX-controllable shower by Franke, the SensFloor capacitive floor by Future Shape that is sensitive to falls and can send an alarm, the ProKNX Aragon voice assistant, and various switches and sensors for VOC and motion that can generate a range of actions. The idea is that the user can control the system or call for help using voice or button press, and receive information via speaker or text. Typical events from switches and sensors can be recorded, and if unusual activity (or inactivity) is detected, alarms can be sent. Voice can also be used to control, for example, the ambience of the room, shower lighting and water temperature.

In addition to assisted living technology, a MUNEVO headset was demonstrated controlling a wheelchair and even the KNX-equipped building through slight head movements. Furthermore, a chair-mounted ProKNX Aragon Smart Speaker offered voice recognition.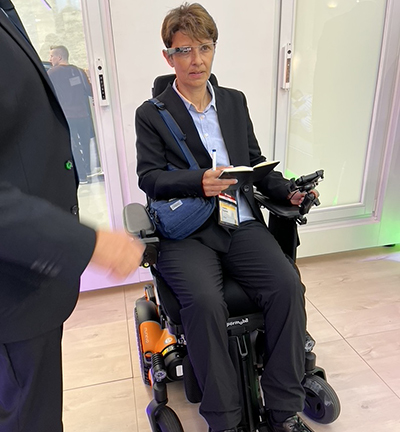 System expansion
Multiprotocol integration was another hot subject at Light + Building 2022. Indeed, Siemens had three main messages: 1) focus on room devices and multi-communication protocols, so that if you can grow the room, you can grow buildings; 2) expand systems with IoT devices; and 3) improve indoor air quality using multisensors.
The company launched a complete Zigbee-based smart home solution in May and is working on a KNX solution in the same style. New products at the show included the RDG200 KNX thermostat with built-in CO2 sensor to provide a visual indication of good air quality; a KNX valve actuator and fan coil actuator; and a preview of a DIN rail portfolio that includes a thermal drive actuator that will control valves on radiators, and provide HVAC control and pump control as well as logic functions. Siemens also proudly presented its Touch Control TC5 that won the KNX Award for Best Product 2022.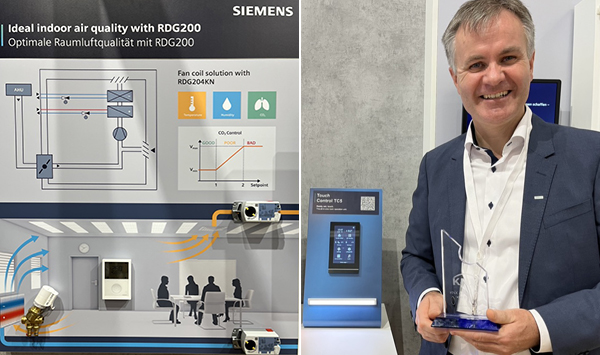 User interfaces
New products from Gira include the Pushbutton Sensor 4 System 55 that fits in a standard Gira System 55 frame, is KNX Secure, available in different colours and comes with 2, 4 or 6 buttons that can be orientated horizontally or vertically. For heating, the Heating Actuator 6-gang is a 6-channel heating actuator with KNX Secure and 12 controllers on board. For system coupling, the new Gira F1 is designed to couple different networks, regulating communication between private and public KNX networks. Also on show was a new Gira KNX RF battery-driven button for extending existing KNX installations where wires can't be run. This fits into Gira System 3000 inserts and is available in 1-, 2- or 3-button versions that can be orientated horizontally or vertically.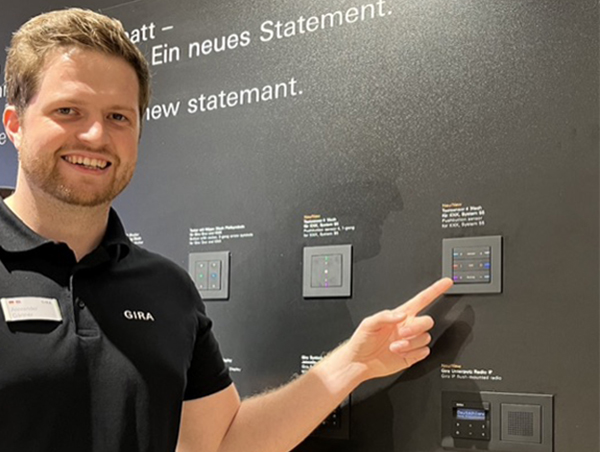 Theben was keen to point out that all of its new products are KNX Data Secure. This includes the new Ion range of switches available in black, white or silver. Designed to be highly functional yet simple to operate, Ion also supports Bluetooth functionality with the Ion 8, for connectivity with a mobile device. For heating, the new EUI KNX will switch up to 16A for electric radiators, whilst the Cheops drive KNX provides motorised heater valve control with LED indicators. For presence and motion detection, Theben's thePixa is now available as a 24V variant so it can be powered from the KNX bus. It detects contrast rather than IR and can sense up to 6 zones in an area. It partners a free customisable app for Bluetooth mobile devices.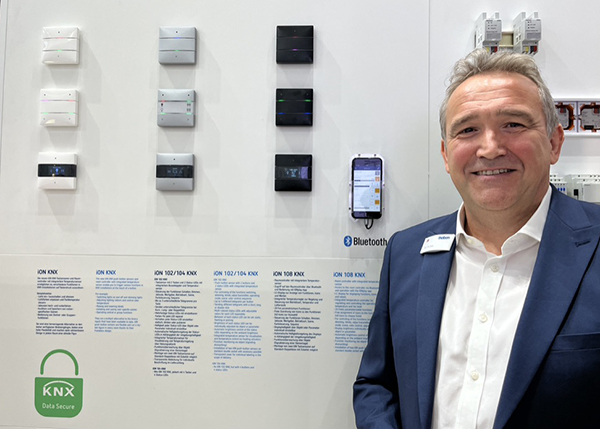 And finally, I think Jung would have to win the prize for most colour options for its switches. New from the company is the swipeable LS Touch room controller in the same frame size as the Jung LS990. It allows scenes to be selected and programmed, customisation of layout and frames (including the Le Corbusier range of colours) and has a proximity sensor. It is also available in a very flat surface-mounting frame.

Conclusion
The objectives of the big players at Light + Building 2022 were, in a nutshell, to make things ecological, secure, easy-to-use and beautiful. Some of these may seem relatively easy to achieve, but even with a single pushbutton, the thought, precision engineering, testing, certification and marketing involved requires significant investment, and as solutions expand and have to interact with other protocols and systems, so the challenges mount. We expect the larger companies and organisations to have a vision and to inspire the industry, and going by the reaction to the show, they certainly succeeded. In fact there were over 120 exhibitors showing KNX products at Light + Building 2022, all following some or all of the same objectives. In Part 4 of this four-part series, we will take more detailed look at some of their solutions.
Yasmin Hashmi is the Editor of KNXtoday magazine.