Following several innovation accolades, ABB has released SmartTouch® 10", the high-end touch panel made of glass that combines home control of ABB-free@home®, or ABB i-bus® KNX, and the fully integrated functions of ABB-Welcome door communication in one device.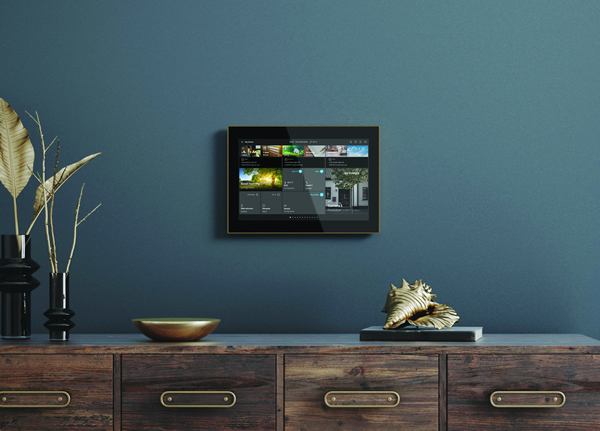 In addition to a direct ABB i-bus® KNX / ABB-free@home® connection, the panel also has a direct two-wire connection for ABB-Welcome. 
The SmartTouch® 10" device features a slim design 10-inch IPS touch screen, with a viewing angle of 75 degrees in all directions, giving residents in homes, hotels, and commercial buildings optimal control. The entire building installation – from IP cameras to lighting, shading, scene, and temperature control – can all be managed and observed from the one stylish and innovative device. A notification center informs users about all actions and missed visits. An optional memory card offers a selection of screen savers.
Door communication can also be received through the SmartTouch® 10" screen, replacing the need for an additional indoor video station for ABB-Welcome. Furthermore, the IP Gateway functionality for the remote control of the welcome system is integrated in the device. This means lower costs, less clutter, and fewer devices to maintain. Overall, the device also allows for hundreds of control elements, meaning it's future-proofed with the capacity to accommodate an ever-expanding smart home installation.
Olaf Quittmann, Global Product Manager said: "Our aim is to bring building residents the very latest in innovation, quality, and convenience. We wanted to integrate comfort and security in one device and our innovative design has already been recognized for its quality design through several prestigious international awards*. We're excited to bring to market another solution that makes people's lives safer and easier while saving energy."
Dashboards on SmartTouch® 10" provide users with fast navigation as they can be easily customised for quick and clear access. When the panel is connected to the ABB-free@home® system via Wi-Fi, it can control the whole ABB-free@home® system without the need for additional programming.
Featuring an elegant 14 mm flat, extremely small frame. Available in black or white glass, each with frame colors in black, satin gold, stainless steel or rosé gold.
The award-winning design and user interface has been recognized and acknowledged by Red Dot awards, German Innovation Awards and the iF Design awards in addition to a nomination for the UX Design Awards 2022, the global competition organized by the International Design Center Berlin to recognize "excellent experiences".
A panel of 48 international jurors selected ABB SmartTouch 10" for the prestigious Red Dot Award for Product Design. Products from 60 countries were assessed professionally and individually, with only those recognised as demonstrating outstanding design quality awarded a distinction at the ceremony in Essen, in June.
The jurors reported that 'this touch panel for smart home control convinces with both the high complexity of its functional range and a design that intelligently makes these features accessible'.
ABB SmartTouch 10" has also been named 'Winner' in the Excellence in the Business to Consumer Smart Living category of the 2022 German Innovation Awards, and has won both the product, and user interface design categories of the 2022 iF Design Awards.
The German Innovation Awards honor products and solutions that distinguish themselves primarily by their user centricity and added value compared to earlier solutions across all industrial sectors. More than 350 guests from 26 countries across industry, politics and the media attended the awards ceremony at the German Museum of Technology in Berlin, on 28 May 2022. The iF DESIGN AWARD has run since 1953. The iF seal signifies good design, for consumers and the design community.
Find out more: to.abb/tSaeTH2E or abb.com/knx