JUNG is extending its product line for the control of LED in KNX systems. The new KNX LED controllers replace the current JUNG products (3904REGLED and 3904EBLED), take over the standard functions and enable new applications.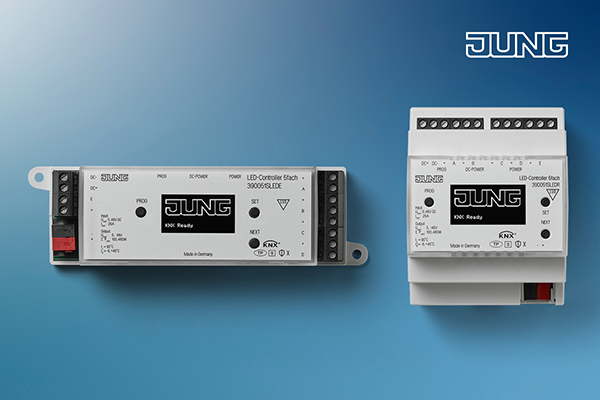 LED spots, LED strips, RGB(W), Tunable White or RGB+CCT luminaires: the new LED controllers are ideally suited for controlling extra-low voltage LEDs without a control transformer using pulse width modulation (PWM). They are available both for mounting on a DIN rail (390051SLEDR) and for installation as a built-in unit (390051SLEDE).
The new functions of the KNX LED controller at a glance:
five instead of previously four dimming channels
all channels with energy measurement and energy cost output
fully dynamic load distribution of all channels up to 480 watt
integrated display for simpler commissioning
unique protection (overheating, over-voltage) for the device, the LED power supply and the LED lamps
KNX Data Secure
time-controlled dimming (HCL)
extended range of functions
(such as day/night function, stairwell function, dim2warm and Astro clock)
The KNX LED controllers are ideal for coloured light control with RGB. Colours can be mixed as required and the brightness freely chosen. The lighting effect can be varied as a sequence. The KNX LED controllers with their 5 controllable channels and a variable operating voltage of 5 volt to 48 volt (constant voltage)offer a wide range of ways to control LED lamps. RGB+CCT LED strips include a combination of RGB and warm & cold white LEDs (CCT). Intensive colour effects can thus be implemented along with a smoothly adjustable colour temperature with only one strip. Alongside many other functions, control according to Human Centric Lighting (HCL) is also included in the applications. Thus, the KNX system controls the lighting automatically by reference to the position of the sun – and this has a positive effect on health and wellbeing. At the same time, the energy consumption is measured and, including energy costs, made available for further processing in visualisations. For this, customers enter the energy price conveniently via the Smart Visu Server, the Smart Panel 8 or JUNG Visu Pro.
As a result, the new KNX LED controllers are particularly predestined for the mood lighting in the home. But also businesses for their displays, gastronomy or hotels benefit from the precise LED control with the new KNX LED controllers 5-gang.
Learn more:
www.jung.de/en/14692/products/technology/knx-system/knx-led-controller