Ambient Assisted Living (AAL) is one of the major emerging technology markets of the moment, offering the potential to enable and empower citizens in their daily lives using state-ofthe-art technologies. Known as 'assistive technologies' in some areas, AAL facilitates everyday activities for people who require care and support, augmenting their quality of life and assisting their independence.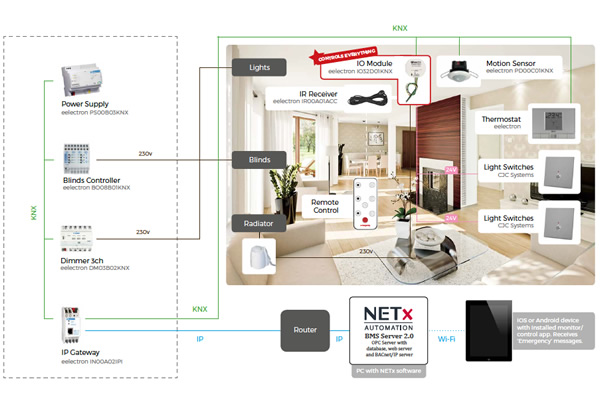 Home of Technologies has developed a solution for a customer with disabilities and their carer/relative, which supports control of lights, heating and blinds with one remote from everywhere in the house. This remote also has an emergency button in case urgent help is needed. When the button is pressed it automatically sends a message to predefined numbers or devices notifying that attention is required.
In addition to the emergency button, there are also motion sensors installed in the house and the carer/relative can monitor to make sure someone is active and healthy. Necessary action can be taken if no activity is detected in the house for prolonged periods of time. It can be a lifesaving solution for the people you care about.
The Home of Technologies solution integrates KNX products from Eelectron and CJC with the Netx Automation BMS Server 2.0 and iOS or Android devices.
For more information call +44 (0)207 9988 252, email info@knxshoponline.co.uk or visit www.knxshoponline.co.uk.