Residents living with multiple sclerosis are in control thanks to automated assistance technology
ABB i-bus KNX Building Automation System installed by SyncWise at MS Queensland's Springfield Apartments has given 18 residents affected by neurological conditions greater independence and control in their everyday lives.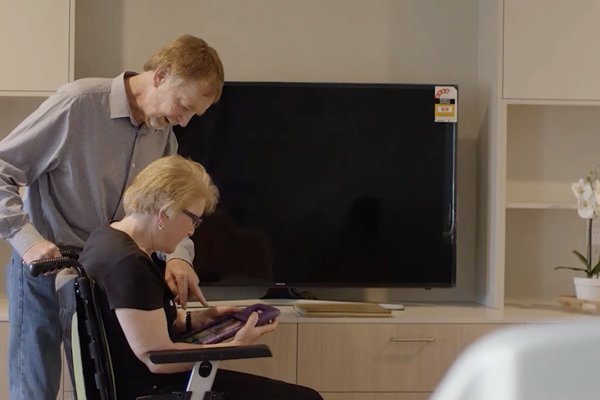 18 residents living with multiple sclerosis (MS) and other neurological conditions are now living in their new homes at MS Queensland's Springfield Apartments to receive appropriate care, and with many moving from aged care or older assisted living facilities, the biggest change is the new smart assistance technology that is now installed in their new apartments.
MS Queensland's Executive General Manager of Services & Operations, Jillian Paull said the technology has been life changing. Allowing many of the residents to do more of their daily routine independently, where they would usually need support.
"One resident said she'd never been able to invite a friend over and open the front door for them, because she'd never had a front door. Now, she has privacy and can tap her tablet to open her front door whenever she'd like," said Jillian.
Each resident has a tablet with a touchscreen configured to suit their variable dexterity that allows them to complete many tasks that they couldn't before including operating hoists to help them get up, manipulating beds to suit their desire to relax during the day or sleep at night, operating electrical appliances, changing TV channels, as well as adjusting lighting, blinds, fans, and air conditioning.
"Residents love that they can speak to their friends, family, and service providers through the intercom at the street entrance then invite them in, give them access to the lift, and open their own front door – all through the tablet controls."
"It's the little things that people who don't live with a neurological condition would take for granted, but it means so much to our residents that this technology empowers them to actively control their home environment."
Springfield Apartments are set within a precinct that includes the Mater Hospital and healthcare practices, as well as a Quest Hotel and childcare enabling residents families to easily visit and stay for longer periods of time. The apartments were built as part of MS Queensland's Project Dignity 120 initiative, which has evolved into their Best Life Project.
The organisation's Best Life Project is providing a solution to the current disability housing crisis in Queensland, by continuing to develop Specialised Disability Accommodation (SDA) and deliver 24/7 Supported Independent Living (SIL) services onsite to residents.
MS Queensland has some incredible new accommodation projects opening in the next 12 months including Hope Island and Palm Beach on the Gold Coast; Orion on Rowe's Caboolture Apartments; Murarrie in East Brisbane; and the organisation's own Toowoomba apartments. MS Queensland's Chancellor Park is also expected to open in 2022.
"We wanted to build accommodation that gives people choice and independence, to be able to live their best possible life. Having a home substantially increases and enhances all people's quality of life and for those living with a disability it makes a huge difference."
Sustainable technology supporting quality care
ABB i-bus KNX Building Automation System is wired into all electrical devices and power points in each of the 18 units at Springfield Apartments. The system also integrates monitoring of circuits to measure loads, faults and electricity consumption to monitor significant changes, as this might indicate when a resident is having difficulties. When the system detects large changes in electricity consumption, it activates an alarm to alert onsite support staff.
Movement sensors installed throughout the apartments also detect whether people have left a room, opened a window, or adjusted lighting and air-conditioning. This optimises energy efficiency and reduces consumption. This state-of-the-art technology is complemented by finishes and colours to make each unit look and feel unique.
"MS Queensland wanted to make sure that the project was sustainable, and ABB iBus KNX can deliver up to 60% reduction in home-based electricity use, depending on the number of functions and applications that are connected," said Christian Schiemann, ABB Electrification's Market Development Manager for Building Automation in Australia and New Zealand.
The flexibility of the ABB i-Bus KNX Building Automation System to adjust air conditioning and lightly easily is important for those living with MS, as they can be quite affected by temperature changes and sensitive to bright light. The ABB i-Bus KNX can be programmed to calibrate each resident's environment (such as blinds, HVAC, dimmers on lighting) to automatically meet their preferences.
Tendering towards future longevity
ABB bid for the project in tandem with channel partner Roy Baharal, Managing Director of SyncWise, a smart-buildings solutions provider that specialises in KNX technologies. The company has a vast knowledge and experience with designing a tailored KNX solution for assistive living, and provides ongoing service to the tenants.
KNX is a global standard which defines the communication between electrical products, but not the technology itself. "It's not a proprietary system that will be obsolete in a number of years. There's always development around KNX because it is the standard and many companies want to be part of this technology," said Baharal.
"In the assisted-living space — from which some capabilities are likely to be integrated into everybody's homes in future — new KNX-based products are constantly emerging and they'll be compatible with the ABB i-Bus infra-structure that makes up the electrical nervous system of Springfield apartments."
Baharal also claimed the technology is future fit for innovation and will be adaptable to the changing needs of residents. "That's the beauty of it, that we don't know what technology will come in five years' time, but if we use KNX, the standard protocol, we will be able to implement and integrate it."
The flow-on effects of technology
A quality-of-life indicator included in survey conducted by MS Queensland six months after residents moved into their apartments showed on average a large improvement. Ali explained that many living with a disability come from aged care and shared living, so having a brand-new apartment that was their own made a huge difference and substantially increased residents quality of life.
The demand for automated assisted living can only increase as Australia's ageing population seeks to remain independent. MS Queensland has eagerly shared the successes of the technology installed at Springfield Apartments and showcased ABB's technology and SyncWise system design to their partnering developers, ensuring the technology continues to benefit future residents.
new.abb.com/low-voltage/products/building-automation/product-range/abb-i-bus-knx