The new B.E.G. KNX VOC sensor measures air quality and humidity and is also a temperature controller. The air quality is measured using organically volatile compounds (VOC). Limit values ​​can be set individually in the ETS, and the respective status LED then shows the current status of the air quality and the humidity in traffic light colours (red, yellow and green). Of course, the measured values ​​can be used for subsequent programming. For example, if the air quality is poor, the air-conditioning can be switched on or an automatic window opened.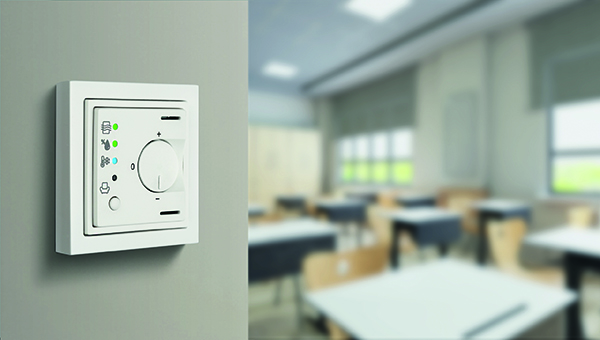 Temperature control
Temperature control is also very simple: the heating or cooling can be activated via a heating actuator using limit values set ​​in the ETS. The status LED shows heating in red and cooling in blue. The user can also change the temperature (setpoint) individually using the integrated rotary knob. For this purpose, an offset value (e.g. +/-5 °C) is set in the ETS relative to the stored comfort temperature. The room temperature can then be selected using the rotary knob within this range.
The rotary knob does not only function as a temperature controller; it can also be used for air quality or air humidity. i.e. the ppm target value or the target value for the relative humidity. The three possible functions of the rotary knob are defined in the ETS.
The VOC sensor offers the user another option for individual control: if a lower night-time setting is stored in the system, the user can activate an extension of the comfort setting using the integrated push button. The comfort temperature remains active for the duration of the extension which is set in the ETS.
Setting limits
The VOC sensor includes factory-set limits which have been determined in an independent laboratory and are significantly more sensitive than the standard prescribes. According to B.E.G. Product Manager, Christoph Börsch, "As with all B.E.G. KNX products, the VOC sensor can be put into operation directly with the factory settings, as the values cover a good 90% of the standard requirements. However, the integrator can change any value themselves according to the individual requirements of the project."
Size
The new VOC sensor fits into all common 55×55 switch frames. An additional adapter for 63×63 switch frames is included.
Additional functionality
Additional KNX components enable even more convenience, allowing the measurement data to be output so that the user can specify their desired values ​​via visualisation. The control can also be linked to presence via a KNX presence detector.