Hey Siri, Make it Cheaper to Control my House…
xxter B.V., the Dutch manufacturer of the first Apple certified KNX-Bridge 'Pairot' in 2017, celebrates its 12½-year anniversary and release of the Pairot app with a big and permanent price reduction.
Since the first release, the Pairot is on the market for €595 ex VAT. From July 1st, the new price will be €495 ex VAT. And of course, our installers can still count on a proper discount.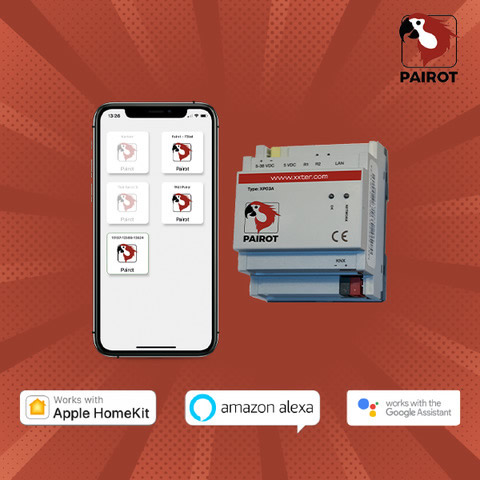 Pairot should be connected to the home network and KNX installation by an installer. After a simple configuration all available components can be controlled by voice and/or the respective apps with Apple's Siri, Amazon Alexa and Google Assistant. Pairot is 'Made for HomeKit' and also certified for Google Home and Amazon Alexa, to use simultaneously if desired. The new Pairot app makes commissioning even easier.
Voice control is available for all switches, dimmers, blinds, thermostats and can read values of temperature and many, many other sensors, as long as these KNX devices are available in the house. The complete list is too long so sum up here, so please visit the Pairot website for more information.
KNX is recognized as International Standard, European Standard and Chinese Standard. More than 400 manufacturers are member of KNX and produce products connected to the standard. KNX is guaranteed for the future, because the possibility of brand-independent integration of all components in the building. This is why more than 70,000 certified installers use this open standard.
For more info about Pairot email sales@xxter.com, call +31 20 – 21 84 201 or visit: