Gira, one of the world's leading full-range suppliers of intelligent system solutions for building management, debuts a new multi-functional control button for today's premium smart home:
Blending high-functionality and minimalist style, the new Gira pushbutton sensor 4 available now, helps you to take control of your smart home with ease!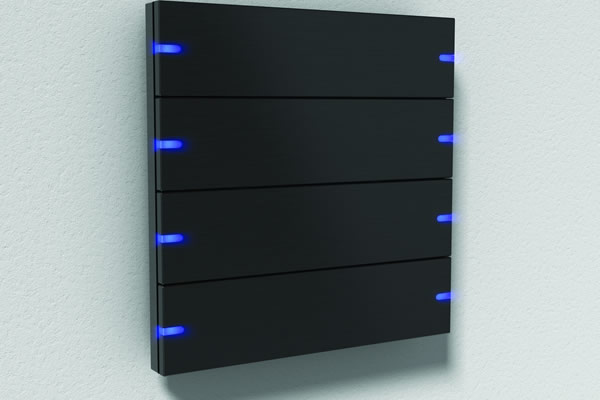 Up to eight functions can be effortlessly controlled from one clever switch. The new Gira pushbutton sensor 4 allows the user to operate lighting and blinds, moderate the temperature and humidity via sensor technology and thanks to an external temperature sensor, underfloor heating will automatically begin to function on a chilly evening or frosty morning.
Mark Booth, Managing Director at Gira UK says, "This new combination switch and sensor is designed for the luxury specification market, meeting the rising demand for premium design with intuitive control and operation. Right now, the market is showing demand for new KNX products and as a green sustainable technology, it will create up to 60% energy savings and significantly reduce the carbon footprint of a building. Able to be applied to small and large buildings alike, the new Gira pushbutton sensor 4 is designed to be a future-proof solution, which is easily updated via the Gira ETS Service App. This will ensure your device meets the KNX Secure standards for encrypted communications and protect your data at all times".
Facilitating greater control at the touch of a button, the new Gira pushbutton sensor 4 enables the end user to control various functions in the KNX system and highlights include:
Tactile buttons: measuring 95 mm x 95 mm, the switch is a comfortable size, and has a pleasant, tactile feel thanks to the 3mm-thick covering on each button. End users can easily feel the difference when the button is 'on' or 'off', to provide optimum control.
Personalized to your home: choose the right model for you as the device is available with two, four, six or eight separate buttons which can be freely assigned, depending on your needs. Gira offers a labelling service so that your switch can be indexed with the relevant functions, so that every button is clearly marked. For more information regarding the Gira Inscription Service, please visit www.marking.gira.com.
Optional LEDS: make life even easier by adding LED lights that indicate which functions are in operation. Eight colour settings ensure that you can see what is happening at a glance and for increased efficiency, provide a low-level nightlight in the dark to illuminate the controls. The LEDs can be easily dimmed to suit a bedroom or nursery setting where subdued lighting is welcomed.
Designer style: elegant and minimalist, this switch can blend in with all decors and comes in Glass Black, Glass White, Aluminium, Stainless Steel and Aluminium Black. From October 2020, the range will be extended to include the following new finishes: pure white glossy, pure white satin matt, black matt, grey matt and anthracite, as well as a PVD coated version in bronze.
Compatible with Gira Esprit and Gira E2 design lines: the push button sensor 4 has the same external dimensions as the Gira Esprit metal switch range and it also complements the Gira E2 design line for perfect colour matching and design continuity.
For more information visit:
www.gira.com/en/en/products/design-lines/gira-pushbutton-sensor-4