Preventative maintenance is three to nine times cheaper than reactive maintenance, therefore ABB launches its new user-friendly IoT Dashboard to improve usability and reduce maintenance in smart buildings.
Easy to commission, simple to install and intuitive to use, the new IoT Dashboard from ABB allows stronger control, monitoring and automation of all building functions, from dimming and switching of lights to controlling blinds, heating and ventilation.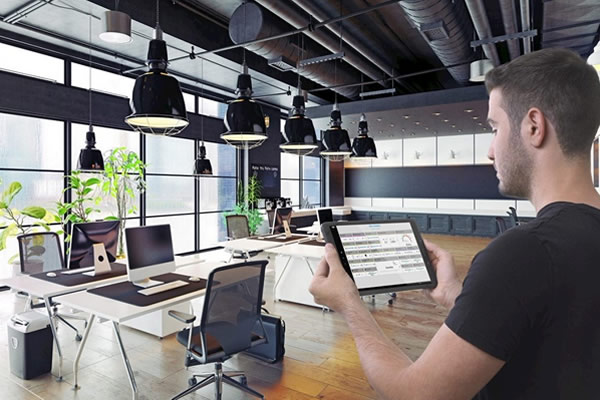 The dashboard is very easy to use, giving electrical installers with no pre-knowledge of dashboards or visualization a simple route into smart building dashboard solutions.
Oliver Iltisberger, Managing Director of ABB's Smart Buildings business line, said: "ABB is writing the future of work and cities, and smarter buildings play a key role in this. The new IoT Dashboard puts control firmly back into the hands of installers and end-users. It is a way to control smart buildings from any device, anywhere and at any time, and helps building automation solutions to be more intuitive and responsive."
Pre-programmed frames make it easy to configure the dashboard and deliver quick results. The addition of the KNX standard drives interoperability and makes it ideal for use in all commercial building types. The dashboard Page Link also allows installers to integrate Website User Interfaces from other devices, such as ABB EQmatic, to provide greater visibility on the building's status e.g. energy consumption.
Part of ABB's cloud-enabled digital offering ABB Ability™, the IoT Dashboard can be accessed remotely via a PC or handheld device, allowing users easy access to several facilities from anywhere. It provides real time information on the status of all automated building solutions, from ventilation to lighting, to security.
IoT Dashboard is a plug and play solution, with pre-defined controls and graphical interface, which allows additional Apps to be downloaded easily after commissioning from the MyBuildings portal to add wider functionality, including access to Digital Addressable Lighting Interface (DALI) systems.
With organizations increasingly concerned about security in the digital world, the addition of LAN-connections in the IoT Dashboard server ensures stronger cybersecurity levels, due to the split of internal and external IP communications. ABB cybersecurity standard and test facilities boost security levels from installation and throughout the lifetime of the solution.
To minimize failure or disruption to the operation of the building, the IoT Dashboard provides push notifications, alerting the user to any potential issues before they arise.
"We know that preventative maintenance is three to nine times cheaper than reactive maintenance, so it's vitally important that we empower users to identify maintenance issues early. The addition of push notifications will instantly highlight any problems, allowing them to be resolved easily before they become a big issue. In essence, it is about working smarter to keep your building smart for the future," concluded Iltisberger.
Note: 1 source UN Study