One sensor to rule them all
Sometimes you need a sensor that just does everything – that's why HDL has developed the KNX Omnisense sensor.
With automation solutions becoming ever more unified and connected, HDL believes that truly smart sensors are the key to making automated buildings even more efficient, convenient, and secure. Standard sensors usually perform a single function, and are dedicated to performing a single task. Because of this smart buildings are often plagued by sensor acne, with multiple sensors sprouting from the walls and ceiling of a room. This overabundance of sensors has many contributing factors, but its driving force is that most manufacturers simply want to sell as many units as possible. With no desire to create multifunctional sensors, installers have little choice but to install multiple individual modules.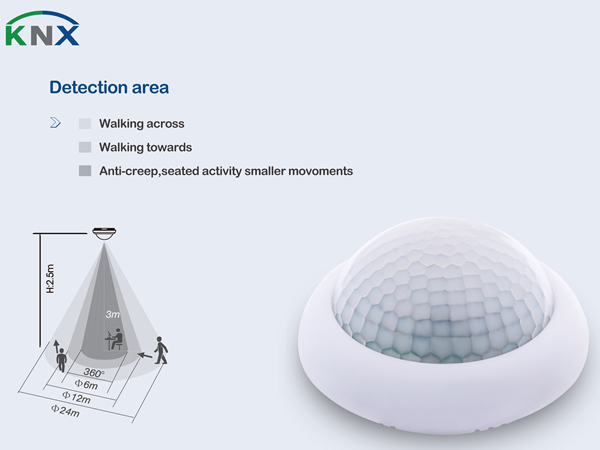 HDL is unlike most manufactures though. With a long history of creating multifunctional sensors for their Buspro automation system, HDL engineers turned their attention towards the KNX system and developed a range of multifunction multirole sensors.
The latest KNX sensor to emerge from the extensive HDL KNX product stable is the Omnisense sensor. Capable of detecting light intensity, movement, and temperature, Omnisense brings users a true multirole sensor which is suitable for a wide variety of automation applications. From triggering on demand lighting, to controlling shading and air conditioners, the Omnisense's five amp relay output enables any room, in any building, to be intelligently controlled.
With a single Omnisense sensor you can:
• Control a rooms heating & cooling system
• Implement on demand lighting
• Automate curtains and blinds
• Enable constant illumination
• Enhance building security
• Control connected devices and appliances automatically
• Control preconfigured scenes and sequences automatically
Created primarily for lighting and security management, Omnisense boasts an impressive 22 meter detection range. This means that wherever you are in a room, your presence will always be known.
Worried about security? As Omnisense is fully KNX certified, it can be included in any KNX security solution. What's more, its detection area can be fully customized via ETS software, so that only the areas you want covered are covered.
Perfect for creating virtual boundaries, this helps eliminate false positives and ensures that your lighting, HVAC, shading, or alarms are only triggered when it's absolutely necessary.
Although Omnisense combines a PIR sensor, LUX sensor, and temperature sensor, it's no heavy weight. With a diameter of just 84mm, and weighing only 60 grams Omnisense holds true to the saying that good things come in small packages. Designed to be ceiling mounted, and constructed in a robust UV resistant ABS plastic, Omnisense provides an unobtrusive sensor solution suitable for any residential, commercial, or hospitality installation.
A sensor is only as useful as the hardware and software which powers it though. That's why HDL has given Omnisense both AND & OR logic states making the sensor more powerful, efficient, and faster to react. This allows Omnisense to communicate with the KNX system more effectively, and take independent control over its connected output targets. For maximum customizability the sensors onboard logic validity can be set by dry contact or external telegram, and the preset logics enabled or disabled by the end user.
With the ability to detect movement in even the largest of rooms, and the capacity to precisely measure temperature and light intensity, the Omnisense sensor exemplifies HDL's commitment to providing its KNX customers with uniquely innovative automation solutions.
To learn more about the HDL KNX automation range, visit: