By Simon Buddle, Future Ready Homes.
There are two topics that are likely to crop up during any conversation being held by people of a certain age. The first is arguably the preserve of the modern-day motorist; how does one get from point A to point B – what with the temporary traffic lights, the congestion at the mini-roundabout and the mess the council has made of the new bypass? This simple discourse will often take longer than the intended journey.
The other topic is that of the weather. Long, meandering discussions will cover everything from precipitation to the mighty gusts of wind of last week. And of course, in the summer, we wait patiently for those burning hot days so that we can bemoan the intolerable heat that prevents us from sleeping or walking or indeed doing anything except lie with a cold beer in our hands until the sun's incandescence retreats behind a miserable blanket of grey clouds.
One of many great pleasures I have had during my life is to climb the Säntis mountain in Switzerland. It is no more than an arduous walk – about five hours of it. When arriving at the top – where you feel as if you can look down on the entire world – the feeling is euphoric. Whilst there, you can view two opposite and yet majestic structures; the first is a traditional and quaint Swiss restaurant that serves great beer and bratwurst. The second, modern, imposing and extending another 20m into the sky, is the meteorological station that gathers data. To walk up the Säntis requires a sturdy pair of boots, but the most important requirement is to have accurate weather information. Getting caught out in a snow blizzard could be life-threatening.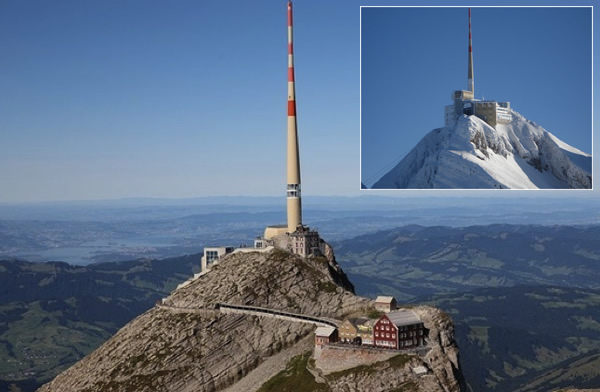 Why Use Weather Stations in a KNX System?
So, what type of weather stations are there, and what functionality can we expect from them? The first consideration is probably to be clear about its purpose, and arguably, there are only two of those. Either we'd like to know the weather, i.e. display it for our customer, or we'd like to use weather information to trigger events in the KNX system.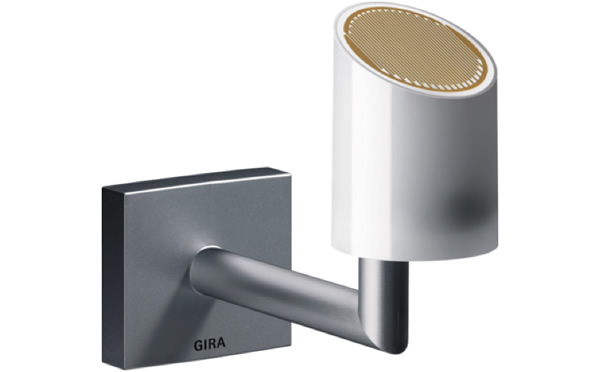 If we'd just like to display weather data, then we could subscribe to a weather RSS feed; the BBC and Met Office for example, both offer regional feeds. However, we are more likely to need to use weather data to trigger events; wind, rain, temperature and light level data will provide our systems with a plethora of ever-changing values. In which case, real time information is a must.
Wind Measurements
Wind information can be used to pull in an awning, and in severe conditions, may even be used to close external shutters. What threshold we should use is down to which awning you're controlling. The awning should be rated against the Beaufort scale, and most are rated to wind class 2 or Beaufort 5. This is 19-24mph and is described as a fresh breeze. The scale runs from 0 (calm) to 12 (hurricane force).
So, the first question to the awning installers will be 'What is its Beaufort rating?' Once we've established this, then we are able to apply a safety threshold to trigger the awning to retreat into the shelter of its housing. KNX devices typically measure in meters per second, so you may need to do a bit of maths to convert between miles per hour and meters per second. Or you could just go to Wikipedia and get the answer there. By the way, have you made your donation yet? (Ed: We have indeed!)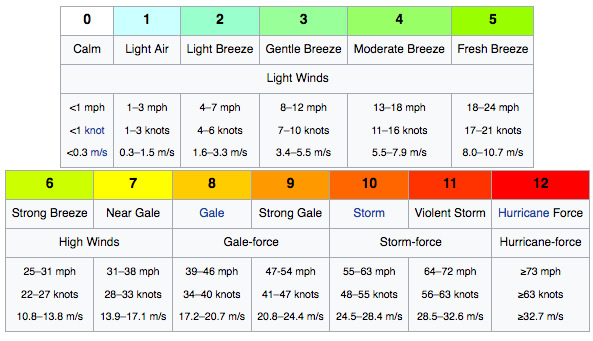 Light Measurements
Sunset, sunrise, dawn, twilight and dusk are all different. Having just returned from Tromso, the most northerly city in the world at some 350km inside the Arctic Circle, I can confirm that sunrise and sunset do not happen at this time of year. Up there, they do have an eerie twilight that lasts about 2 hours, but the sun has not risen above the horizon for many weeks now, and it will be many more before it does.
Twilight occurs when Earth's upper atmosphere scatters and reflects sunlight which illuminates the lower atmosphere. There are also three different twilights, namely civil, nautical and astronomical, defined by the sun lying 6, 12 and 18 degrees below the horizon respectively. Dusk is the point at which night time is defined.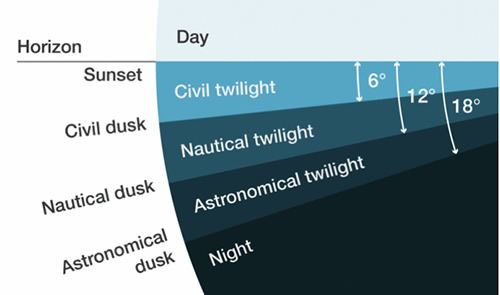 So, what do we want to achieve with our sunset, sunrise, dawn or dusk information? Most likely we are lighting a house, driveway, providing sufficient light for CCTV to function or maybe just creating a beautifully-lit garden scene. Whichever of these it is, the key is the light level, or, more accurately, the lack of light, which requires us, as systems integrators, to add light. In this instance, it will be more beneficial to measure light at the property location. Light is measured in lux, and anything below 1 lux is deemed to be night time.

If we understand lux, then we can put that information to use in our KNX system and, for example, bring on the lights when required to illuminate a driveway or provide light for CCTV. As dawn approaches, the increase in lux level will then be used to trigger the 'Light Off' event. It might be wise to set the 'off' threshold higher than the 'on' threshold. This will prevent false activations at either dawn or dusk and the clients from thinking that you've set up some crazy strobing scene.
Precipitation Measurement
Rain can be very localised, so it makes sense to use real data from the property rather than from an Internet feed. Mounting locations are important too -not under the soffit (as I once witnessed), but where the sensor will get wet! If you close windows when it rains, you may also want to think about opening them once it has finished. That will require some logic to understand that the windows were closed by rain in the first place. You clearly don't want them to open if the client closed them, it rained and then stopped.
Conclusion
Understanding what it is we want to do with the information our weather station provides us with is the first step on the path to a successful installation. Once we know that, the next step is to understand the information itself and how to apply it to benefit the client. And lastly, we need to apply it so that it is consistent and useful. If you haven't used a weather station, why not download one of the many ETS product files and explore the possibilities?
Simon Buddle is a consultant for Future Ready Homes, a specialist in BMS and ELV services system design. Simon is also a regular contributor to KNXtoday magazine.