By Giangiacomo Pastore, Eelectron.
Established in 1994, Eelectron is an Italian company that manufactures cutting-edge KNX solutions for home and building automation, with references and installations in more then 72 countries. In addition, 23,000 hotel rooms are equipped with the Eelectron hotel guest room management system and lighting controls.
Our products are made in Italy, where we pay careful attention to quality control, and where we have audited procedures that respect the environment. With the residential market in mind, we developed the Eelecta range of stylish, cost-effective and intelligent interfaces.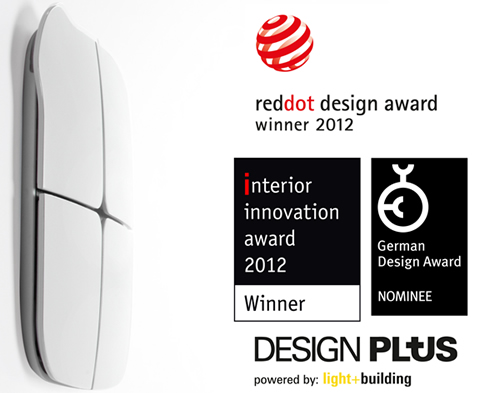 The Eelecta range allows complex functions to be controlled using simple icons, and comprises the HomePad, MiniPad and Miniswitch switches, and the Eelecta Touch Panel. The range is dedicated to energy saving and temperature control, while offering an efficient use of space. Features include LED signalling, diagonal pressure sensing, short and long pressure sensing, a night mode LED and KNX interoperability.

HomePad and MiniPad
HomePad and MiniPad are available in different colours and metal finishes and are characterised by a central cross that is available in three colours. The HomePad measures 11x11cm and the MiniPad 9x9cm. Both offer the same features, namely embedded thermostat, additional input interfaces, and integrated KNX BCU. HomePad additionally supports master/slave connection to a non KNX model. The graphic surfaces of HomePad and MiniPad are fully customisable with personal images, artworks, logos, and function icons for long or short pressures.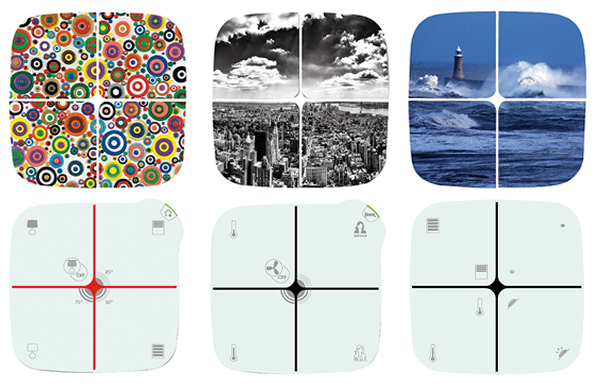 The HomePad and MiniPad are available in two versions, namely the 8-channel PB80, and the 4-channel PB40. Both versions can include an additional thermostat function or 4 digital inputs that can be connected to dry contacts. All versions have four frontal LEDs and one side led, all of which are freely configurable.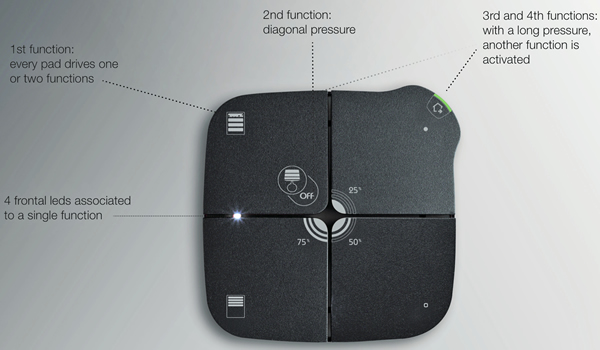 Each channel/input can be configured to perform one of the following functions:
– Activation on press (activation on edge) with cyclic sending.
– Activation on short and long press.
– Dimming.
– Shutter and blinds.
– Scene (learn function can be excluded by communication object).
– Command in sequence – 3 telegrams from 1 bit to 1 byte (on short and long press or on edge).
The PB80C model includes a 'Circular Function' which means that the four inner buttons are dedicated to managing a special function such as HVAC mode commands, fan coil speed setting, or dimmer or shutter management.
Thermostat sensor and logic is included, and can control the temperature of a room or area by driving heating or cooling equipment/air-conditioning/2-4 pipe fan coils/valves or on-off commands to heating/cooling elements such as radiators, heat pumps, etc. The requested temperature can be set via HVAC mode object or via setpoint objects (2 bytes float).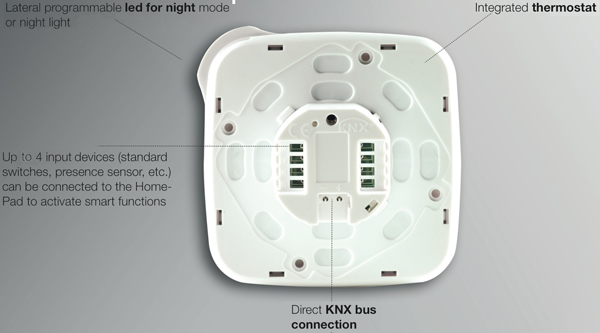 Installation
The Eelecta range is designed to be easy to install, and can be used with a stylish choice of faceplates in various colours.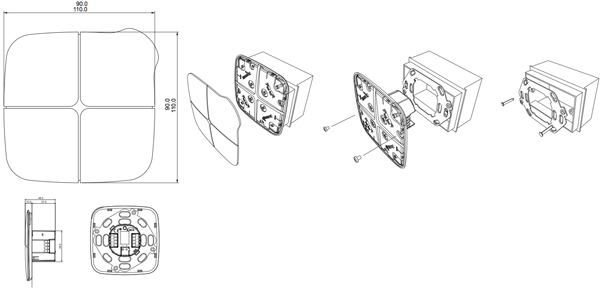 MiniSwitch
The Miniswitch is available in white or black. It offers simple 1-, 2- or 4-switch KNX control, and is equipped with two configurable signalling LEDs per channel, in white or light blue.

Miniswitches can be mounted in the Eelecta socket system, and are also compatible with third-party standard frames.

Eelecta Touch Panel
Based on a Linux architecture, the Eelecta Touch Panel is a 3.5-inch ETS programmable unit that includes a thermostat, astronomical clock, frontal LED, mini-USB port and a microSD slot. It is the same size as the HomePad, and can be mounted in the same way.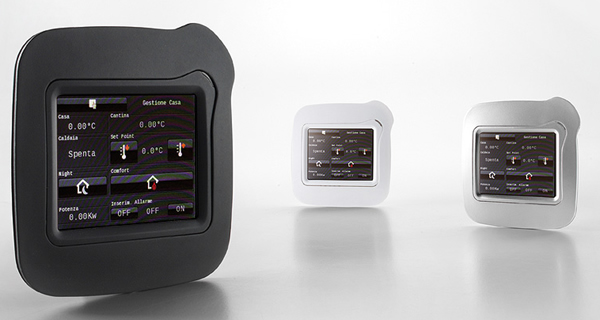 The Touch Panel is designed to provide easy-to-use icons that can be organised over 6 pages, with 48 control elements available, each selectable between:
• Switching/dimming of lights with status visualisation.
• Shutters, dimmers and RGB lights management.
• Alarm function.
• Command in Sequence.
• Weekly timers.
• Datalogging with line-graph and bar-graph visualisation.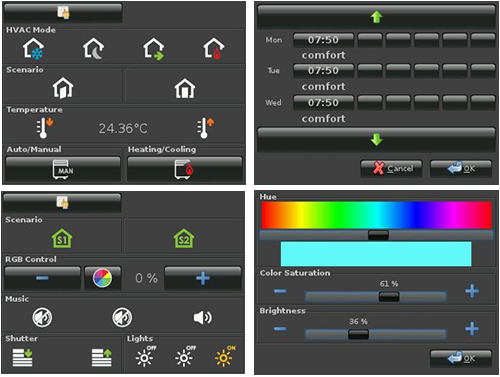 The Touch Panel offers a number of additional features. For example, the thermostat can be embedded with a large number of communication objects and parameters; the logic module makes up to 31 objects available for custom logic in the LUA language; there are different 'skins' or layouts and languages that are end-user selectable; and custom layouts/screensavers can be created for specific applications, such as hotel use.
Conclusion
If your requirement is for a stylish, advanced and effective interface that fits into a small space, the Eelectron Eelecta range is an ideal choice. It can be integrated with Eelectron's iPad, iPhone and Android applications, and interfaced with Eelectron's wide range of din rail and in- wall actuators, glass switches and the Synchronicity hotel guest room management line.
Giangiacomo Pastore is Head of Marketing for Eelectron spa, an Italian company that produces KNX-standard electronic hardware and software devices.