By Alec Eades, AGE Electrical Services.
Construction firm RidgeTree Projects, was contracted to build a modern style 400m2 family home in a small village in the Chilterns, South East England. The house had specific requirements, including its own lighting design. In order to fulfil the brief, RidgeTree Projects called upon the expertise of AGE Electrical Services for a complete electrical installation, including home automation.
The Brief
The client wanted to create a beautiful home, with different types of mood scenes, and also requested full control, both remotely and locally, in every room. All elements, including heating, blinds, door access and security, were to be integrated into one system. The family wanted to be able to simulate occupancy when they were away, managing it from their mobile devices. In this way, the client would also have the option of activating lights or the central heating ahead of arrival, to find a warm welcoming environment when returning, for instance, from holidays.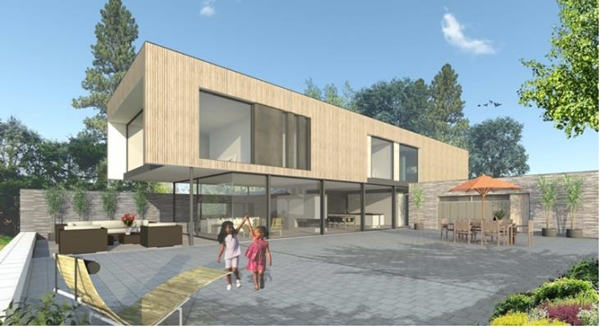 The Solution
Having started working with KNX more than nine years ago, we knew that the protocol was the right solution for this project.
The client and lighting designer had a very clear vision of what they wanted in every room, so it was important to have product choices that would be able to interact with each other forming a homogenous system. Since KNX is an international open protocol that offers an extensive choice of accessories and finishes from more than 300 KNX-compliant manufacturers, the client had plenty of options to choose from.
The security system was also to be integrated with KNX in order to activate home occupancy simulation whenever the family left, and local and remote access using smartphones and iPads was also to be provided.
Installation
The project took a year to complete and, along the way, we had a variety of people attending to the needs of the installation at the different stages. Out of the extensive list of products available, the client selected Gira as the finish that would most suit the aesthetics of the property.
We provided the complete electrical install and all small power and lighting, using more than 5km of cable. The client had a full lighting design completed for more than 400 lights and these were programmed to pre-set scenes in discussion with the client, controlled from iPads, iTouches and room controllers throughout the home. Occupancy simulation was created by studying the day-to-day movements of the house and mimicking the behaviours even if there is nobody there.

An audio and video door entry system was installed and integrated to the KNX system, enabling the client to see and hear who is at the door from any web-enabled device. We also took care of the whole AV installation, with plastered-in speakers throughout the home and HDMI distribution controlled from a central panel.
We programmed the home using the ETS4 platform together with the Gira Home Server, which provides complete control over all heating, lighting and blinds functions. Integration between smartphones/iPad and remote access was achieved through programming the Home Server to support a touchscreen program. That enabled the client to access all lighting, heating and blinds control, from within their home and anywhere that has Internet connection, giving the client full control of the house from any location.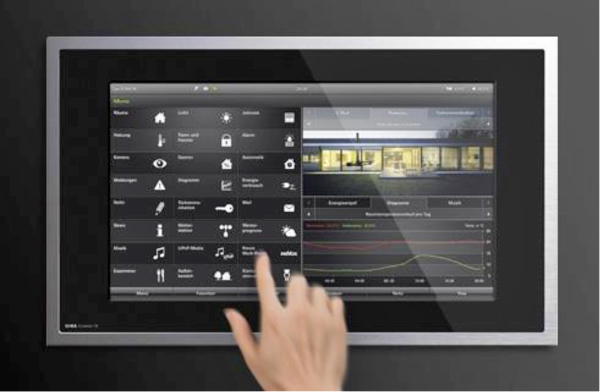 Client Control
The client can decide on the base room temperatures, with night and day settings. Using a weather station, the blinds will open or close automatically for brightness control, and they are also linked to timers. The home's hot water and underfloor heating are also controlled via timers.
The master control panel for the house is an iPad, which is wall-mounted but can be removed and used throughout the house. In fact KNX's open standard means that the house controls can be accessed remotely from any computer or tablet.
Challenges
We didn't have any real challenges. The only thing that was slightly different was that we were having to deal with both the homeowner and the lighting designer who sometimes had slightly different ideas about the project, so it was a bit like having two bosses.
Benefits
Having the all-in-one KNX solution allows the client to cut energy bills. The house can intelligently be optimised for any situation, for instance, switching off lights or air-conditioning when not needed. This can be programmed to happen automatically or carried out remotely from any mobile device.
From an aesthetics point of view, KNX has allowed us to provide a sleeker solution with fewer switches. For example, the KNX controls from Gira combine scene setting and room thermostats with heating control in one plate.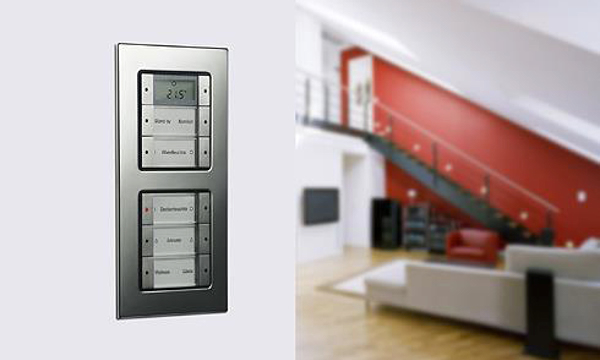 Flexibility is another key benefit of KNX, from the point of view of the installer as well as the client. The system can be adapted as and when needed, so we didn't need to decide which lights would be switched from each of the room controllers. Once integrated into KNX, any switch can turn on any circuit of lights anywhere in the home, and this can also be changed at a later stage if the client requires it, so there will be no need to alter the wiring.
Conclusion
When you are working on a residential project, the family might have an idea of what they want, but they will not know what is exactly right for them until they start living there. Using KNX therefore is the best way to avoid difficulties, as it allows us the flexibility to reprogram any aspect of the KNX installation locally or remotely, at any time.
At the time of writing, the garden was being landscaped, and we are due to go back to bring light to the beautiful grounds. Let's hope that we will have many more dry and warm days this summer!
Equipment List
Room controllers and switches:
Gira Sensor 3 comfort 3 gang x35
Gira Sensor 3 comfort 6 gang x3
Gira Two-Position single push button x3
IPad and IPad in wall doc x1
Door entry:
Gira audio and video door entry
Actuators and sensors:
ABB 1-10v x4 Theben RMG4S x1
Theben RMG8S x4
Theben RME8S x2
Theben DMG2S x6
Theben DEM2S x14
ABB DALI Gateway 8 x3
Theben JMG4S x1
Theben JME4S x3
Weather Station
Theben HMG4 x3
Theben RME4 x2
Theben HME4 x1
Merton Switch Actuator x4 (towel rails)
Arcus-eds Climate Control
Alec Eades is the MD at AGE Electrical Services. AGE provides end-to-end electrical installations and follow-up service, ensuring that our clients' needs are catered for and that each project brings outstanding results.