KNX intelligent building controls are an integral part of The Crystal, a Sustainable Cities Initiative by Siemens. The building was designed to achieve top scores on the international assessments for energy-efficient buildings. These include BREEAM (Building Research Establishment Environmental Assessment Method) which is the world's foremost environmental assessment method and rating system for buildings – and also LEED, (Leadership in Energy and Environmental Design). This consists of a suite of rating systems for the design, construction and operation of high performance green buildings.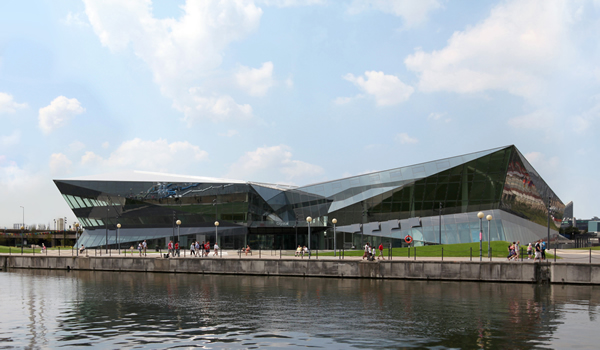 The Crystal encompasses an area of more than 6,300 square metres and is a conference centre, urban dialogue platform and technology & innovation centre. Representing an investment of approximately £30 million, it is also home to Siemens' Global Centre of Competence Cities, a team of multi-disciplinary urban experts, who aim to encourage the growth of sustainable cities through partnerships, research and expert collaboration on solutions. The world's largest exhibition on the future of cities, an interactive showcase that guides visitors through the urban infrastructure of the future, is also part of The Crystal.
The Crystal uses solar power, ground source heat pumps and energy-efficient LED lighting. No fossil fuels are burnt in the building. An indication of the energy efficiency of the building is that total electrical consumption is 1467 Mwh/year and that predicted average consumption is 212 kWh/m2/year, which highlights the fact that this building is designed to use less electrical energy and generate less CO2 than any equivalent building.
Passive design elements of The Crystal include its high performance façade system, its maximisation of the use of natural daylight and natural ventilation as well as its "green" landscaping features. Active design elements include the incorporation of solar photovoltaic panels, eCar charging, ground source heat pumps, solar thermal array, heat recovery, LED lighting, low voltage switchgear and Desigo Building Automation. The Crystal is ready to be connected to London's Smart Grid.
At The Crystal, KNX intelligent building controls are used for a range of control functions as part of the Building Management System architecture. This includes the use of Desigo Insight at management level, Desigo PX for automation and Synco 700 at field level.
As an open system, KNX sits alongside and operates seamlessly with other protocols used within the BMS system including BACnet and Modbus. This underlines the ability of KNX to be linked to other "best in class protocols" in order to maximise energy performance and help to achieve Class A building performance. It is also important to note that KNX can be linked to any manufacturer's building control system.
KNX provides control throughout The Crystal of HVAC applications including air handling units, fans, room controls, windows and roof vents. It also provides demand controlled lighting levels within individual rooms through passive infra-red detectors as well as controlling the blinds – all though wall mounted controllers. There is also an interface to the AV system.
Andy Davis of KNX UK says: KNX was the ideal choice for The Crystal as it allowed multiple disciplines to be easily linked, reducing the installation costs and ensuring interoperability. KNX also ensured the building was future proofed as its flexibility ensures changes can easily be applied as the building changes and adopts new technologies."
The Crystal is one of 100s of buildings in the UK relying on KNX technology, whether to maximise energy efficiency or to also to provide a range of other benefits to the occupiers and the buildings' stakeholders/managers. These include The British Library, Media City, Ashmolean Museum, Heathrow Terminal 5, Central St Giles, ITV Studios as well as many others.