Stand 7S200, ISE 2013
Intelligent building systems technology based on the KNX standard provides variable control of multimedia technology throughout the entire home and building. KNX manufacturers are developing solutions for so-called multi-room systems which are becoming increasingly simple and convenient – for both the user as well as the installer. At the fair "Integrated Systems Europe 2013 (ISE 2013)", KNX members are showing solutions for visualization on portable devices (smartphones, tables and PCs), remote communication as well as audio & video applications in home automation at the KNX joint-booth which are becoming increasingly simple and convenient for a green home and building automation. Visit us at the booth 7S200.
Divus, Italy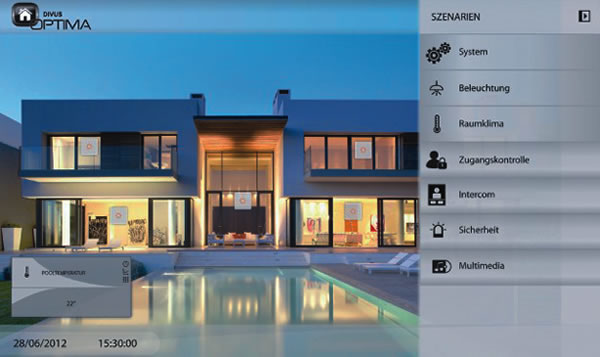 The new DIVUS OPTIMA Interface, the front end to the KNX SERVER, enables you to manage your building reliably and efficiently. Beginners feel as comfortable as experienced users in creating a building visualization with DIVUS OPTIMA. As a basis for the system, the ETS project (ETS3/ETS4) can be imported into the KNX CONTROL device, thus allowing the creation of all group addresses and their icons. Rooms are defined and their operating elements are either automatically assigned to a grid or can be dragged to the background image. The navigation view is automatically created at the same time.
Divus also presents the DIVUS KNX SERVER, a scalable visualization system (from the basic visualization on mobile devices up to sophisticated full graphical visualizations) in DIN RAIL housing. Using a software code the basic server can be extended with more functions. In the cost-effective basic version mobile devices (iOS, Android) and DIVUS TOUCHZONE are supported. If more functionality is desired (medium-large houses/villas or for small-large commercial properties: offices, shops, factories…), you can switch to the HOME, ADVANCED or ENTERPRISE SERVER. These server options offer a lot of additional features, KNX group addresses, timers, logics and scenarios, which amplify the visualization possibilities.
Domatica – Global Solutions, S.A., Portugal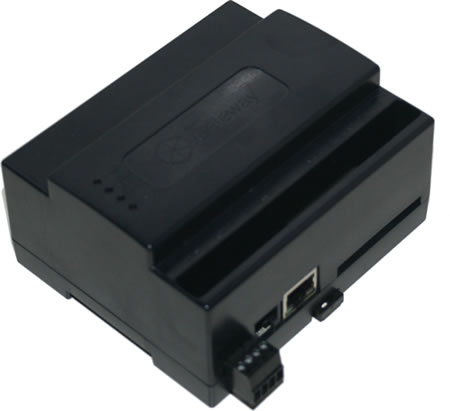 The KNX Server is the ultimate controller tool for the KNX protocol. It allows communication between KNX/IP networks and other systems like ZigBee, ModBus, Dali, DMX, iDom and X-10, simultaneously. It includes a free of charge and powerful software tool for complex and logic programming, including an unlimited scenario builder. With Plug&Play features it's possible to download Home Automation Applications from the App Store™ or Google Play™, ready-to-use, without any extra configuration. It also provides a free API for programmers that want to develop in Windows, Linux, iOS or Android.
iKNiX, Germany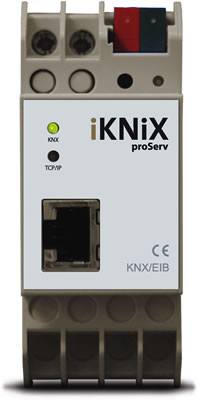 iKNiX brings you the new Smartphone Controller for Apple and Android devices: KNX-proServ. It offers a complete visualization for all different phone and tablet resolutions COMPLETELY designed and programmed in ETS – no additional software/editor needed. Import the ETS database application into ETS, choose the room names and add all kind of KNX functions: lights, blinds, heating/cooling, RGB LED, scenes, alarm and status info, URL schemes and info of weather station. After programming proServ, start the FREE App (iKNiX / iKNiX HD), which will auto-detect the gateway and ask for a code (if you set one), done. No license fees, ten users at the same time, free RTI driver, full-fledged ETS programming gateway!
Tci GmbH, Germany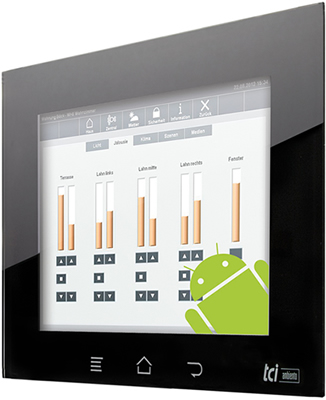 The new touch panel amena70-VI of tci offers an Android platform for building automation. With the continuous glass surface the multi-touch display provides the same degree of operating ease as smartphones. The touch panel is fixed installed on the wall. The amena70-VI enables the entire range of Android apps for e-mail, weather, movies, games, radio and much more, but nevertheless provides a high level of security. The use of LAN instead of WLAN protects the privacy reliable. The touch panels are 24/7 capable and run stable in continous operation around the clock. As industrial solutions they are durable and spare parts can be purchased subsequently for years. Without fan and hard disc the power-saving system works maintenance free and noiseless. The integrated microphone and speaker with echo-canceling provides high audio quality. A sensor measures the temperature and brightness in the room. Installation can be performed overlapped using a flush box or flush-fitted using a plaster-in housing.