The Galaxy is in a state of turmoil: MDT has turned to the dark side. The development, product management and production departments of a leading manufacturer of KNX products, have been conspiring for months at an undisclosed location in the Rhineland, Germany to dispatch a fleet of dark push-buttons to KNX fans this autumn.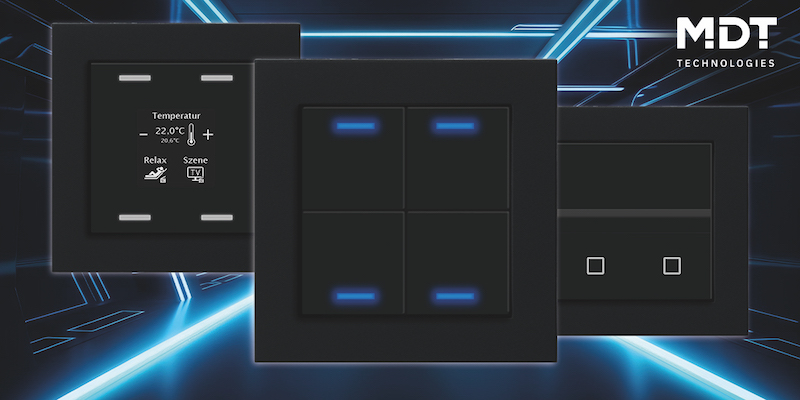 For this journey, MDT has selected the TOP products of the assortment 55, as a wide range of trustworthy functions that are required for the mission "Smart in black". The MDT heroes of the black push-button fleet include the MDT Push-button Smart 55 with its active colour display, the MDT Push-button Light with innovation group control and the MDT Motion Detector/Automatic Switch 55 with movement direction recognition.
The push-button Smart 55 is the flagship of the fleet: in black, the push-button Smart 55 also has an active colour display and is available with or without a temperature/humidity sensor. The KNX user encounters reliable functions and settings. A renowned feature is the customisation of the display, using a free texts or symbols.
The convertible push-button 55 Light presented in black with many button variants, each equipped with two LEDs per button pair. The LEDs are colour-adjustable, and the brightness can also be controlled via the day/night or brightness object. Individual functions or scenes can be activated via a long/extra-long button press. Via the multiple tap function, the push-button can send up to 4 values/DPTs to the same or different objects.
The motion detector 55 in black not only looks elegant, but also assists in saving energy. The motion detector switches on the light in a room only when required and based on the individual settings. In black, it has also been equipped with two motion sensors, a brightness sensor, and a white LED night light, and optionally, an integrated temperature sensor and two sensor buttons.
The heroes of the new black MDT push-button fleet can now be ordered, equal in price to the comparable white fleet. The new fleet of black push buttons "Smart in black" in assortment 55, impresses with its elegant design and proven functionality and compliments any interior room design. The choice of the fleet is thus an aesthetical design choice without compromising on functionality.
For more information visit: