The new KNX heating actuator 6-gang with KNX Data Secure enables the central control of up to six independent heating or cooling zones. Each zone can be individually controlled to maintain the desired temperature. The integrated controller enables individual setting and monitoring of the temperature in the different zones. This can be done via appropriate interfaces such as push buttons, touch screens or remote controls.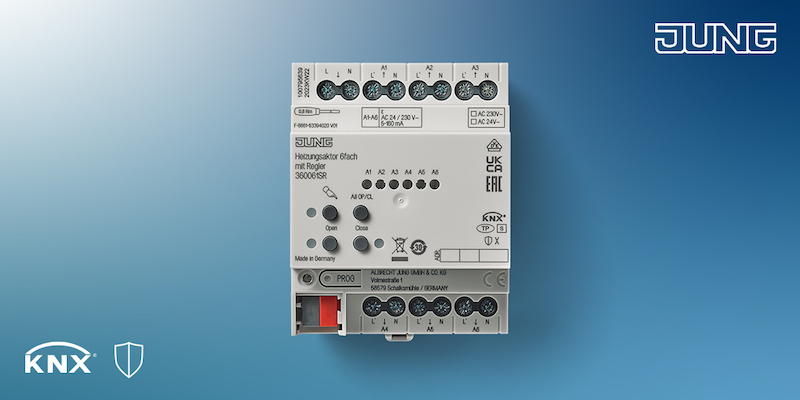 The actuator is ideal for use in commercial and residential buildings to make heating and cooling processes more efficient and comfortable. It can be used in office buildings, residential buildings, hotels, hospitals and other facilities. Energy consumption can be optimised through the possibility of individual zone control. Unused or little-used areas can be set to lower temperatures, while heavily frequented areas can be adjusted accordingly.
As the unit supports the KNX standard, it can be seamlessly integrated into larger building automation and smart building systems. This enables comprehensive control of various aspects of the building.
KNX is a global standard for building automation. It enables the networking and control of various electrical devices and systems in buildings, including lighting, heating, ventilation, security and much more. With KNX Data Secure, the JUNG heating actuator is secure. KNX Data Secure encrypts and authenticates the telegrams in the system on the bus line (twisted pair) or via wireless communication (RF).
The new JUNG heating actuator 6-gang is updateable via the JUNG ETS Service App and available from 1 October.
www.jung-group.com/en-DE/Products/Systems/KNX-building-technology