Introducing the 700 Series Air: A Game Changer in HVAC Control.
Intesis 700 Series Air is the common platform for HVAC control and energy efficiency.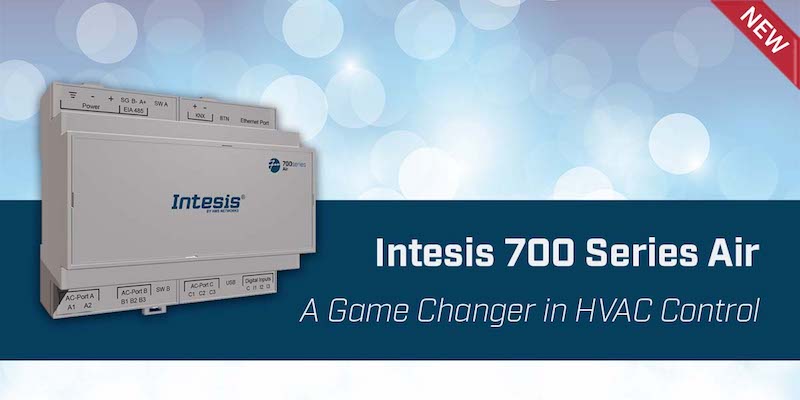 Intesis has recently launched the 700 Series Air, a groundbreaking concept that combines interfaces for multiple HVAC Brands in the same hardware. This new product enables users to pair different combinations of HVAC brands and KNX using the Intesis MAPS configuration tool, a process called late configuration.
The 700 Series Air products offer a variety of benefits:
Stock-friendly. Multiple combinations for each hardware.
Multiple indoor unit control with direct access to the outdoor unit bus.
Easy to set up with Intesis MAPS.
High capacity, up to 128 indoor units depending on the model.
International and local certifications. Ready to be sold worldwide.
Robust and reliable gateways, developed with the support and collaboration of the HVAC makers.
One of the main values that the 700 Series Air is bringing to users is the ability to calculate the energy consumption of each indoor unit and enable integration into the KNX system for energy efficiency. By identifying which indoor units are consuming more energy than necessary, building managers can optimise their energy consumption, resulting in reduced energy bills and lower carbon emissions. The facility managers can identify units that may be malfunctioning or require maintenance, this can prevent costly repairs and downtime, as well as extend the lifespan of HVAC equipment.
The 700 Series Air is a game changer in HVAC control, offering unparalleled configuration flexibility and energy efficiency. With this new product, HMS Networks is revolutionising the way HVAC systems are managed and controlled, providing a more user-friendly and sustainable solution for modern buildings.
Learn more at: