The JUNG KNX switching and blind actuators have a holistically improved concept.
The latest generation of actuators in the 6-gang, 16-gang and 24-gang versions is more compact thanks to its single-storey design. The connection concept is no longer based on superimposed layers. Installation is simpler and faster. At the same time, JUNG has improved the readability through laser labelling of all levels and optimised partitioning of the status LEDs. Working in the building becomes easier and safer. The JUNG KNX switching and blind actuators communicate via KNX Data Secure. Telegrams on the twisted pair line are tap-proof. The teach-in function is also convenient: In addition to the classic, individual configuration of the movement times via the ETS, the installer can transfer the parameters of the blind to several actuators. Customers also benefit, because they save energy costs: the bistable relays of the actuators reduce the power loss to a minimum. The actuators receive updates via the ETS Service App.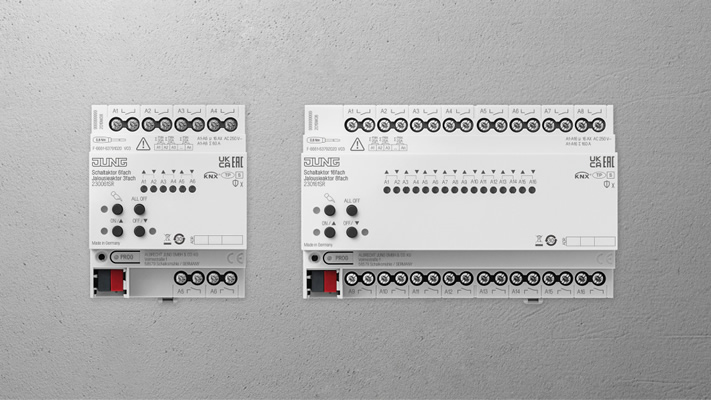 Firmware update to version 2
The KNX switching and blind actuators have received a comprehensive firmware update. Version 2 brings new functions and makes initial commissioning easier. One of the new features is a heartbeat function. With this, the actuators cyclically send their accessibility via the KNX bus. The interval can be set individually in the ETS. If a heartbeat does not occur, the KNX server JUNG Visu Pro, for example, reports an error. Problems in the automation can thus be detected much more quickly and rectified in good time. The new functions of the KNX switching and blind actuators require a new ETS database and a firmware update of the devices.
More automations & optimised diagnostics
The firmware update makes everyday life even more convenient for users: If a window contact is installed in the system, the blind can now be moved to a corresponding position as soon as the window is opened for ventilation. This function can also be equipped with a day and night mode. As soon as the window is closed again, the blind returns to its original position. The update also speeds up commissioning. If the requirements for the drives are the same, all channels can be configured identically with the template. The effort for subsequent adjustments is thus reduced to a minimum. The direct reversal of the direction of rotation in the ETS eliminates the need to reconnect the device or terminal strip.
Further optimisations of the firmware version V2 of the KNX switching and blind actuators:
Manual operation in the unprojected state: Switchover of operating mode between switching actuator or blind actuator
Extended locking functions with feedback object
New door contact lock function
New twilight position function
Improved function for extended sun protection
Reversal of direction of rotation possible without rewiring
Separate display of the upper and lower end position in the blind or roller shutter drive
Separate display of whether a skylight or ventilation flap is closed
Extension of the movement time measurement via the bus by multimaster (previously: master-slave system)
New display functions for the current function status (output of the highest priority and total output of all statuses)
www.jung-group.com/en-DE/Products/New-items/KNX-switch-and-blind-actuators