Yasmin Hashmi reports on the recent Integrated Systems Europe show held at the Fira Barcelona, 31 January to 3 February 2023.
This was our first trip to ISE after its move from Amsterdam to Barcelona and I have to say that the hall layout was much more straightforward. Covering 58,000m2, this was the largest ISE ever. It attracted 58,107 visitors and had the biggest press support so far.
As the Presenting Show Partner, KNX was highly visible throughout the show, It had an impressive stand in the Residential and Smart Building Hall 2 that featured a reception, meeting and demo areas, panels explaining the KNX Classic system and KNX IoT, with examples of devices and applications, plus dedicated exhibition panels for a dozen or so KNX Members.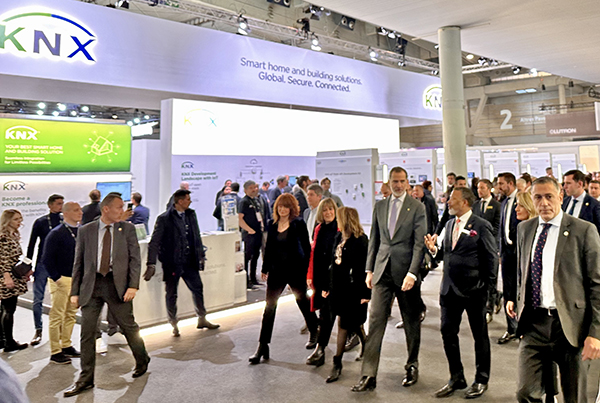 KNX Member panels on the KNX stand
Cascoda is now shipping a full KNX IoT development environment including a full KNX IoT router with support for Wi-Fi, Thread and Ethernet, and a low-cost KNX IoT development kit that supports Thread using ultra lower power. It can be powered by batteries, supports thousands of sensors and actuators, can be adapted with additional devices such as relays etc, and includes KNX Secure – the most advanced security for the IoT.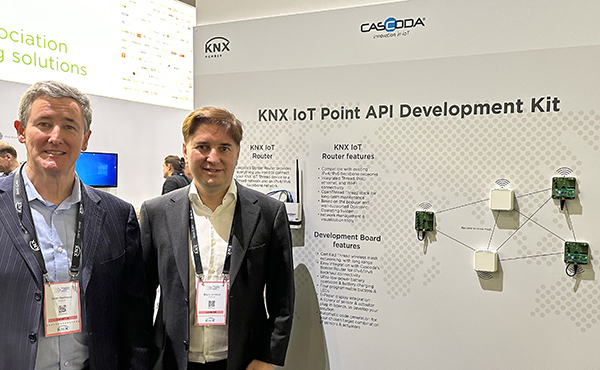 To complement its Thinknx Compact and Micro multiplatform, multilanguage servers, Pulsar Engineering had various touchscreens on show to demonstrate visualisation as well as lower-cost applications such as Airbnb-type use using a touchscreen and app. The company is offering a cloud service for mobile devices, as well as webinars to help with configuration.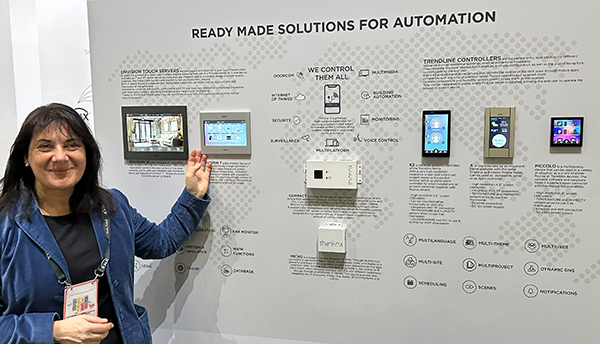 The main theme for ProKNX was privacy; in other words, what happens in the home should stay in the home. Hence the company was promoting its Aragon offline voice control system in Wi-Fi and PoE versions. The system can be fully personalised, including the 'wake' word. However, if the customer does choose to go online, Aragon now supports interaction with ChatGPT, for interrogating and issuing commands, staying online for an hour and changing the response voice from female to male as an indication of its online status. Responses can be received as sound or as text, with the word limit being user-definable.

Apart from dedicated switches and KNX pro AV control processors, Iridi showed a touchpanel interface on iPad or Android for commercial or residential applications that supports flexible customisation. In addition, it showed a multiprotocol KNX server with a KNX IP interface that can also be used for budget solutions where local rather than cloud control is required.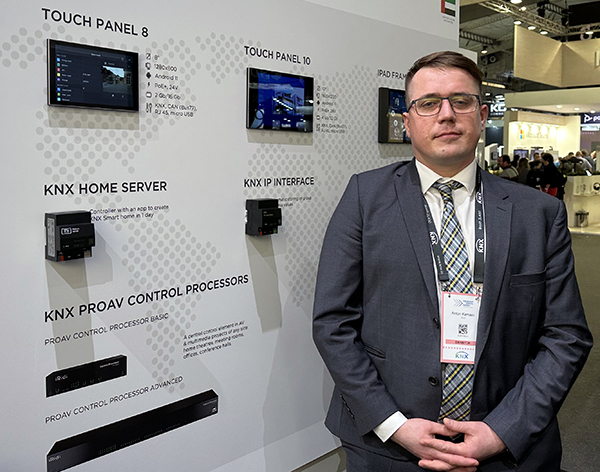 EAE showed a wide range of switches and touchpanels for hotels, residential, commercial and industrial applications. These were available in a choice of finishes including metal, glass and plastic. Also on show were various panel devices such as gateways, actuators, dimmers, room control units, IP routers, line couplers and sensors.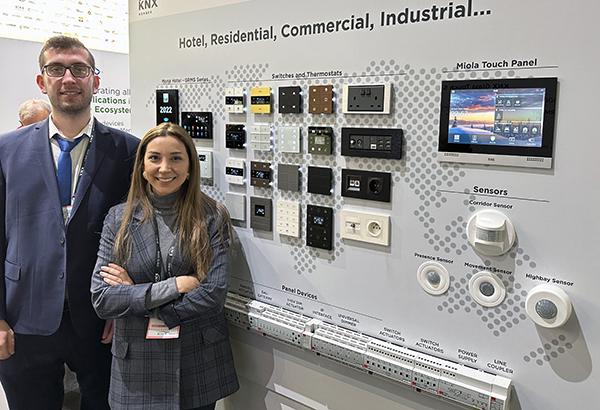 Controltronic had some very flush-mounting glass touchpanels on show with a profile of just 1mm. The panels can be easily detached from their standard British backbox-sized wallmount thanks to magnetic attachment. The symbols on the tempered glass panels can be customised using ceramic printing that is smelted into the glass, and each panel includes temperature and humidity sensing. The panels are available in up to 7-gang configuration (or 6 with a central display). For hotels, there were devices for room entry, with a display to show room number and/or whether maid service is required, etc. There was also a tabletop version of the switch that is powered through the twisted-pair cable.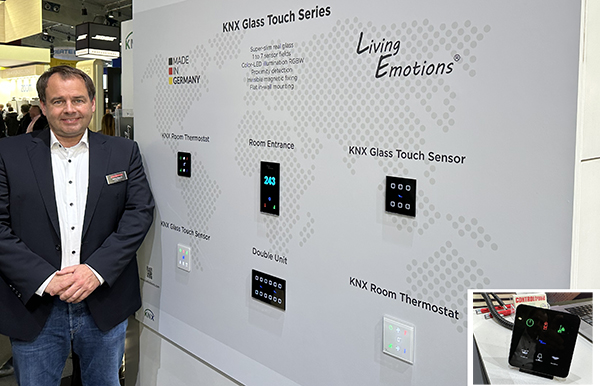 NETxAutomation was demonstrating its building management software that has been used on some of the largest KNX projects in the world, from shopping malls, stadiums and airports to cityscapes. Aimed at medium to large projects, the software can combine many protocols with KNX, allowing existing infrastructure, such as BACnet or DALI to be used. A KNX IoT interface is available, providing information to the cloud. NETxAutomation can also be used for BYOD (Bring Your Own Device) applications, with the server using KNX Secure IP to connect to each room individually.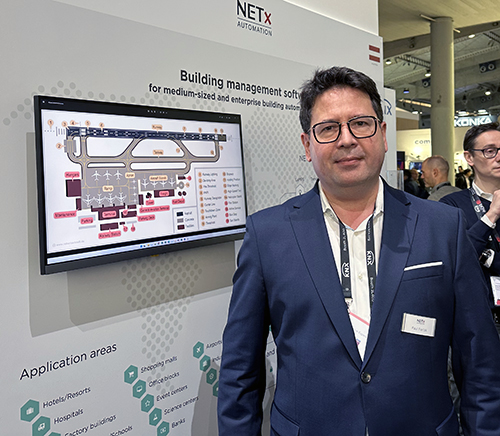 Useful tools from IT GmbH included ETS apps for reconstruction of lost projects, a KNX recorder for recording and analysis, and its Elvis visualisation which will imminently support the KNX IoT 3rd party API, and can be used for energy monitoring, load management, fault and alarm messaging and integration with other control protocols.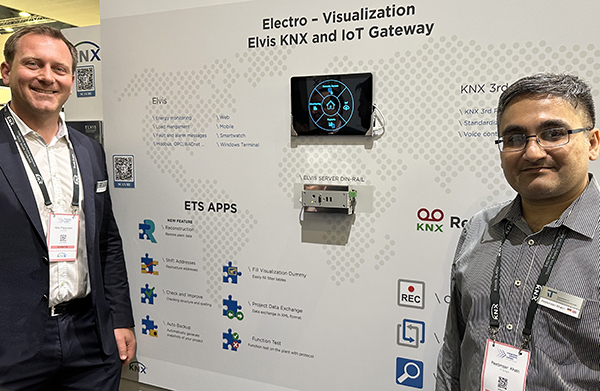 Due to popular demand, Weinzierl has been busy going through its catalogue and making every device KNX Secure. The latest of these are the LineMaster power supply and IP router, Modbus interfaces and various actuators. Also on show were pushbuttons with dimming functions and KNX RF, the compact one-unit-wide Compact IO that is modular and flexible, with removable connectors so you can work on it with the power still on, and KNX Modbus TCP and RTU gateways.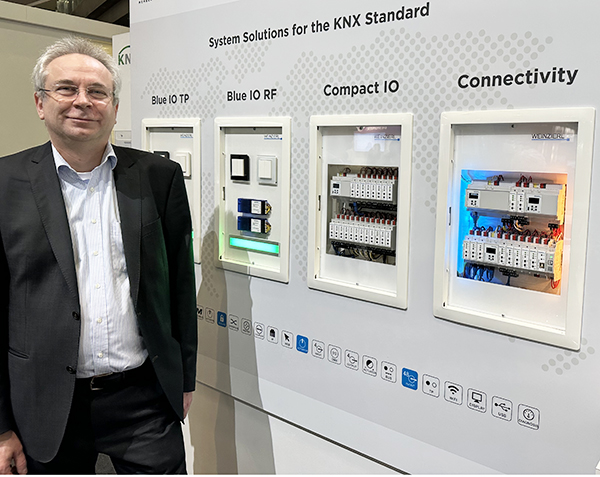 As part of HMS Industrial Networks, Intesis specialises in providing a gateway between different protocols and KNX. For example, the Intesis AC unit translates between KNX and all common air-conditioning brands, whilst other translators support a variety of protocols such as ASCII, BACnet, DALI, MBUS, Modbus and OCPP.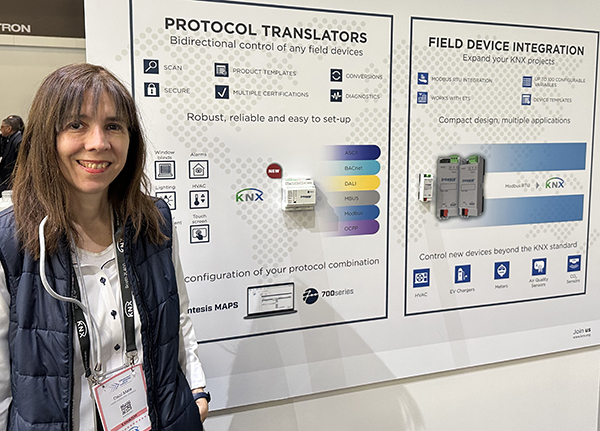 Eelectron was showing complete solutions for residential, hospitality, healthcare and office buildings. This included DIN rail input/output actuators for lighting control and dimming, a DALI gateway, a DMX gateway, 1-10V actuators, fan coil actuators and heating actuators. For the user interface, the company offers the 3025 series of switches and the Minipad, and the 9025 series capacitive switches with integrated thermostat. The same aesthetic is provided for hospitality applications, including GRMS software to manage check in/out that is compatible for example, with the Fidelio hotel management system. It includes a customisable numeric keypad, room key reader and card holder. Also on show was a range of multisensors for presence, light, temperature, humidity and sound, as well as plug-in CO2 and VOC sensors.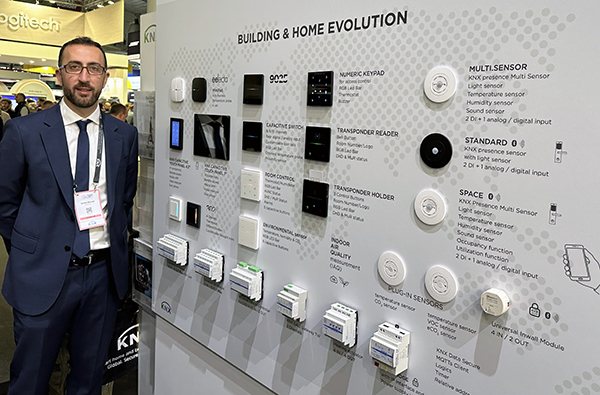 Schneider Electric was offering two solutions, one for residential and one for commercial. For the former, Schneider has a mission to make homes smart and sustainable through energy management by means of devices, the Wiser for KNX IoT controller, and the Wiser for KNX app which was launched at the Light + Building show. The next version of the app is expected in April and will support comprehensive energy generation, storage and usage metering, and optimisation through thermostats and load management. Schneider is encouraging KNX system expansion through hybrid operation using a broad range of Zigbee devices, the SpaceLogic display and smart switches and touchpanels. To simplify configuration, Schneider offers the eConfigure software that interfaces with the Wiser KNX app and is basically a graphical layer on top of ETS, with drag and drop of devices onto imported floor plans. Currently eConfigure only supports Schneider Electric devices, but this will change during 2023. Schneider also offers a comprehensive range of products for small and large commercial buildings.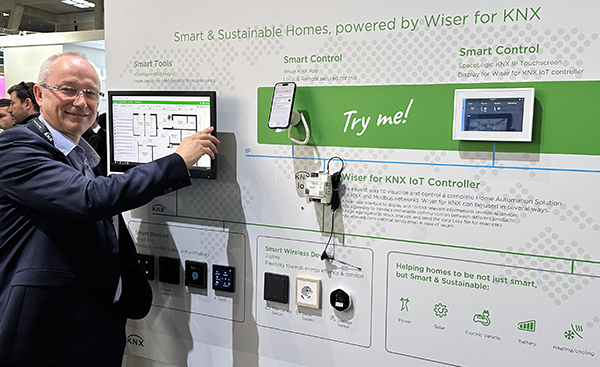 Smart technology around the show
Elsewhere around the show there was so much see, including VR and AR, lots of content creation, immersive audio, home entertainment, and everything IoT, including KNX IoTech, at the co-locating IOT Solutions World Congress (IOTSWC). A Smart Home Technology Conference organised by CEDIA ran over four days, and included a full programme of fascinating sessions – one of my favourites being 'Good Lighting Doesn't Just Happen… It's Designed' by Gordon Petrie of VL Tech Pro Ltd and Andy Bull of Lighting and Audio Video Projects.

Apart from the KNX Association stand at ISE and the KNX Startup Pavilion at the IOTSWC, KNX technology could be found on various stands in Hall 2. Gira was showing the Pushbutton Sensor 4 that can change its orientation and is now available in different colours; Qbic Technology offered the Luminen family of smart control touchpanels with a broad range of connectivity including KNX twisted pair; URC was showing control using KNX and its range of remote controllers, and Basalte showed an elegant freestanding speaker, the aalto F5, as part of the KNX-based Basalte Home System. Lithe Audio showed KNX-compatible ceiling speakers, whilst Jung had its new LS Touch swipeable touch controller on display, as well as KNX wired and RF pushbuttons, motion sensors, actuators, the Smart Control 8 touchpanels and the Smart Visu Server for visualisation. There was also a circular KNX-compatible wall controller from Tyba on show, which allows turn, swipe and touch operation for control of climate, lights, shading and audio.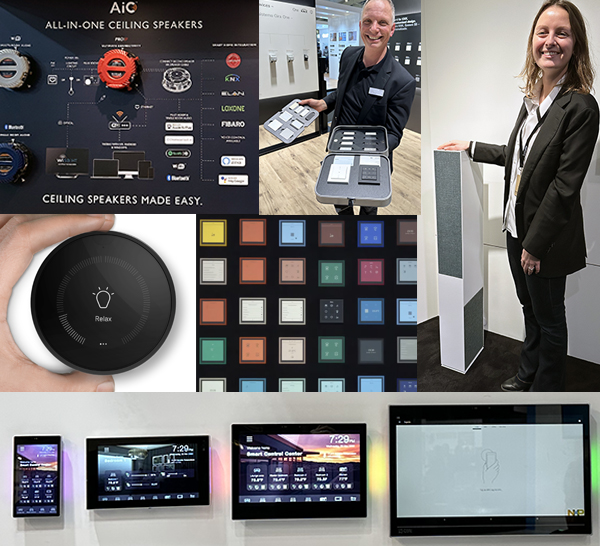 Conclusion
ISE 2023 was a fantastic show for anyone involved in smart home and building technology, whether creatively or technically. It provided an excellent opportunity to be informed about new products, technologies and techniques, and gain personal development through presentations, conference sessions and networking. Its location in the beautiful city of Barcelona is a great choice; my only gripe was that entry to the exhibition needs improvement – the queues to get in, use the cloakroom and the refreshment stalls were way too long. That said, I'm sure the organisers will respond positively to feedback, and I cannot fault the layout of the floor plan and the quality of exhibits.
KNX made a great impact and is clearly leading the way in terms of driving technology towards a sustainable future. Well done to the KNX team for putting on a great show – I can't wait for ISE 2024!
Yasmin Hashmi is the Editor of KNXtoday magazine.