–KNX at its best 
–Almost unlimited functional diversity
With the new series of the Glass Push-button II Smart, probably the most popular MDT product has received an extensive update. The KNXperts have once again focused on the greatest possible added value for customers.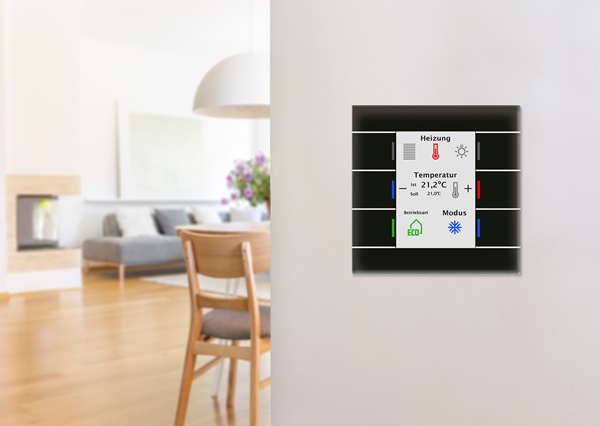 Highlights of the new series are:
The new series of the Glass Push-button II Smart comes to the customer with a modern set of new icons. The clear, sleek lines and consistent visual imagery give the product an up to date look. As accustomed, the icons can be displayed in RGB colours and placed in front of a white or black background.
In the new series, the functions of the display can be even more finely tuned to the requirements of the user. For example, the display can be activated via the presence function and the night switch-off is also possible during the day. The display can now show six values at the same time; in standby mode, it is now possible to show two fixed values and one alternating value. In addition, the status LED can be used as an orientation light in standby.
MDT has also gone a step further in the functionality of the push-buttons: scene groups can be set up in the push-button via the new group control. With normal, long and extra-long button presses, three functions can now be assigned to each button. The popular Slap function has been expanded in the new series, so that in addition to On/Off, further functions are now possible.
For simplified function setup, the new series of the Glass Push-button II Smart has a new mapping function. This simplifies button programming and reprogramming considerably: first, the desired functions with their group assignments are created centrally. These functions, once set up, can then be assigned to the buttons with a click. Three levels are available for each button, which are later triggered by pressing the key for different lengths of time. When changing the assigned functions, the settings are no longer lost due to the new mapping function.
MDT has also added four more DPTs to the data points and extended the function "Send values / Move values" with a 2-byte value. Many other small adjustments noticeably improve the user experience.
The new series of the Glass Push-button II Smart replaces the previous version with immediate effect. In addition to German and English, the KNX database of the push-button is now also equipped with French and Spanish.