In Part 1 of her four-part series on Light + Building – the world's leading trade fair for home and building automation, Yasmin Hashmi gives an overview of KNX Association's presence at the show.
It's quite shocking to think that the last time we were at Light +Building was four years ago in 2018. Having cancelled the 2020 event due to the pandemic, Messe Frankfurt put on a great show for 2022, and despite the German Unification holiday, the exhibition halls were very busy, hosting 92,838 visitors from 147 countries.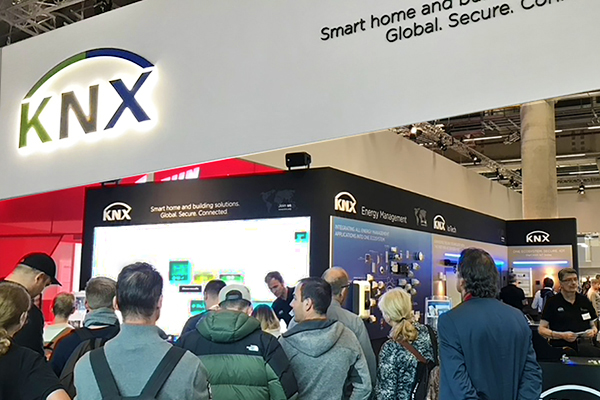 With a new look, new location and new design, KNX stand in Hall 12.0 was impressive. It played host to exhibition panels from over 20 members, as well as a presentation stage, a reception, three different sections for its key themes of Energy Management, IoT and Security, and areas for the KNX Championships, ETS, networking, and more.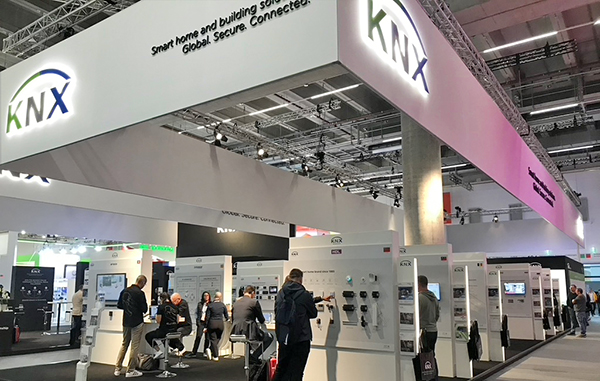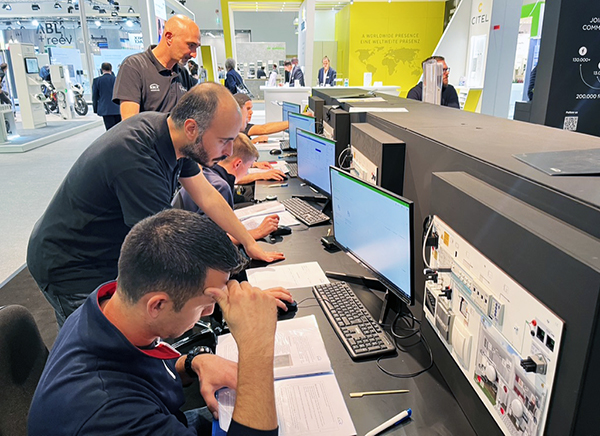 Member exhibits
The KNX stand hosted more than 20 Members, some old, some new, each with their own panel to display their wares. Among these was the first KNX Member in Africa, Elek, which was pleased to highlight its training and services activities, as well as products in the form of 16- and 24-channel combo switch actuators, and a 640mA power supply.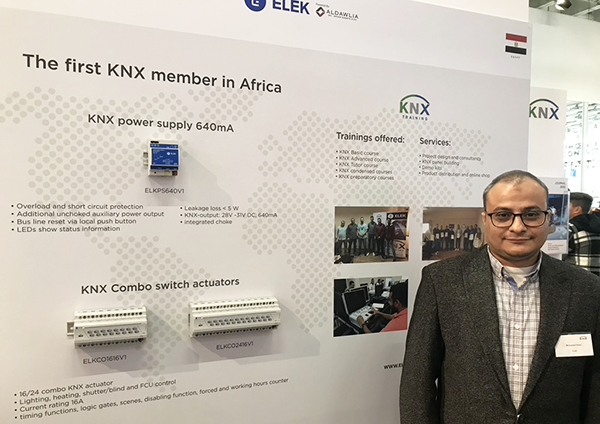 Indeed it was noticeable how many members have diversified their product range, adding to the more than 8000 KNX-certified products currently available. The following is a selection of what was on show.
KNX startup Can'nX was showing four new products. These included the Kloudn'X IoT router for remote access to KNX systems using a cloud platform – especially useful for monitoring, metering and maintenance; the Pool'nX gateway to integrate pool control with KNX visualisation; the Speak'nX KNX speaker with storage for messages triggered by binary inputs; and the Modn'X 4-binary input din rail module for push and email notifications.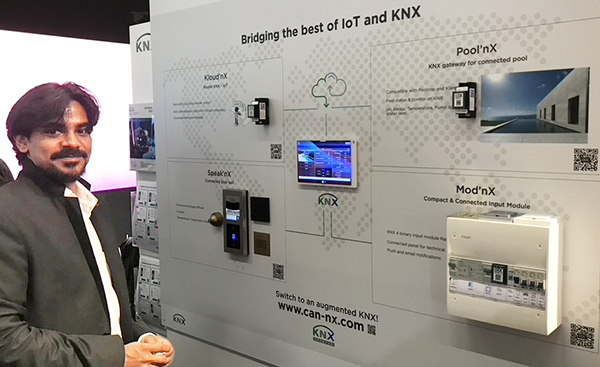 Another KNX startup SIMLAB, presented its SIM-ON visualisation environment as the first KNX IoT 3rd Party API client. It works with the Schneider Electric Wiser KNX IoT 3rd Party API server, provides a 3D reconstruction of a building, and can be used for maintenance and asset management. Furthermore, because it sits at the top level, SIM-ON allows easy system expansion with other protocols.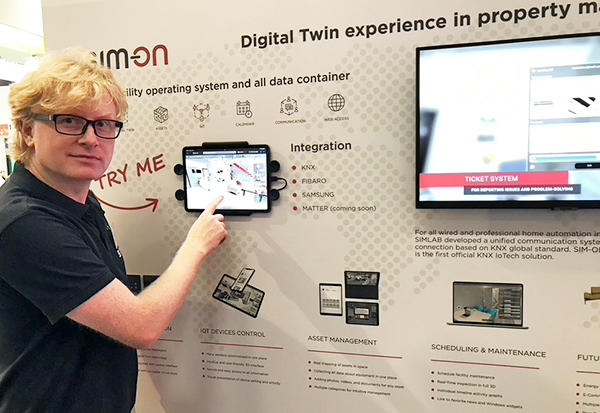 Steinel, best known for its comprehensive range of sensors, is diversifying with new actuators, pushbutton switches and temperature control units that can be combined with Steinel sensors for an eco mode when no one is present. Also new are a power supply, IP router, IP interface, USB interface, line coupler, 16-relay multifunction actuator for blinds and DALI gateways that include KNX Secure.

In addition to actuators, power supplies and sensors, HDL was showing its new fast-response Granite 4" and 4.5" slimline touchpanel that can control any function such as lighting, HVAC, blinds, music, and scenes. It has a temperature and proximity sensor, is available in a pushbutton version, and be easily unclipped from its backbox.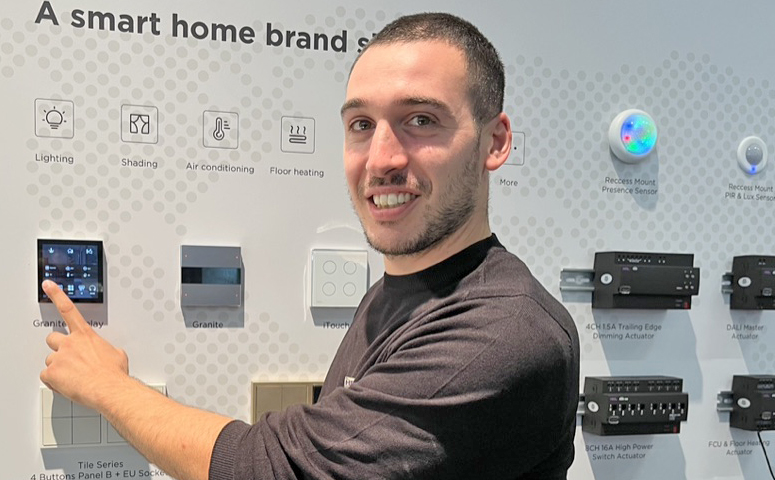 In fact there was plenty of choice in terms of KNX touchpanels and room controllers. Core, for example, had a new range of Eclipse user interfaces, including a thermostat with integrated display and rotating knob for control of all HVAC functions, a touchpanel room controller with various sensors included, a push-button switch and a larger touchpanel available in 7" and 10" versions.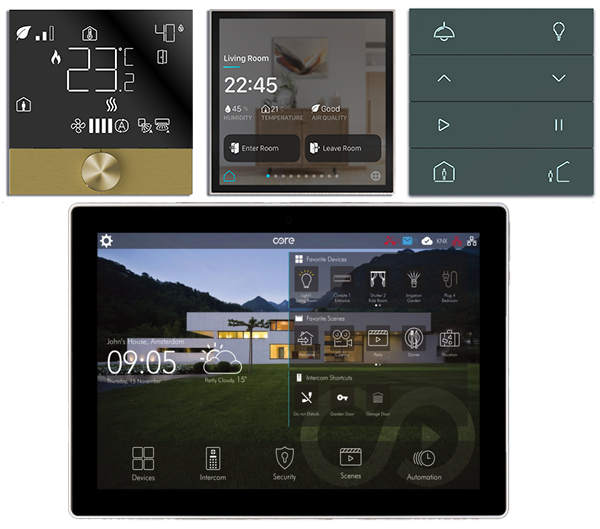 For hotel applications, EAE was showing the new Mona Hotel range of customisable glass touchpanels for GRMS (Guest Room Management Systems). Functions supported include control of lighting, HVAC and shading, a card holder/welcome panel, and integration with door locks, PMS (Property Management Systems) and BMS (Building Management Systems).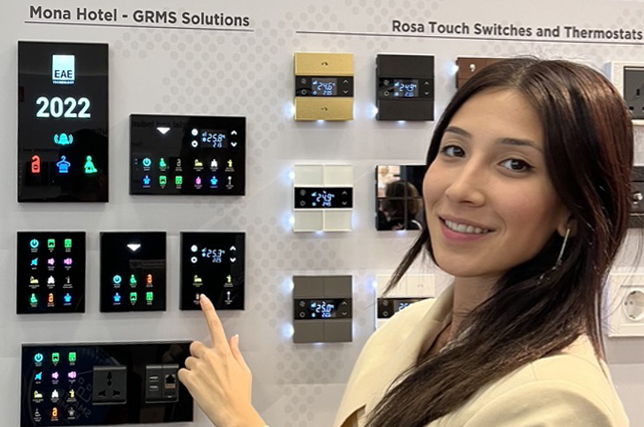 Under the brand name Future KNX, Aypro was showing the Scope touchpanel with intercom and KNX control, as well as modular KNX switches with different paint options, a new KNX BLE Bluetooth gateway that can work with three types of Bluetooth remote or mobile app, and a KNX lock controller that communicates with Bluetooth locks.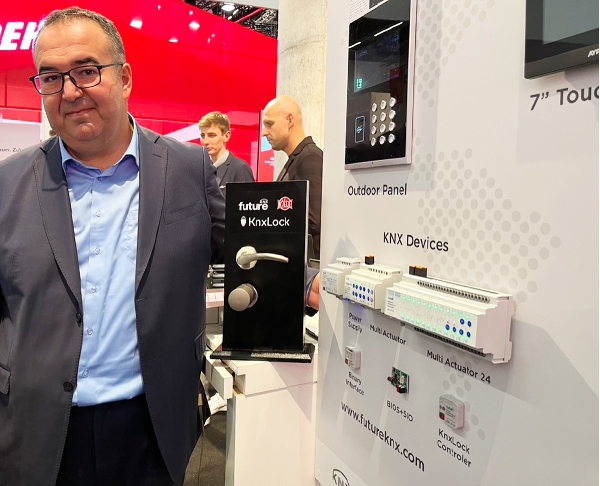 For direct output to LED without the need for a DALI gateway, Mean Well was promoting the KNX Direct LED Driver Constant Voltage range of drivers with KNX Secure. Also on show was a range of KNX Direct LED Driver Constant Current drivers.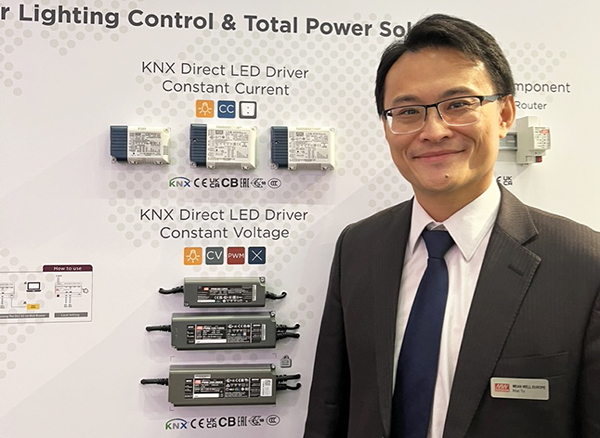 For those needing to ingrate multiple protocols, there was plenty on show at Light + Building. Intesis, for example, was featuring its new 700 series platforms for multiprotocol selection. It allows multiple protocols to be combined in one hardware platform, with selection of the required application for a project using the Intesis MAPS configuration tool.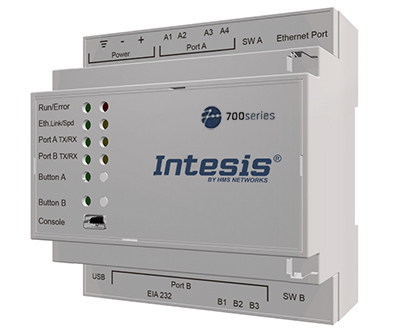 For HVAC integration, Airzone was offering its Aidoo KNX Controller as a gateway to leading inverter/VRF systems. It supports two-way communication and plug and play installation, and maintains the original thermostat's best functions whilst adding personalised schedules.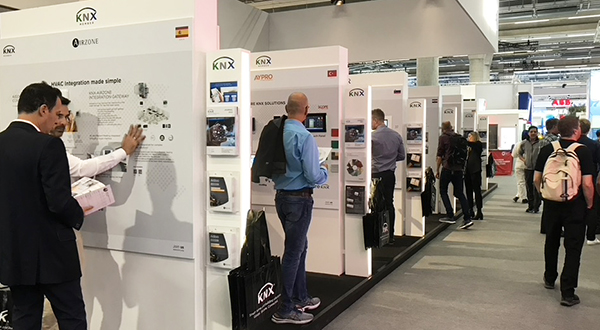 And finally, for OEM purposes, Onsemi launched the first device in its compact 'system-in-package' range. The NCN5140S integrates hardware and software to run a pre-certified KNX system out of the box. Comprising Onsemi's KNX transceiver, a microcontroller, nearly all of the required circuitry and a certified KNX communication stack, enabling rapid development of KNX switch-applications in a very short time frame.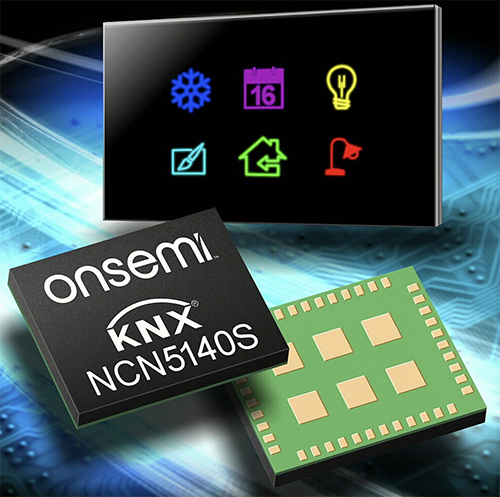 ETS 6
Part of the KNX stand was dedicated to ETS 6, where visitors could find out more about this latest version of the KNX software programming tool. One of the key improvements involves project handling. The software now allows you to compare data between, say, a project on your computer, and an imported version. It tracks all changes, and provides more context in a graphical way, with various filtering options. It will also allow you to create folders in the archive, add comments to the project and indicate if your archived project is the same as your locally-stored version.
KNX Professionals
Away from the main KNX stand, the KNX Professionals had their own stand in Hall 11. They celebrated the recent formation of KNX Germany National Group and were only too pleased to tell visitors about the benefits of KNX and how to implement it. Advice ranged from basic control of lighting, blinds and HVAC, to tenant electricity billing for alternative energy and monitoring with a direct gateway to any billing software. There was information on KNX Secure and IoT services, intelligent energy management involving PV power generation, e-charging and a weather station, and even an example of using offline voice control via the ProKNX Aragon for controlling a water tap.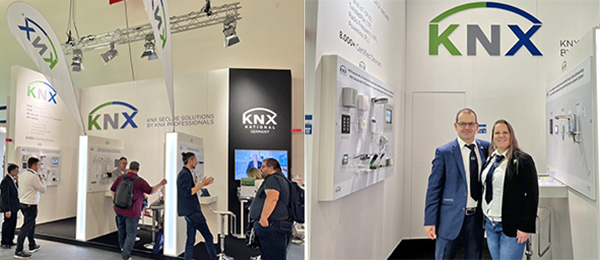 Conclusion
Traditionally, KNX Association has its largest presence anywhere, at Light + Building, and this year was no exception. The stand was very busy, but with twenty staff, plus all of the exhibiting members, there was always plenty of help at hand, and a great buzz thanks to the competitions, games and general enthusiasm.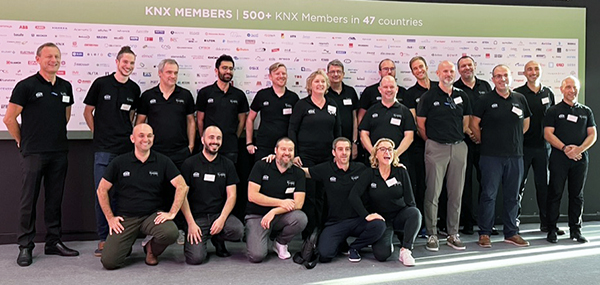 Whilst there were plenty of products on show to improve comfort and design, the noticeable difference between Light + Building four years ago and this time, was the increased emphasis on energy management, IoT and cyber security. It is these three areas on which Part 2 of this four-part series focusses.
Yasmin Hashmi is the Editor of KNXtoday magazine.