A wired Smart Home system included right from the start of the design phase is now part of the high standard in new construction projects. Yet, in existing buildings, more and more owners are also looking to install the latest building and control technology.
However, many are put off by the effort involved in laying the BUS cable. For electricians, this is a time-consuming task: walls have to be laboriously prised open and replastered, which means noise and dirt. Gira now has a solution to avoid all of this.
As a provider of high-quality electrotechnical solutions, Gira recommends its wireless KNX RF system. With little effort, it can be used to remotely and intelligently control lights, blinds, heating, scenes, etc. in buildings. For this, the Gira KNX RF system simply uses the 230 V installation available in every building and the flush-mounted inserts of the Gira System 3000. And connecting Gira KNX RF products to wired KNX installations to expand existing systems is now also quick and easy. Data security is guaranteed by the KNX Secure standard.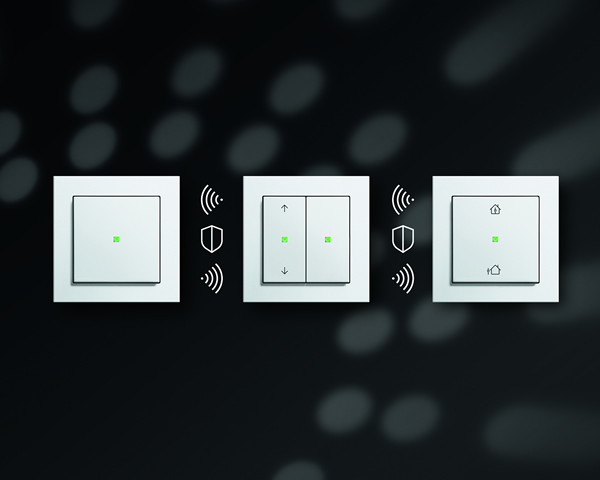 A 230 V installation: all you need to make your home a Smart Home
Installing a KNX RF Smart Home system is easy: the innovative KNX RF operating top units are simply plugged into the Gira System 3000 inserts. Customers can then use this to control lighting, blinds, room temperature and scenes. Compatibility with the Gira System 3000 ensures the greatest possible range of functions. The actuator technology is integrated in the System 3000 inserts and thus offers a wide range of applications.
And for walls without power lines, battery-operated KNX RF pushbutton sensors can be mounted to ensure operation. These wireless wall transmitters can be mounted, screwed or glued anywhere, as they require no mains or bus cable. The pushbutton sensors can be configured in various ways via the ETS – just like the operating top units. A matching Gira KNX RF hand-held transmitter can also be used for operation. Lastly, system start-up also takes place remotely: the installer simply connects the KNX RF data interface (USB stick) to the notebook on which the ETS is installed. The advantage here is that there is no longer a need to go to the control cabinet; instead, the system can be set up conveniently from anywhere in the building.
Even more comfort
The Gira X1 server provides more functional diversity and increased operating convenience in the KNX RF installation by controlling the entire system via the KNX RF/TP media coupler. This is the interface between wired KNX TP products and KNX RF wireless products. In turn, this opens up new possibilities such as app-based control or the connection of wired KNX components, for example the versatile Gira G1 room operating device or the Gira pushbutton sensor 4.
Controlling the Gira X1 via the Gira Smart Home app
Gira is also giving Smart Home users a new feature: the update to the Gira Smart Home app enables customers to implement extensive configurations independently. For example, they can create scenes themselves using the app. For tradesmen, this eliminates small and less economical jobs, which ultimately means greater efficiency in day-to-day business.
KNX Secure
Gira has implemented the KNX Secure Standard in many of its products for maximum data integrity, authentication, encryption and data up-to-dateness. KNX Secure is the world's first security standard for smart buildings that is not tied to a specific manufacturer or application.
Gira Academy and Service
To make it as easy as possible for electrical installers to get started in the world of wireless KNX, the Gira Academy also offers various types of training programmes on KNX RF products. In addition, as a partner of the electrical trade, Gira also supports installers with a range of comprehensive services: from planning and ordering to professional help during start-up or servicing.