In this exclusive interview with KNXtoday, KNX Association CFO & CTO, Joost Demarest explains what the IoT means to the worldwide KNX community, how KNX Association is driving development in this area and what we can expect next.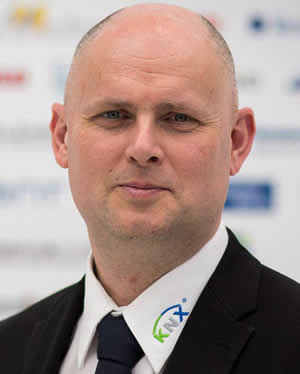 KNXtoday: What is your understanding of the IoT – what is its purpose?
JD: The Internet of Things is a connected world, not limited to devices such as personal computers, tablets and mobile phones, but connected up to the level of any 'thing' imaginable on this planet. In terms of automation, it means every single sensor and actuator communicating in homes and buildings. In my view, KNX, even with the very first installations, has always been able to create 'Intranets of Things.' Since 2007, it hooked up these intranets to the Internet of Things by means of KNXnet/IP. Now with KNX IoT, we can create additional means of making KNX part of the IoT.
KNXtoday: Why is the IoT important to the KNX community – what does it currently allow us to do?
JD: The IoT is a win-win situation: KNX can become part of the IoT and deliver data to it, whilst the IoT itself can bring data to KNX. In the latter case, it is quite possible that this data would never be provided in a KNX flavour. For instance, none of our manufacturer members is likely to invest in developing its own service for weather forecasting. KNX manufacturers can make weather stations providing current weather data, however they would rely, for example, for forecasting energy production on a Customer Energy Manager (CEM) in the KNX installation on already-existing weather forecast services on the Internet. In this way, the CEM connected to KNX and to the IoT has all the data possible for optimising energy consumption.
KNXtoday: In future, what is the IoT going to allow us to do – where do you see it going?
JD: We cannot possibly imagine all the potential use cases that might be realised in the Internet of Things, just like 30 years ago we could not imagine the potential of the Internet as it exists now. What we can say is that in the same way that the Internet today can make use of all the data that exists within the Internet, within homes and buildings, a realised IoT application will profit from the fact that its neighboring product creates data that, combined with its own data, could be useful. Cloud services and artificial intelligence could realise applications based on this data, without the need for products in an installation to talk directly to each other, even if the basic functions in buildings still have to be linked by trained integrators.
KNXtoday: What are the prerequisites of a building control system that uses the IoT?
JD: For a building control system to be part of the IoT, it must be able to provide data not in its own exotic way, but in a way that is easily digestible by IT systems, i.e. machines. It must be accessible via protocols that are designed by the Internet Engineering Task Force, even if, within the building control system, a proprietary protocol is used. If you were to compare this to spoken languages, this would be like possibly speaking a specific language within an ecosystem, but when talking to the IoT, you must speak English.
KNXtoday: What has KNX Association done to ensure that the KNX system can fully embrace the IoT?
JD: KNX and its members have invested heavily in designing better integration possibilities into the IoT, referred to as KNX IoT.
On the one hand, they have agreed upon a vendor-independent RESTful web service API to KNX classic devices, called 3rd Party API. As this is now standardised, other parties – even non-KNX members – can now design much quicker clients that connect to third-party API servers of different manufacturers, which must, by certification, offer a minimum set of data.
On the other hand, they have agreed to offer to KNX manufacturers more possibilities to use transmission media that are IPv6 compliant, such as Wi-Fi, LAN or Thread networks. In this way, a KNX installation may continue to consist of KNX TP (Twisted Pair) and KNX RF (Radio Frequency) products, but can now also include Thread-based devices that talk KNX and are configurable by ETS. These are referred to as KNX Point API devices.
KNXtoday: How is implementation progressing?
JD: The 3rd Party API specifications have already been released in a first version, and some manufacturers have already made use of it in real products. The second version is nearing completion with a corresponding Proof of Concept designed by KNX. All is available for potential server and client developers via <schema.knx.org>.
The Point API specifications are also in the last development stage; the last remaining comments from the internal voting on the specifications are being resolved as we speak. With a subcontractor, KNX is designing the first ever Open Source Stack for this kind of product, which will also be available soon for KNX members.
KNXtoday: What future developments can we expect from KNX Association?
JD: Everything being developed by KNX needs support in ETS. For the 3rd Party API gateways to offer useful and interpretable data to 'things' accessing the data, it would be an asset if the product data of manufacturers were to contain more semantics (help in understanding the meaning of data). For this, KNX needs to offer manufacturers the possibility to extend their product data by means of the ETS Manufacturer Tool and this data needs to be exportable towards 3rd Party API servers.
Also, support for Point API devices is needed in ETS, so that an installer can simply hook up such a device to an IP line in the ETS topology window and configure/download it like any other KNX device.
KNXtoday: Why is KNX IoT the way to go?
JD: The above shows that KNX never ceases to expand its technology, and is constantly building on top, rather than starting from scratch again and again. This has enormous benefits to everyone investing in KNX: an installation with the very first EIB product from the nineties will be extendable with a KNX Point API device next. Which other technology offers such possibilities?
Joost Demarest is the CFO & CTO of KNX Association, the creator and owner of KNX technology – the worldwide standard for all applications in home and building control.