Convenience, functionality and safety: The new JUNG Smart Control 8 is a capacitive touch display for operating every function to controlling smart homes. The 8-inch display (20.32 cm) features a HD screen. Brilliant colour, sharpness and ultra-modern display technology make it as user-friendly as the latest tablets.
You have the option of using the touch display as part of your Smart Home in combination with a Smart Visu Server or Visu Pro Server via KNX.
JUNG has specifically conceived Smart Control 8 as a modernising component: The display can be retrofitted into many existing sockets.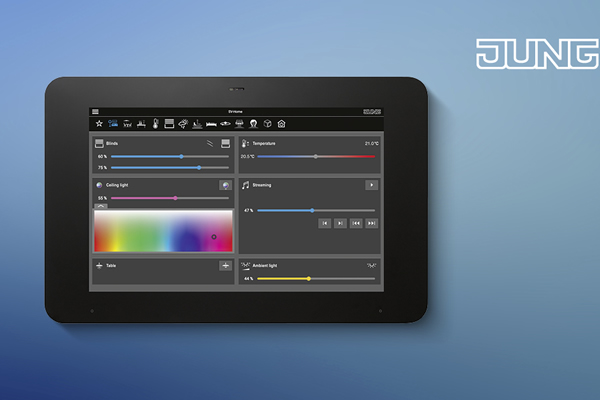 The Touchdisplay Smart Control 8 at a glance
operates and visualizes KNX installations, eNet SMART HOME and Siedle Door communication
Overall dimensions: 225 x 145 millimetres
Screen size of 8 inches or 203 millimetres
Resolution: 1280 x 800 pixels
Wall installation or depth: 16 millimetres
Proximity sensor
Graphical user interface for visualisation and operation of KNX devices
Integrated bus coupling unit
Learn more at: