It comes as no surprise that the KNX Push Button Pro, introduced in 2019, has become a favorite with contractors, building managers, and homeowners. Easy to select, install, and program, the KNX Push Button Pro has what it takes to keep projects moving fast. Once installed, its many practical features make it simple for occupants to control lighting, blinds, and scenes intuitively from a single sensor cover. The backlit, smartphone-style touch display automatically greets the user, lighting up on approach. Add to that flexible allocation of sensor zones and express commissioning, and you have all the ingredients of a winning smart building system.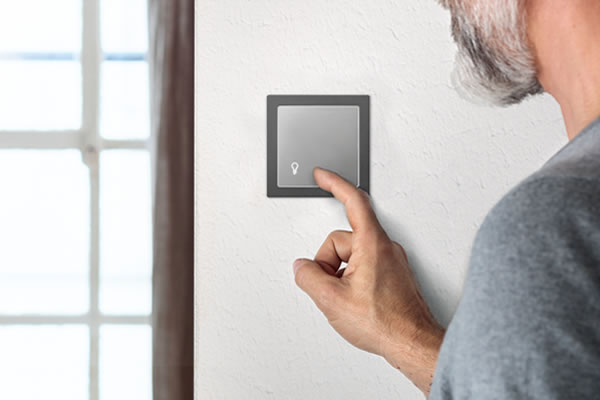 Enter the new KNX Push Button Pro T for greater energy-efficiency and hygiene
The KNX Push Button Pro was great back in 2019. Not that much time has passed, but times have certainly changed. Schneider Electric has kept up with the ever-evolving smart building market—not to mention the hectic pace of today's unpredictable public health context—with its advanced all-in-one smart switch featuring a range of customizable functions and—new—a built-in temperature sensor and a touchless mode. At stake? Saving energy and protecting occupants from infectious diseases. As part of the SpaceLogic KNX product range, Push Button Pro T is designed to integrate easily into residential and commercial smart building networks.
Take the thermostat, not temperature control, out of the room
In-room temperature control requires a temperature sensor in the room, typically beside a door. In KNX, this is often a combined push button/thermostat device. Additional push button shutter and light switches, but without thermostats, are generally installed throughout a room for greater comfort and convenience. In common areas that are accessible to the public, you may not want people to be able to adjust the thermostat. Now, with KNX Push Button Pro T, you can control the temperature from a Multitouch Pro (in the Facility Manager's office, for instance) or from a phone—but not from the room itself. And better temperature control leads to greater energy savings.
Touchless control reduces contact with potentially contaminated surfaces
Contactless door openers, soap dispensers, and taps are not new and have proven themselves in the commercial sector. With the pandemic driving demand for even more contactless technologies, Schneider Electric is, once again, making sure that Life is On by bringing contactless technology to the KNX Push Button Pro. The KNX Push Button Pro T's new touchless mode reacts to preset gesture like a horizontal or vertical swipe to trigger a previously defined function.
The same sophisticated design to enhance any room
KNX Push Button Pro T is still beautiful. The design is flat, and the interface is sleek. The individual touch-sensitive function zones—users can choose up to four and customize their own—are indicated by modern illuminated icons that shine through the translucent surface. When in night mode, the intensity of the illuminated icons is turned down. In quiet mode, the panel goes to sleep, and lights up only when a user approaches.