KNX presence detectors from STEINEL impress with square detection and detect even the smallest movements. They are used in offices, classrooms and wherever people are predominantly seated. Their detection can be scaled mechanically without any loss of quality. As a revolutionary sensor the True Presence® even detects the presence of a person without any movement at all. Quickly installed, all sensors can be easily integrated into a building automation system via the KNX interface. Selected sensors are also available in the trend colour black.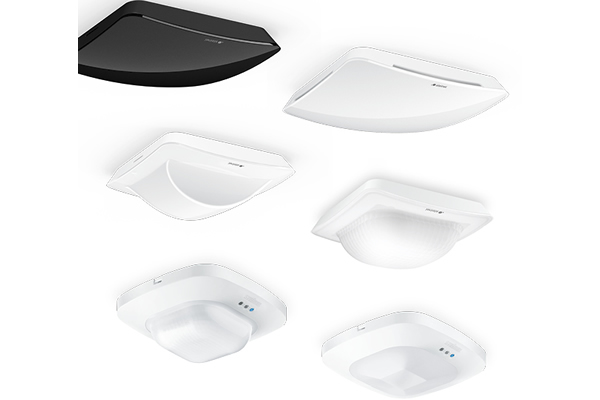 Easily adjustable
STEINEL presence detectors are ideal for detecting even the smallest movements during predominantly sedentary activities. They can always be precisely adjusted for the desired application. Square detection can be scaled to the metre on the back of the sensor. The removable sensor head makes all settings easily accessible.
Versatile application possibilities
The True Presence® KNX is the world's first true presence detector. Precise high-frequency measurement of the surroundings ensures 100% detection reliability. The True Presence detector reliably detects whether people are present or absent over an area of 64 m² – based on the micro-movements of the body as well as human vital functions such as breathing in and out or shoulder movements. This makes reliable absence detection possible for the first time. With this information, the lighting can be reliably switched on and off without the need for run-on times and without wasting electricity. The detailed knowledge of presence and absence results in numerous other applications that can be very valuable for building management. This sets a new standard in modern building automation.
As a presence detector in STEINEL's new Control PRO II series, the HF 360-2 KNX impresses with a new look. Sensor variables such as presence, brightness, temperature and humidity can be passed on to the building control system. The 360-degree ceiling sensor has a maximum range of 12 metres in diameter that can be infinitely adjusted electronically. The HF waves of the HF 360-2 penetrate materials such as glass, wood or lightweight walls. Thus, the sensor also detects movements behind partition walls, regardless of temperature. This saves the additional installation of sensors. It is therefore ideal for use in washrooms and WCs, changing rooms and stairwells. Commissioning, networking and control are carried out via ETS using the KNX interface.
The Hallway KNX sensors as well as the DUAL HF KNX are specially tailored to the special architecture of corridors and hallways. With the 5.8 GHz DUAL HF KNX sensor, STEINEL offers a system that monitors both directions of a corridor from the ceiling using 2 special HF sensors. Radial detection of movement supports the precision of this HF sensor. The sensor's electronically infinitely adjustable range is a maximum of 10 metres x 3 metres in each direction, meaning that a total of up to 20 metres can be reliably detected by one sensor. This eliminates the need for additional sensor installation.
Matched to the design of the Control PRO II family, the Hallway KNX 360-degree high-frequency presence detector leaves a visibly lasting impression in modern buildings. With a detection area of 25 x 3 m, it guarantees fast switching behaviour and is ideal for use in long corridors and hallways.
Sensors in the trend colour black
More and more, dark ceilings and walls are becoming an expression of the modern design of contemporary architecture. In response to this trend, STEINEL now offers selected presence detectors in the trend colour black.