New KNX push-buttons for the Smart Home: The JUNG KNX F 10 push-buttons look like a classic light switch, but master intelligent KNX technology.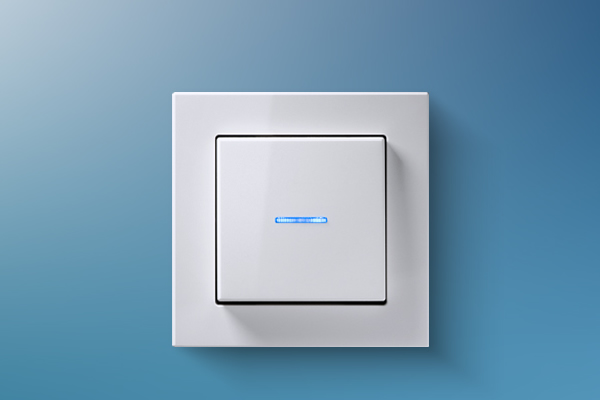 The new KNX push-buttons F 10 master both the push-button function as well as the rocker function. The rocker function of the Standard version enables additional control possibilities compared to the push-button function, such as dimming lamps. Among other things, the push-button function in the Universal version enables full-surface operation. The KNX push-button F 10 thus combines numerous functions in an elegant design. And that completely encrypted: the KNX F 10 push-button communicates using KNX Data Secure if required. Thanks to trend-setting hardware architecture, the KNX F10 push-buttons can be updated without limit using the ETS Service app.
Classic form meets KNX
The JUNG KNX F 10 push-buttons present themselves in the switch design of the A, AS, CD and LS ranges. With their numerous shapes, colours and top quality materials, they complement the greatest range of furnishing styles perfectly. Thus the technology and design make up a unit that meets the toughest demands.
Operation
The new KNX F10 push-buttons enable extensive options in the technical interior equipment of an intelligent building. The variety is great, and thanks to their classic design, the KNX systems are simple to operate. In addition, their individual switching points can be assigned multiple times.
Temperature Sensor
The JUNG KNX push-button F 10 in the Universal version has a temperature sensor. It thus records the temperature and passes the information on to, for example, a KNX heating actuator with controller.
Additional Functions
In the guise of a classic switch, the JUNG KNX push-buttons F 10 provide a wide range of functions. Both versions have a controller satellite unit and an energy saving mode. The Universal version has alarm signalling, lock function and HSV colour control.
Intuitive and versatile operation
The button assignment of the new JUNG KNX F 10 push-buttons can be completely customised. The standard and universal push-buttons switch and dim lamps, control blinds and much more. In addition, their individual switching points can be assigned multiple times thanks to a sophisticated operating concept. In this way, they make particularly versatile control of the smart building possible.
For more information visit:
www.jung.de/en/10325/products/new-items/knx-push-button-sensor-f-10/